562. North Wilderness Trail (04/28/07)

Hikers (13): David, Diane G, George, Hima, Jeff, Kristen, Paul, Ross, Rudi, Russ, Sabine, Sparky, Steve
Distance: 15 miles
Rating: 4 difficulty, 9 beauty
Park info: Pinnacles National Monument south of Hollister

Write-up by Steve
It was around 100°F when we went out along the North Wilderness Trail, but a nice breeze and a mostly shaded route made it feel like only 95°F (we've had it worse). . .
Supposedly due to the heat, Sparky earned a Black Leaf of Shame for purposely taking the Tunnel Trail instead of the much more interesting High Peaks traversal. She'd later double-down that action by turning back on the North Wilderness Trail to take a different route back. Imagine! But there might have been some wisdom in her choice. . .
. . .because although we all sync'ed up for lunch at the 5-mile point (just before the Wilderness Trail), there was an almost three hour gap between the first and last people crawling back to the parking lot, not including Hima and Diane, who Russ drove three miles back to retrieve from the Old Pinnacles Trailhead.
The good news is that, although not as plentiful as in the past, there were still a good number of wildflowers, which George diligently cataloged below. Rudi and George, having some difficulty with the English language, also spent some time maintaining (with clippers) the unmaintained trail. In a similarly altruistic vein, Ross, Sabine, and I built dozens of huge cairns for the rest of the guys to navigate (not really--but there were plenty of such structures along the route). Unlike our infamous previous visit, the North Wilderness trail was easy to find and follow.
George's pictures (are gone).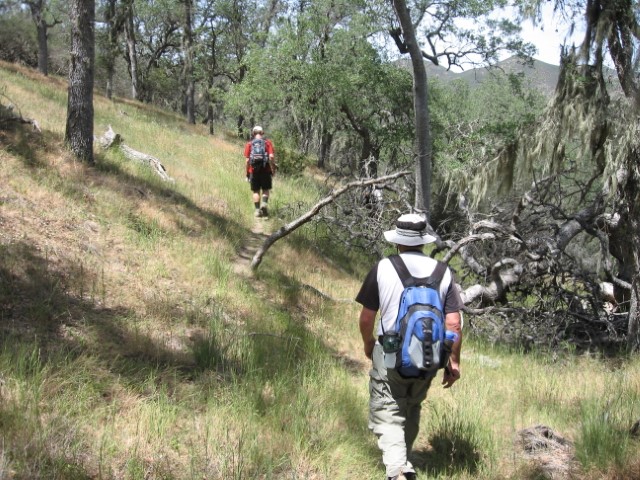 Heading down to North Fork Chalone
Hanging out after the hike






Pages maintained by Steve Walstra, Peter Saviz, and Russell Gee.
©2022 Intrepid Northern California Hikers