593. Five Peaks of Diablo (11/24/07)

Hikers (21): Andrew T, Caroline, David, Diane, George, Harvey, Helen, Hima, Iyad, Jan, Janice, Jeff, Nani, Paul, Peter, Peter M, Remy, Sabine, Sarah, Sparky, Steve
Distance: 16 miles
Rating: 5 difficulty, 9 beauty
Park info: Mt. Diablo State Park near Clayton

Write-up by Peter -- Pictures by Janice and Harvey
It was once again time for the semi-traditional post-Thanksgiving Diablo hike. I'd originally planned to just go up to the main summit and back, but Nani talked me into extending to cover the five main peaks of the park. It didn't take much to convince me. As an added wrinkle, the plan was to traverse the loop in a clockwise direction this time.
For some reason, I greatly overestimated the length of time it would take to get to the park, and so, I showed up about 45 minutes before the hike. Sparky was already there and ready to go, so I pointed her in the general direction of the trail and sent her off. About 10 minutes later, she showed up again back at the parking lot saying she couldn't find the trail (and she leads Sierra Club hikes?). I once again gave her some vague directions and sent her off. This time she didn't come back, so I figured she had either found trail or been eaten by wild animals.
In the meantime, the rest of the laggards were starting to file in, unanimously complaining about the early start time and the cold. Would you like some cheese with that whine? I grant that it was a little nippy, but most of these folks were dressed like we were planning to go trekking in the Arctic Circle. We welcomed a few newbies, and then we were off .......
1, 2, 3 ... INCH!
The first couple of miles were fairly flat, giving us a good chance to get warmed up before starting to do some real climbing. Just to confuse people, I took them on a different route than the one I had sent out in the pre-hike trail notes. From the Mitchell Canyon trailhead, we headed east on Coulter Pine Trail to the Back Creek Trail, then took the Tick Wood and Cardinet Oaks Trails to the Olympia Trail. Then the fun started! The hike up to Olympia was a good grade, and pretty soon the clothes were flying off and the sweat was flowing.
Steve had taken off quickly and was long gone. I managed to catch up the second group of Sabine, George, Sarah, Iyad, and Harvey (who had started late and passed up everyone as he literally came running up the hill) just before Olympia Peak.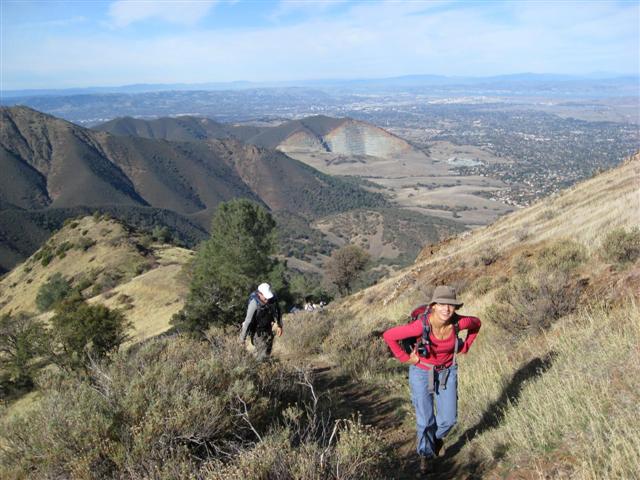 Sabine leads the charge up Olympia
We sat at the peak for a few minutes, enjoying the view, catching our breath, and signing the log book and were joined a few moments later by Paul, Diane, Janice, and newbie Andrew. Good job!
The antennas of North Peak were beckoning, so we saddled up and headed out quickly. It didn't take too long to get to the top, and I sat there for a while, trying to prolong the trip back down the Slope Of Death for as long as I could, while the rest of the group headed back down. I was cursing Nani as I inched my way down from the peak. Did they add more scree to this damn trail??? Finally off the SOD, I picked up the pace as I headed towards Prospector Gap.
I met up with the Chief on the route up to the summit. She had called me to let me know she was avoiding North Peak in order to save her knees. Not very intrepid, but probably a wise move. As we worked our way up the hill, we began to encounter the usual horde of tourists in their Gap / Benetton sweatshirts, blue jeans, and sneakers giving us puzzled looks -- a sure sign that we were getting closer to the summit.
It was a nice clear day, affording us a beautiful view of the Bay Area from the summit. But since I was starving, I barely even noticed it as I wolfed down my sandwiches (yes, plural). Most of the old-timers who had been here a few times also didn't seem to care too much about the view. Hopefully, the newbies enjoyed it. Andrew was having a great time handing out brownies to everyone (thanks!). OK, time to head back down (after getting an earful from Steve about letting people leave early and not waiting for everyone to catch up at the summit -- in the words of a wise philosopher, "Screw 'em all!").
We headed down through the center divider and down the road to the lower summit parking lot, and picked up the Juniper Trail down to the campground. This was where the Chief had gotten lost last time and ended up bushwacking up to the summit. I have no idea how she managed to get lost here, and when she got down the campground, she seconded it, saying "It was so obvious!". Oh, well ...
I walked with Chief and Dyno Dave down to Deer Flat, and began heading along the fire road to Muricho Gap. Persuasive Dave talked me into abandoning the fire road and taking the Deer Flat Creek Trail instead. It turned out to be a great choice -- the trail had been cleaned up a lot since the last time I had been on it, making it a nice little treat.
We hooked up with George at Muricho Gap, and Janice busted out the camera to take some photos of the motley crew. From here, it was a quick jaunt up to Eagle Peak.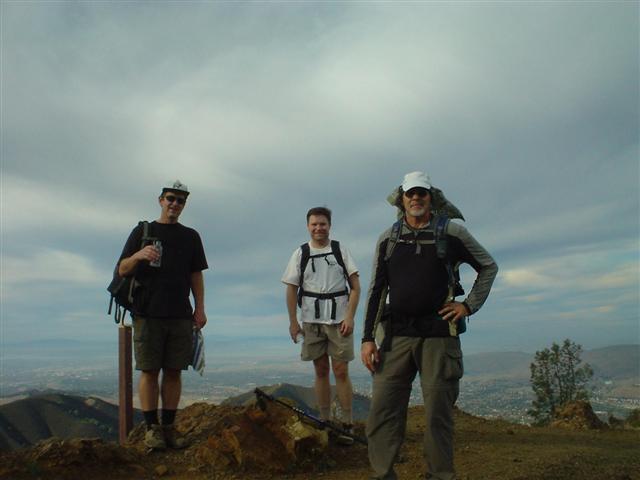 INCH conquers Eagle Peak!
On the way down from Eagle Peak, we finally got confirmation of where Twin Peaks actually is, although what the two peaks are is still a little murky. At least the park had finally posted a sign letting us know that we were there. We caught up with Nani just below Twin Peaks, and he, Dave, and I made a short side trip to the "pseudo Twin Peaks" (the place we previously thought was Twin Peaks) before heading back to the cars.
Back at the cars, we sat around enjoying assorted cookies while the late-comers drifted in. No-one had seen Hima for a while (and Chief was cursing her because she had left her stuff in Hima's car), but I knew as soon as I took my shirt off she would show up :)
All in all, a good hike. I think it's probably a little easier than doing it counter-clockwise, but I enjoyed the climb up Olympia, and I definitely enjoyed not having a long continuous downhill from North Peak back to the cars via Olympia. Something to be thankful for!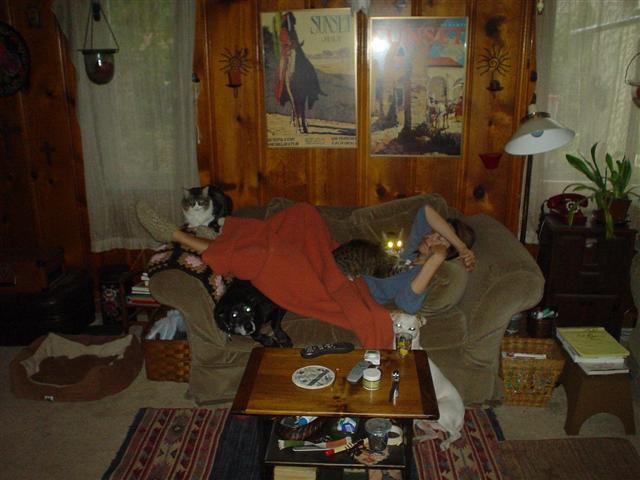 Janice succumbs to the power of her Diablo-possessed pets
Milestones:
Highest point in Contra Costa county
Andrew T's 1st leaf
Caroline's 1st leaf
Jan's 1st leaf
Remy's 1st leaf
Steve's 460th leaf







Pages maintained by Steve Walstra, Peter Saviz, and Russell Gee.
©2022 Intrepid Northern California Hikers