608. Rancho Cañada del Oro (03/08/08)

Hikers (20): Ai Leen, Amy G, Clive, David, Diane, Edita, Eric F, Eugene M, Iyad, Jane, Janice, Jesus, Meera, Nani, Paul, Sarah, Scott, Sparky, Steve, Walter
Distance: 17 miles
Rating: 4 difficulty, 9 beauty
Park info: Rancho Cañada del Oro Open Space Preserve near New Almaden

Write-up by Steve -- Pictures by Clive
It was time to make another entry into Santa Clara County's Healthy Trail (HT) fitness challenge. This time we converted their pathetic 6.2 mile "strenuous" loop into a reasonable 17 mile hike. This was our third (or fifth, depending on how you count 592 and 594) HT hike. Gettin' there.
The park is quite close, so everyone was there early except Edita (who showed up right on time) and Meera (who showed up close enough to Edita that we hadn't left yet). We had three new hikers as well. I thought one of them was JP, but it actually turned out to be Jesus.
1-2-3 INCH
We started out with the Javalina Loop, which satisfied most of the HT aspect of the hike. I went off to get a geocache up on a hill, where I perched until everyone was in sight. This was the last I'd see of Meera the whole day. . .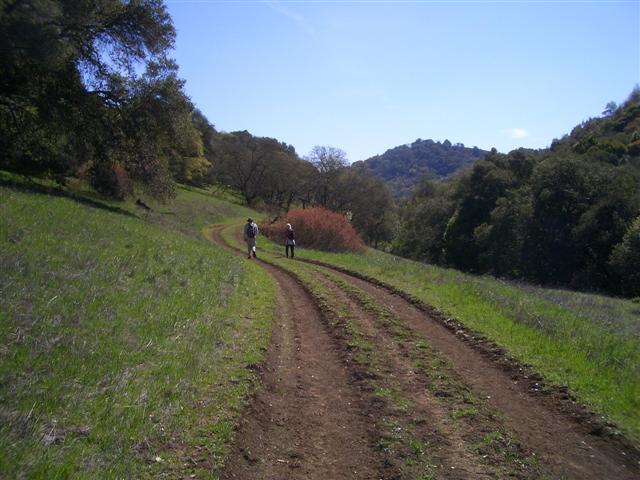 Nice and green at the tail end of winter
Much later, we all met up at the normal lunch spot at the top of the Bald Peaks ridge. It was a bit after noon since the route we took was longer than usual. Still, we all sat down and had some food as people slowly trickled in. It was actually a little chilly, but most people stayed for a while, except Sarah, Edita, Eric F, Eugene M, and Iyad, who just couldn't wait. I didn't care, because it took me forever to finish the enormous 22 oz birthday Sapporo Janice had brought for my birthday. Thanks Janice (and Padraig)!
The second bit of entertainment was Sparky, who showed up a bit weak in the knee. Janice and Walter bound her up, and she was soon good to go. After a quick visit to the highest of the Bald Peaks, we were all off again. There was only one problem--despite the long wait, we were still missing Meera. Must have turned back?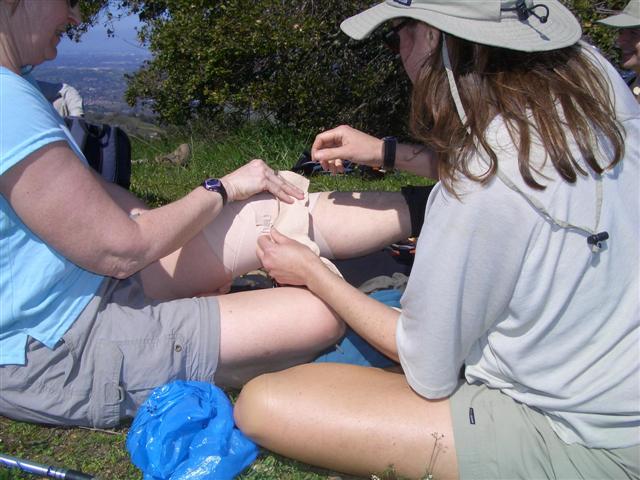 Janice tends to another wounded animal
From there we took the a route through the back of Rancho Cañada del Oro, including the great Mayfair Ranch Trail, which starts out along the babbling Baldy Ryan Creek, heads up and over a ridge, and ends three miles later right back at creek level.
Just when it seemed all the uphill was over, Calero provided just a bit more--these two parks are great. Had to hike back up another ridge to reach the junction we had taken in the morning. This 0.8 mile segment was the only trail we had to hike twice, which is another plus for this loop-friendly park combo.
Caught up to the front runners a tenth of a mile before the end of the hike. They were sheepishly retreating from a hill just off trail, having been thwarted by a fence while trying to short-cut back to the parking lot. Actually, the claim was they were following my "take right turns" directions, which indeed would lead them to a dead end--the map sort of sucks at this point, so it was plausible. Later, the last folks in were Clive and Janice, who we also saw short cutting over that little hill. They were more persistent and found a way around the fence. I was tempted to dole out the black leaves, but they independently copped the "right turn" excuse as well.
Hooray, everyone was back! Soon people were handing me wads of $20s. Felt like my old days as an exotic dancer. But no, they were pre-paying the $40 registration fee for the upcoming 30-mile Ridge to Bridge hike. Shucks.
Did I say everyone was back? Several people remembered Meera squeezing her car into a parking spot in the morning, and so were able to recognize that it was still there. Guess she didn't turn around after all. The group slowly dwindled away, but eventually Meera was spotted walking down the entrance road. We were so happy to see her that we never found out why she was on the road instead of the trail. . .
The weather was quite cool, so it was hard to give this hike a four. The INCH jury was split, and it was sort of a 3.5001. . .so I rounded up. The parks were great, though--quite picturesque in early March with ~4k ft of elevation gain.
A few more pictures from Clive.
Milestones:
Ai Leen's 1st leaf
Amy G's 1st leaf
Jesus's 1st leaf
Sarah's 30th leaf







Pages maintained by Steve Walstra, Peter Saviz, and Russell Gee.
©2022 Intrepid Northern California Hikers