625. Mt. Diablo (West) (07/05/08)

Hikers (12): Brian C, Carissa, David, Diane, Harvey, Helen, James W, Nani, Ross, Sabine, Sarah, Steve
Distance: 16 miles
Rating: 4 difficulty, 9 beauty
Park info: Mt. Diablo State Park near Walnut Creek

Write-up by Steve -- Pictures by Steve
Despite the painful history of this hike, twelve hearty souls turned up. Actually, eleven turned up, and we weren't sure one of the others was going to make it back, but that's a long story.
1-2-3 INCH
This is the third time we've done Diablo from this atypical approach, so most of the mistakes have already been made. I warned everyone about the two turns people have missed in the past (Sunset Junction and Mothers Trail). With no major dissensions this time, we were mostly together at Sunset Junction, eliminating the first potential problem. After getting over the two steep inclines past North Gate Road (a.k.a. Camel Rock), however, we were spread out substantially. I learned that Ross had (wrongly) taken the Burma Road turnoff prior to Mother Trail. So now we have a third warning for the next hike.
Things warmed up quickly--never a good sign (upper 80s). Was feeling pretty hot just standing on an outcrop to wave people in to Mothers Trail. Once I saw Carissa took the correct turn, I headed up the next steep part of the trail (confident that Diablo veteran David, coming up behind her, wasn't going to miss the turn). Not soon after, I heard much shouting. Couldn't figure out who was shouting at whom. Turned out to be David and (back-on-track) Ross, yelling to Nani that he had missed the Mothers Trail junction, just like Harvey and Sabine had done last time. Everyone but Nani heard the yelling. . .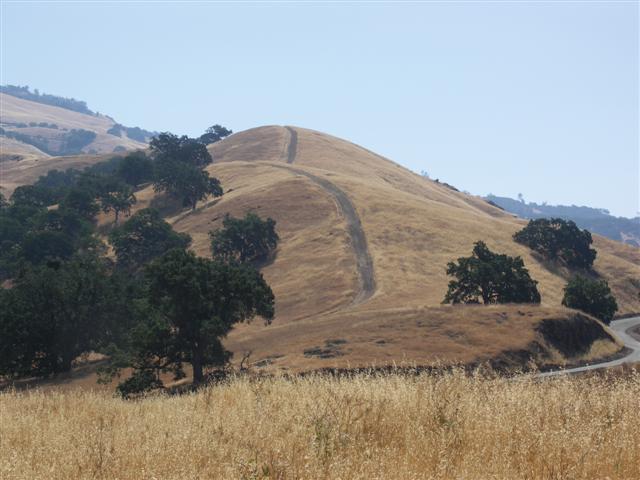 Can you see Camel Rock?
I didn't hear about Nani until later, at which time we broke out the map to figure out where Nani'd end up. It didn't look good. He'd either have to walk on the road a bit and pick up Summit Trail or else have the good sense to turn around and go back to the cars (did I mention he was in my car pool?). Neither option seemed likely. The only plus was that I had the keys to carpool car (my car), so at least I wasn't trapped.
Managed to catch up to the front runners, who were mesmerized by the goldfish (or coy?) that were swimming around in a circular spring well (horse trough) near the junction of Burma Road and Mothers Trail. That odd 'fishbowl' has been there for years--not sure how the fish survive the summers, but maybe the spring water is sufficiently cool all year. Whatever the case, it makes a good landmark, because this three-way intersection is where we go up Burma Road up to the peak, and come back down to start the loop back. Thus, if you see fish on the way back, you took the wrong trail back.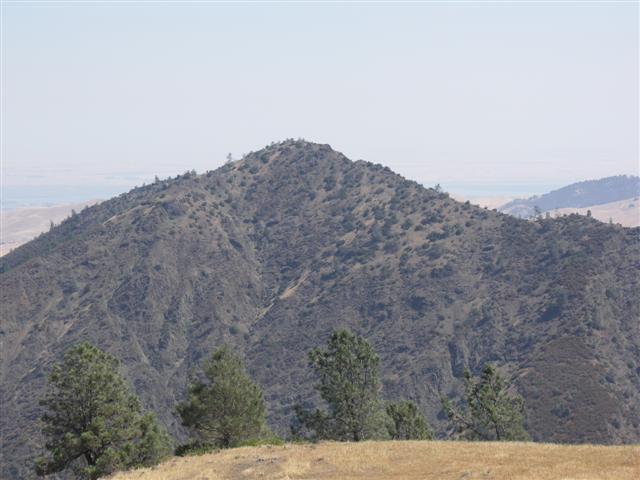 Eagle Peak is the best of Diablo's peaks
After rounding one of the last foothills (near Deer Flat) is a great view of Eagle Peak. Everyone passed me as I was snapping pictures, which was good because I wanted to take a use trail up to Moses Rock Ridge. It turned out to be a pretty steep hike (just ask Carissa, who saw me going up from afar and took the same route), but the ridge was nice, and eventually became a real trail that connects with Juniper Trail. Best of all, it bypasses the campground entirely. Next time this hike is scheduled, this might be the official route.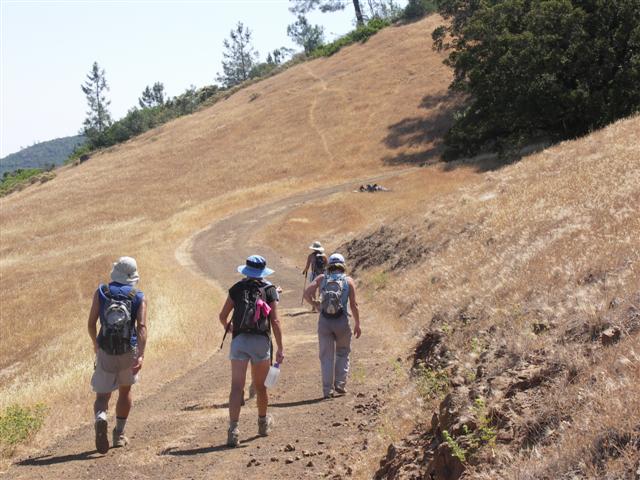 INCHers make a run on Deer Flat
The views from Diablo were. . .terrible. The recent wildfires made the sky so hazy we couldn't even see San Francisco. So, with nothing to look at, we passed the time speculating on Nani's fate and how long I'd have to wait after getting back. David was the last to show up, and eight minutes later, we were off again.
Actually, it was a slow start, as several of us were filling water containers for the trip down. As we came out of the "middle-of-the-road" summit trail, who should we see but James W. He had shown up late, didn't see the map I left, and still managed to make it up from Shell Ridge. Who needs hike leaders? I was initially thinking he should go tag the peak, but since we had to re-group to traverse some unmarked trails near the bottom, it seemed prudent to just have him come down with us (and it was prudent, as it turned out).
So down, down, down we went. We met up at a fence (see pictures from last visit), and then navigated through some fireroads to get to North Gate Road. This time we climbed the main gate instead of sliding under the fence--getting better every time. Not too far down the road was the connector trail and voila, we crossed the bone-dry stream bed to the back of the equestrian center. Since our last visit, they have built a trail around the place (and erected a fence to prevent any thought of going our old way). Since they had also updated their map, I had it plotted out. Love it when a plan comes together.
The only thing that didn't work was an unnamed and unmarked (but shown on the map) trail that I had highlighted as our route into Foothills/Shell Ridge. We never saw it, so just walked in to the Diablo Foothills lot and picked up the 'standard' trail. Remembering the long-cut we took last time, I took the correct turn this time around and we had an easier route into Borges Ranch. Still, there was one steep section to a power tower. How steep? Well, despite having been together at the equestrian center, we managed to walk to the cars, change, drive to the upper lot, and commence eating before James W came in. He was hurtin' from the 1-2 combo of that life-sapping hill and too much 4th of July partying.
Diane M had asked for this hike a few weeks earlier, complete with a beer bribe, but I had told her I'd rather plan a new hike from the South or South-East. Well, as has been the case for years, I couldn't find an interesting route (or allowed parking near Blackhawk), so decided to do this hike instead. Much to my delight, Diane followed through on the bribe with an excellent Trappist ale--0.75L of Chimay Red. You know it's the good stuff when it has a cork. I was only sad not to give the beer the correct glass it deserved. Ross wisely advised to check the alcohol content, but it turned out the Chimay Red is only 7% ABV, so no worries. Of course, the big joke was that I would have plenty of time to process all the alcohol while waiting for my carpool. . .
But even before everyone took off, Nani stumbled in. Hooray, we can leave. He made it to the summit (about 15 minutes after we left), then took the up-route back (noting that he didn't know how to get back through the fenced off section). Unexpectedly, there was a call for "no leaf", despite the fact that he intended to do the hike and had done an equivalent distance. That failing, there was a call for "black leaf", but again, there is no black leaf for incompetence (or else we'd have several black trees). Harsh crowd! But the bickering was unusually tolerable because, by this time, that big bottle of Chimay was empty.
Milestones:
Highest point in Contra Costa county







Pages maintained by Steve Walstra, Peter Saviz, and Russell Gee.
©2022 Intrepid Northern California Hikers