627. Bills Hill and Willson Peak (07/19/08)

Hikers (13): Arlene, David, Diane, George, Harvey, Helen, Jeff, Nani, Paul, Ross, Sabine, Sarah, Steve
Distance: 15 miles
Rating: 4 difficulty, 8 beauty
Park info: Henry Coe State Park near Gilroy

Write-up by Steve -- Pictures by George and Steve
A writeup in bullet form:

Lots of great input from Coe volunteers about the hike.

. . .including the suggestion not to take a group!

The route we took half-way to the ridge (before picking up the fireroad) was slightly off the official route, but it was also the longest stretch without poison oak.
Ross and Sabine cut down quite a bit of poison oak en-route to Osos Ridge. The poison oak would have its revenge.
Views from the peak were great. . .and so was the watermelon that Jeff lugged up the whole way!
The route we took along the fence (with no trail) was correct. The route we took back along the ridge (on the road) was "wrong", but faster.
Continuing down the fireroad all the way does work, as George demonstrated.

A helpful cairn marks the "trailhead" here. One of the volunteers mentioned this, too. Whoops.

At the start of the hike, Cameron the Ranger had mentioned to George and I that Redfern Trail was tough.

We wondered if they say this about most trails in the park.
Cameron was right. Goes up about 1200ft in 1.4 miles.

Serpentine Trail was a nice, shaded route to Willson Peak--seemed much gentler going up than I remembered it coming down from past hikes.
At Willson Peak, there was an unexpected consensus to make the hike a four rather than a five.
Four different "groups" came out at three different spots along Hunting Hollow while trying to take Jim Donnelly Trail. None was successful, but some were more successful than others.
Much partying was had at the end.

Except by me, 'cause I skipped filling up on water at Willson Camp, which led to drinking too little water on the rest of the hike. Was dehydrated as heck at the end, with the only liquids on hand being beer and diet cola.

Most of the hikers got poison oak to some degree. Results of scientific poison oak study at bottom of page.

The first three INCH cars are Priuses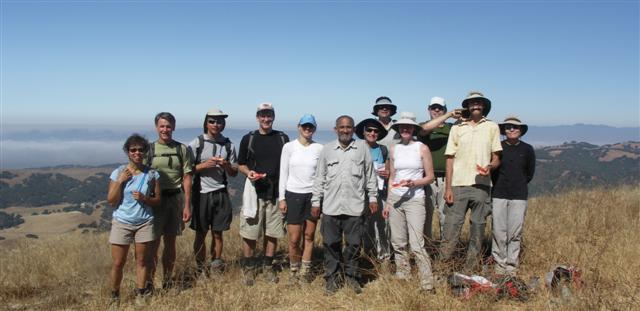 INCH takes Bill's Hill. . .

. . .and celebrates with watermelon.
| | | |
| --- | --- | --- |
| Arlene | Long pants, Tecnu | Little PO patches "everywhere" |
| David | Tecnu Extreme post hike | PO where branches scratched legs, right arm |
| Diane | Cortaid wipes | PO where branches scratched skin, knees |
| George | Long pants, hyper awareness, Cortaid wipes x 2, Tecnu Extreme post hike | Negligible PO, sunburn |
| Harvey | Cortaid wipes x 2, Tecnu, Tecnu Extreme post hike | PO where branches scratched legs |
| Helen | Long pants/sleeves, genetics | PO free! |
| Jeff | Long pants | PO on arms, hands, and along zipper on detachable pant legs |
| Nani | Long pants/sleeves | PO just above ankles |
| Paul | Long pants/sleeves, Calamine post hike | PO free! |
| Ross | Cortaid wipes, clippers | PO on upper arms and thighs, where wipes didn't reach |
| Sabine | Long sleeves, clippers, genetics | PO everywhere |
| Sarah | Long pants, sock change, Cortaid wipes, Witch Hazel post hike | PO on wrists and ankles |
| Steve | Genetics | PO on lower legs (minor) |






Pages maintained by Steve Walstra, Peter Saviz, and Russell Gee.
©2022 Intrepid Northern California Hikers