639. Jackrabbit Lake (10/12/08)

Hikers (14): Cecilia, David, Diane, George, Helen, Jeff, John, Kelly X, Nani, Paul, Rudi, Sabine, Sarah, Steve
Distance: 25 miles
Rating: 5 difficulty, 9 beauty
Park info: Henry Coe State Park near Hollister

Write-up by Steve -- Pictures by Kelly X and George
This hike turned out to be more eventful than expected. Not only did we have a 100th and a 151st celebration, but we had two people lobby to be on the restricted-to-previous-level-5-hikers hike (you heard right: people are begging for 25-mile hikes).
1-2-3 INCH!
Although this was the last day of Dowdy being open, we were the only ones at the gate when it opened (15 minutes late). Just before we left, though, George met a couple of people in the visitor center and guessed I might know them. Why? Because they were among the thousands of Bay Area geocachers, so surely we'd know each other. . .and he was right, as I had met them both during a caching contest (that I won during our Bear Mountain hike). Guess the subset of geocachers who hike in Coe is pretty small.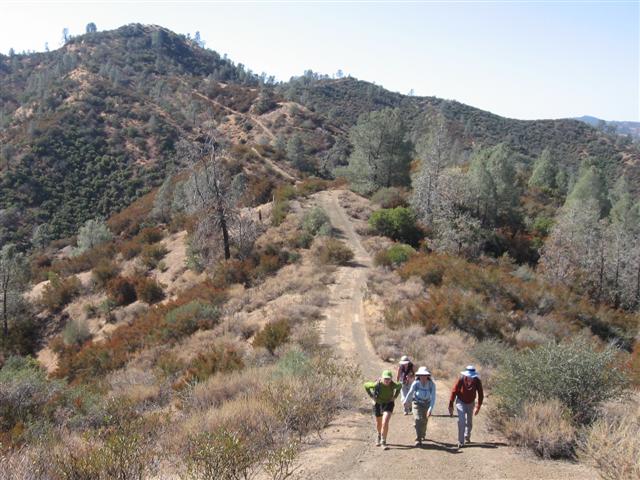 Trudging along in Coe
This hike featured an option at the 20-mile mark to take either the high-road (Tiedown Trail) or the low road (Kaiser-Aetna Road) to the North Fork junction. Most people took the Tiedown route (which is highly recommended with great views), except Nani, Cecilia, Rudi, Diane, and Jeff. While Diane had the good sense to take the North Fork Trail, the rest continued on the road all the way to the end. Three of them had been hobbled by Coe, while Jeff claimed the directions were ambiguous (despite having the correct route highlighted on his own map). The only person missing at this point was John G.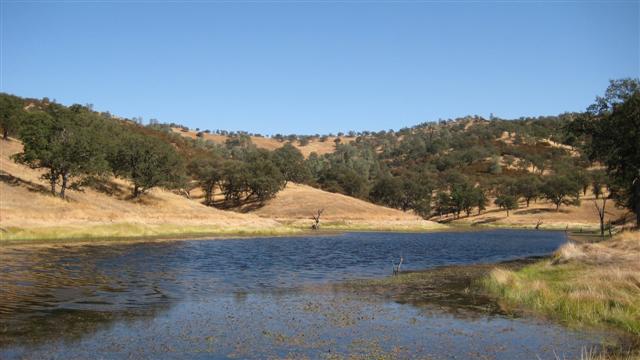 Jackrabbit Lake -- it's about the journey, not the destination
18 miles into the hike, after the milestones of Mustang Peak and Jackrabbit Lake were history, new-to-Coe John G said, "Looks like we're making great time--shouldn't be any problem getting back on time." Big Henry, as He always does, punished John for his blasphemy. . .but John did make it back before sunset. Once the sun set, the temperature dropped quickly, sending us scurrying to our cars.
For those who did the full route (including Orestimba Trail, the whole Tiedown Trail, and the North Fork/Mack's Corral), the elevation gain was around 7k ft. While I didn't spot any jackrabbits, the place was buck wild with wild bucks.
Milestones:
John's 1st leaf
Paul's 151st leaf (and shot)
Sabine's 1st forest







Pages maintained by Steve Walstra, Peter Saviz, and Russell Gee.
©2022 Intrepid Northern California Hikers