646. Mt. Diablo (11/28/08)

Hikers (23): Arlene, David, Diane, Gavin, George, Harvey, Hima, Iyad, Janice, Jeff, John, Kim M, Lynda, Maria, Nani, Paul, Peter M, Ross, Rudi, Sarah, Steve, Tiffany, Viviane
Distance: 17 miles
Rating: 4 difficulty, 8 beauty
Park info: Mt. Diablo State Park near Clayton

Write-up by Peter -- Pictures by John G and Harvey
I was unable to do the hike myself due to my bum knee, but I did show up for the best part -- Crazy Uncle George's Pre-Hike Muy Muy Caliente Burrito Breakfast! Mmmmmm, mmmmmm! My thanks to George and also to Jeff for all the goodies. Diane and Ross both earned a Pink Leaf of Weakness for refusing to eat a burrito. As Dave has said before, wise and intrepid are often mutually exclusive.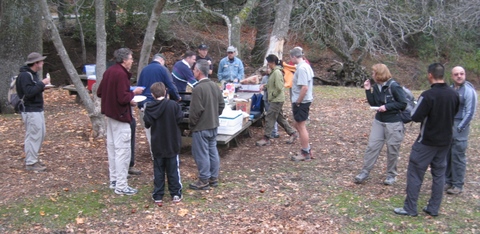 My kind of hike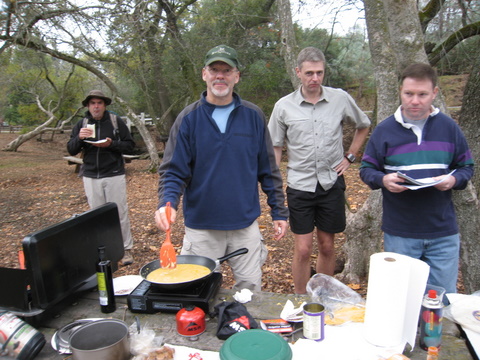 Uh-oh -- what did George put in those burritos???
If someone would like to send me details of the actual hike, I would be happy to add them. All I know is that after I saw the group off and was limping back to the car, I heard all kinds of yelling and confusion. I later heard that a bunch of people had gone the wrong way at the first intersection! Some turned back and found the right trail, but some kept going down Mitchell Canyon and missed the best part of the hike -- the steep climb up to Eagle Peak. A true INCH hike! Oh yeah, and a bunch of people did not finish until an hour after sunset. I could feel them cursing me as I was passing out on my couch from eating too many Thaksgiving leftovers.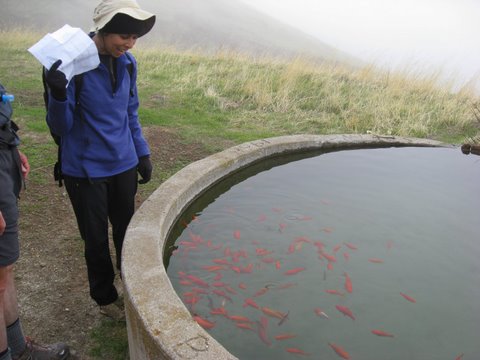 Diane marvels at the fish pond on Mother's Trail
Milestones:
Highest point in Contra Costa county
Arlene's 20th leaf
Gavin's 20th leaf
Jeff's 70th leaf
Sarah's 50th leaf
Tiffany's 1st leaf







Pages maintained by Steve Walstra, Peter Saviz, and Russell Gee.
©2022 Intrepid Northern California Hikers