662. Ramage Peak Trail (03/21/09)

Hikers (20): David, Devin, Diane, Eric F, George, Harvey, Helen, Iyad, John, Lida, Linda L, Paul, Peter, Peter M, Ross, Sabine, Sarah, Steve, Tiffany, Tiffany D
Distance: 23 miles
Rating: 5 difficulty, 8 beauty
Park info: East Bay Municipal Utility District near San Ramon

Write-up by Peter -- Pictures by George and Harvey
It was my first hike back after a 6-week layoff, and it was also Diane's 100th, so it had to be something special. The last time we attempted this hike, only Rudi was able to find the right trail all the way, so we were hoping things would go better this time.
There was a heavy overcast and chilly wind blowing as we headed up the Rocky Ridge towards the big antenna. At least, we assumed the antenna was still there -- it could not been seen through the heavy fog. Even when we made it to the fence at the foot of the antenna, we still could not see it! That's foggy.
After a quick stop at Rock 2 (or as close to it as we could get), we quickly moved along the top of the ridge and then down into the watershed for some relief from the icy howling wind. As we descended down the hill, a beautiful view opened up before us and it was like we were entering a secret world that most people in the Bay Area never see. The sun could be seen shining on the bay in the distance. Very nice!
Ramage Peak appeared within sight right away, but it was a case of so near and yet so far. It seemed so close that we could reach out and touch it, but we'd have to go down, down, down into the canyon and up, up, up the other side before we could reach our goal.
We did tequila shots at the peak in honor of Diane's accomplishment, and then headed out quickly. I was the last one off the peak†, and as I headed down, I saw a bunch of people (Linda!) off to the side who had taken the wrong trail and were backtracking. Sometimes it pays to wait!
By some miracle, none of us missed the turnoff to Chabot (unlike the previous visit). There was some good shiggy on this portion of the trail with plenty of mud and cow/horse droppings for everyone! I slipped on a big fat cow patty and did a nice pirouette in mid-air, but managed to catch myself before I landed in it. The Russian judge scored it a 9.2!
This portion of trail seemed to take foreverrrrr! I kept thinking we'd be at Rifle Range Road after the next turn, but the road just kept going on and on and on ...... After what seemed like an eternity of slogging through mud, Linda and I finally came up on Rifle Range Road, where we were greeted by a big herd of angry cows, so we went off-trail to avoid them. Naturally, we lost track of our bearings and wandered around for a while before we saw Eric and Tiffany walking on a trail down below, so we were cut across and caught up with them. I was getting pretty hungry (and tired), but I knew we were just a couple of miles from Chabot, so no rest for the weary. With about a mile to go, we caught up with Lida, who had gotten separated from her group, and pressed on.
I was pretty wiped by the time I got to Chabot and knew I would be in trouble on the way back. But no time to worry about that now -- George had stashed beer and champagne for Diane's big day, so it was time to celebrate. Cheers!
I was the last one to leave Chabot. I could see the pack up ahead of me, but then they disappeared and I lost track of them. I started going up a big hill. I was about a quarter-mile up and didn't recognize anything, so I decided to turn back but saw Diane coming up behind me. She was positive it was the right trail, so we kept going. She said she saw another bunch of people up ahead. By looking at the crappy map, I figured we were on Dinosaur Ridge Road which would eventually hook up with Ramage Peak Trail at the famous cow intersection, so we kept going. After another quarter-mile uphill, we saw Peter M heading back down saying it was the wrong trail, so we decided to turn back. The others in his group apparently kept going.
We went back down and found the right trail, but after that extra one mile, I just ran out of energy. I had not hiked in 6 weeks (and that was only Priest Rock), hadn't slept for a month, and was sick all last week, so I just crashed. I was crawling along for the next 3-4 miles. Diane stayed with me, even though I kept asking her to take off. After the longest time, we finally made it to the top of the ridge before Ramage Peak.
I had to sit on the bench there for a long time. I just could not go on. At this point, Diane finally agreed to take off with Peter M (I knew she was freezing cold, so by sitting down and refusing to go on, I knew it would get rid of her!). I sat there for about 20 minutes, and that rest really did me good. I caught my second wind and made much better time after that. I caught up with Linda and Peter M before the top of Rocky Ridge and could see Diane just up ahead.
It was about 5pm by then, and getting pretty cold with the wind howling once again, so the four of us decided to shortcut back via the antenna instead of going out to Elderberry. I heard afterwards that a bunch of others shortcut back too. I figured I had done the extra mile after Chabot so I didn't feel too guilty.
While planning the hike I was wondering if it would be a Level 4 or 5 ........ after hearing (and feeling) that we gained 7300 feet of elevation on the day, it's gotta be a 5 (if not higher). It definitely did have a Ohlone / Mississippi feel to it, carrying through to the next day.
The moral of the story is not to do a tough hike after sitting on your ass for weeks! Hope I can recover in time for my 400th.
Post-hike complaints: "Only Level 5? 23 miles, 7300ft of climb? Level 5 bar has been raised!" -- Anonymous #1 ... "I've been in bed for 1.5 hours but can't sleep. My legs muscles are squirming. [person] was surprised by the difficulty, expecting a level 4.5. She brought what usually is fine food wise, but the cold was taking a lot out of people. I ate more than usual and was still ravenous. I just got up and ate some more. You did a number on us today buddy." -- Anonymous #2. It's good to be back!!!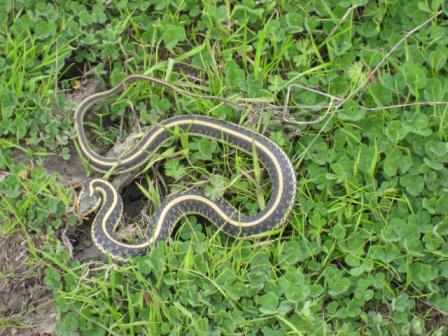 Harvey took a picture of me on the trail
Check out a whole bunch more pix in George's album.
† Except Steve, who was still looking for a geocache on Ramage Peak when Peter left. Must be good tequila, because Peter also thought Paul was missing, even though he'd been on the peak with Peter (see George's pictures).
Milestones:
Diane's 1st forest







Pages maintained by Steve Walstra, Peter Saviz, and Russell Gee.
©2022 Intrepid Northern California Hikers