679. Rose Hill (07/11/09)

Hikers (16): Alan, Chris R, David, Diane, George, Iyad, John, Karl, Kim M, Linda L, Roger L, Ross, Sarah, Stephanie G, Steve, Tiffany
Distance: 19 miles
Rating: 4 difficulty, 9 beauty
Park info: Black Diamond Mines Regional Preserve near Antioch

Write-up by Steve -- Pictures by Karl
This was almost a five, but kept it as a four because some of the pain was caused by us underestimating how hot it would be. Temperatures made it to 90° F and several people ran out of water. Fortunately there was a breeze most of the time, except the last uphill on Lark Trail.
The first nine people made it back mostly intact and had a very long time to chat. This included talking to the rangers, who seemed suitably impressed with our all-encompassing route. They came to know we were still missing seven people, however, and eventually went out to check on Alan, Iyad, Karl, Linda, John, Stephanie, and Tiffany. I'm pleased to report that they all made it back on their own. Iyad was already coming down the final hill when the rangers had driven halfway up. They later found Karl, Linda, John, Stephanie, and Tiffany going the wrong way along the top of the ridge (River View Trail), so turned them in the right direction. Alan, far ahead of them, had no such luck, and added a mile and change by coming back a longer way. Fun!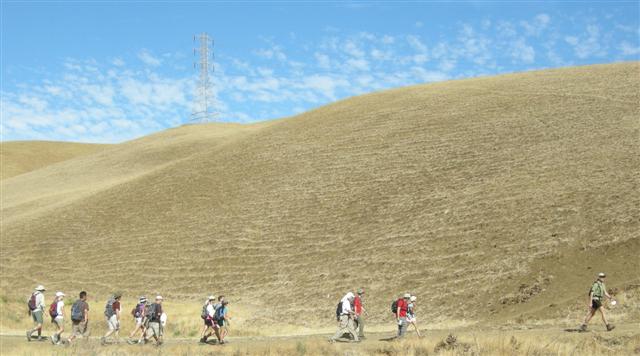 And they're off. . .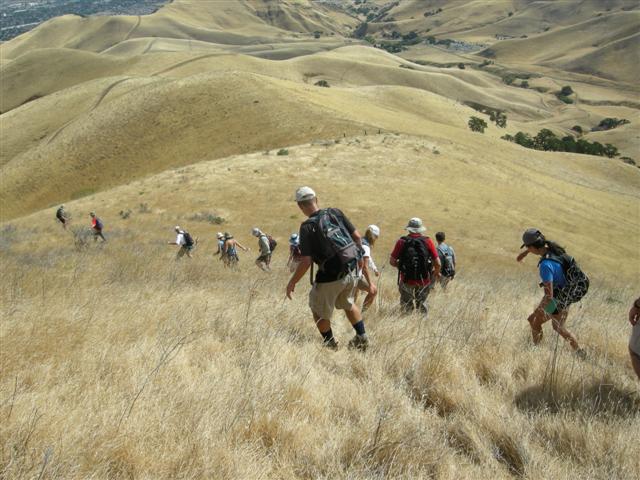 Coming off the mighty Rose Hill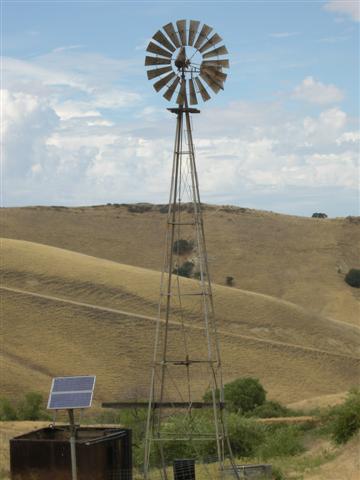 Solar-powered windmill (rising in the background is Lark Trail)
Milestones:
George's 210th leaf
Stephanie G's 1st leaf
Tiffany's 10th leaf







Pages maintained by Steve Walstra, Peter Saviz, and Russell Gee.
©2022 Intrepid Northern California Hikers