683. Freel Peak & Job's Sister (08/01/09)

Hikers (10): Cecilia, Diane, Helen, Iyad, Janice, Jeff, Marsha, Stacy, Steve, Suzie
Distance: 14 miles
Rating: 4 difficulty, 9 beauty
Park info: Eldorado National Forest near Lake Tahoe

Write-up by Steve -- Pictures by Steve, Iyad, Cecilia and Janice
There should be tons of information on-line for this popular hike. Information is scattered among many places, but nothing definitive. So here's some definitive information for the hike we did:
We parked at the the end of Oneidas Street, which leads to what is sometimes called the Trout Creek trailhead and sometimes referred to as Fountain Place. The road changes names to Fountain Place on many maps, but you'll never see this name on the road.

Soon after turning on this road, you pass through a forest service gate.
From there, just follow the entirely paved road until you can go no farther. You will pass at least one other trailhead along the way (Corral Trail), and several camping sites. Nothing will indicate you are heading for Freel Peak, except that you are driving uphill.

After parking along the road, walk down to the gate. Behind that gate is the Trout Creek route. It is an unsigned use trail (this is the way we came back)
To the right (when facing the gate) is a signed route which takes you to Armstrong Pass--that's where we went. Someone has written useful destination information on the otherwise unhelpful sign.
To the left and behind you (facing the gate) is a trail that presumably goes downhill toward the town of Meyers. It appears to be a well-used bike trail.
The trail to Armstrong Pass is gentle. At the pass, there is a sign pointing to Star Lake--that's the way to Freel as well, and you are now on the Tahoe Rim Trail (TRT). Most maps have the TRT. A second trail joins here from another popular (unpaved) trailhead (Horse Meadow) off Luther Pass.
After a while, you'll wend around a mountain to a gap that lets you see to the NW for the first time. On your right will be a spur trail to Freel. It's signed. The peak closest to you is not Freel--you'll end up heading to a peak on the left of your first guess. . .
After bagging Freel, you'll see a continuing use trail that goes over to Job's Sister, the next major peak.
If you want to make this a loop, as we did, you have to be comfortable going cross country. After bagging Job's Sister, we went down to the flat below the peak (from where we came) and then went NW along the ridge (above the creek, but below top of the ridge) for about 3/4 of a mile. There is absolutely no trail, but you can rest assured that you will eventually hit the TRT no matter how you do it.
Take a left on the TRT and go back to the area where you took the Freel Peak spur.
Behind this area is part of the drainage for what becomes Trout Creek. If you just head on down this gully, you'll eventually connect to a use trail. The trail was not obvious at the start, but after a sandy start, is is unmistakable.
Toward the bottom of the creek, pathfinding gets harder as the plants grow quite dense.
You end up on a dirt road. While it has a few junctions (all of them unmarked), by following the most "obvious" trail we exited right through the gate as planned. I had the coordinates for the cars so knew we were in the right direction, but if you tend downward, it all works out. In retrospect, the trees are likely blazed and we just didn't notice.
Congrats--you just hiked Freel and Job's Sister in a non-intersecting loop. Why go out-and-back when there is a better way?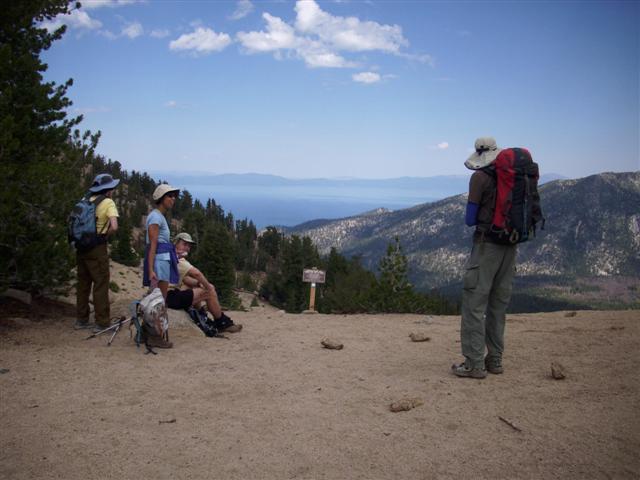 Waiting to regroup at Freel Peak spur from the Tahoe Rim Trail
As for the hike write-up. Well, everything worked out well. We stayed together, so it was a slow hike. Helen crapped out at Freel. Janice was already declaring that she wasn't going to do Job's Sister after seeing it in the distance, so went back with Helen. Altitude clouds the judgment! Anyway, considering Janice's mother had kindly provided lodging my first night in Tahoe and Helen was clearly hurting, I couldn't black-leaf them.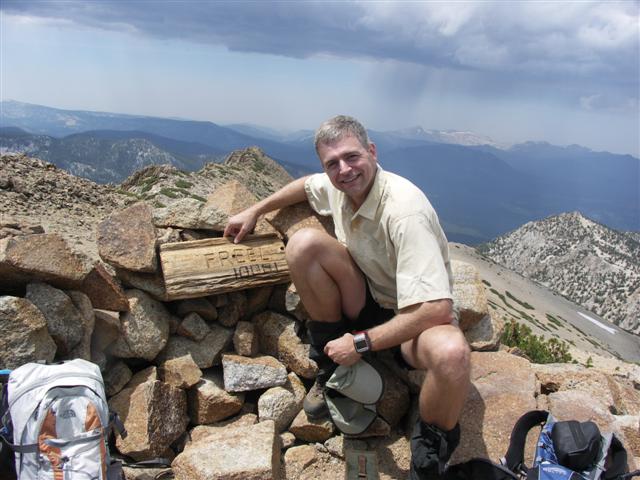 Steve bags Eldorado County @ 10,881' (note rain in background)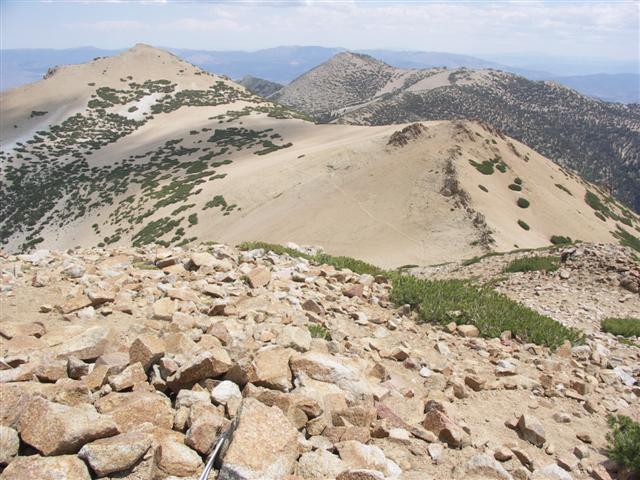 Job's Sister (left) and Job (center background) from Freel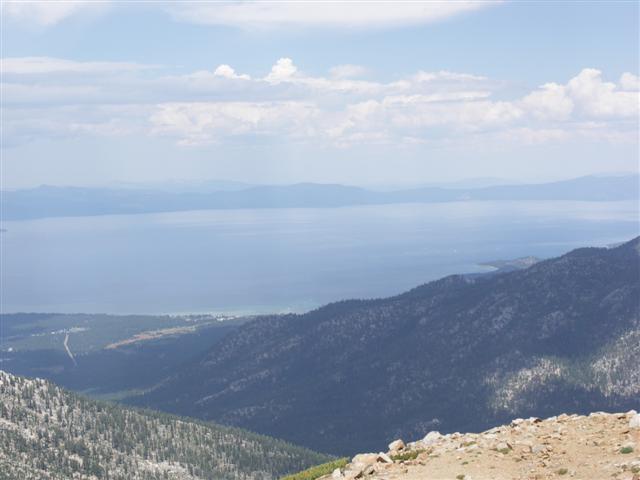 Lake Tahoe from Freel summit
The rest of us took off quickly. Or at least I did, because I wanted to bag Job's Sister, but didn't want to get struck by lightning. There were ominous-looking clouds all around and one faint thunder boom in the distance. After signing the summit register, I started down and was happy to see Diane and Iyad coming up. I was thinking everyone would wait toward the bottom (due to the lighting possibilities). As it turned out, everyone went up--fearless group! I mentioned to Suzie in passing to "pick up the pace" (because of the possibility of being near a summit if lightning came). That was easy for me to say on the way down. Turned out my fears were for naught, as the storms never passed over our area.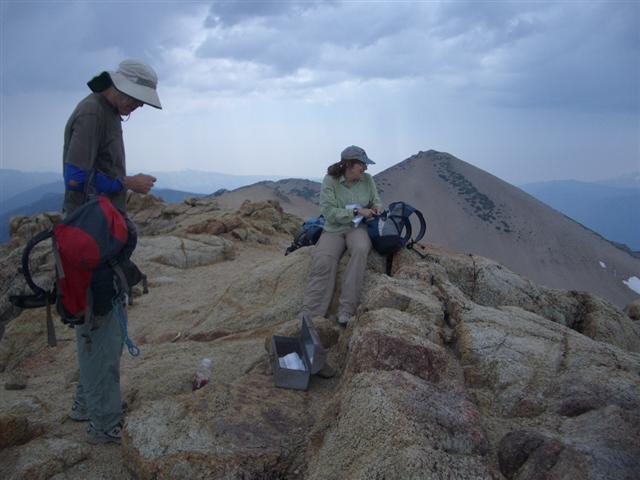 Jeff and Stacy chill on Job's Sister, with Freel in the background
The cross country traverse went very well. Normally someone freaks out after a while of no trail, but everyone was in high spirits on this downhill portion. Once we made it to the TRT, we were golden. Marsha and Suzie had asked about going down to Star Lake at the beginning of the hike, but they weren't asking for that now!
We waited up near the Freel spur area for a long time to regroup. I was confident that we could go down a gully and catch a use trail (Trout Creek) and, again, everyone went along with this. It worked out fine (as mentioned in the directions above), but was slow going as we needed to stay together, especially at one point where we couldn't find the connecting trail for a while (Iyad found it eventually), and then waited for everyone else so they wouldn't have the same experience.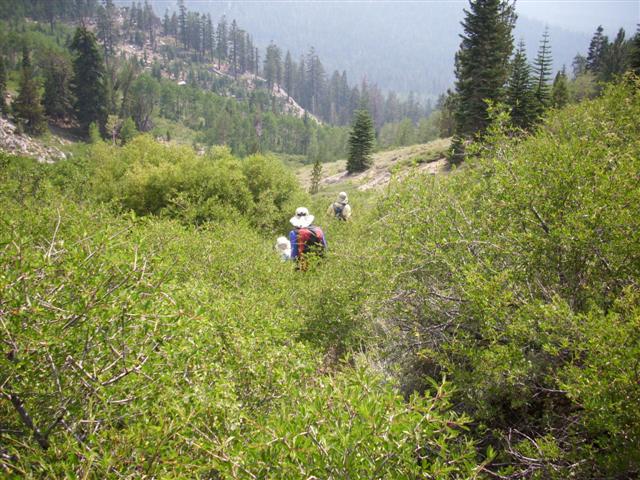 The semi-official Trout Creek trail can get a bit overgrown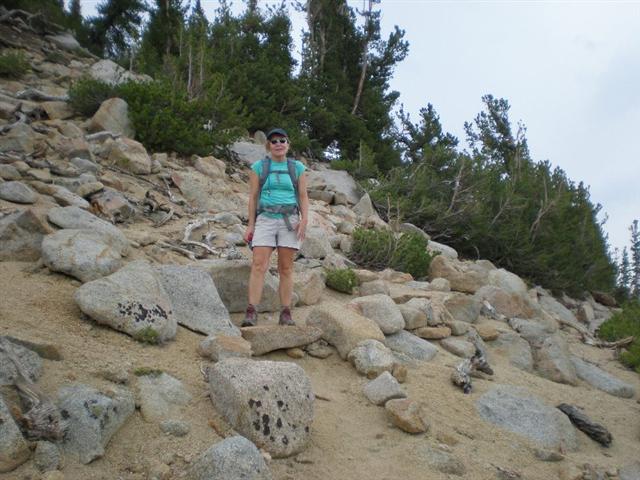 Helen enjoys coming down Freel Peak more than going up
All the waiting paid off, though, when Marsha declared she had beer in her car! That was an unexpected bonus, and having run out of water on the way down, it especially hit the spot. The big surprise was that Janice and Helen were not there. Did they get lost? Meet some mountain men? The speculation ended when they showed up. Turned out they just took their sweet time (and they had a longer route). Just as we were breaking up and heading off, it started to hail, then rain. Good time to be done!
Milestones:
Highest point in El Dorado county
Marsha's 1st leaf
Suzie's 10th leaf







Pages maintained by Steve Walstra, Peter Saviz, and Russell Gee.
©2022 Intrepid Northern California Hikers