69. Bootjack Loop (06/07/98)

Hikers (14): Beth, Cindy, Eugene, Haydar, Jamie, Jane M, Mary, Mei Chen, Peter, Rich X, Russ, Steve, Taylor, Wendell
Distance: 6 miles
Rating: 3 difficulty, 9 beauty
Park info: Mt. Tamalpais State Park in Marin County

Write-up by Peter
A cold, windy, rainy day ... in other words, a day made for the INCH! To my surprise, a dozen people showed up for this one, including a newbie. Welcome to Haydar! We loaded up 3 cars and hit the road.
We stopped at the famous Bell Market off Hwy 1 for supplies, and then headed out to the Pantoll Ranger Station at Mt. Tam. The directions we were given were not the best, and we ended up driving 3 sides of a rectangle to get there. Along the way, we lost Jamie, Esteban, Mary, and Haydar. After waiting for them for over half an hour in the rain, we figured they may have gone to another trailhead (like the one we incorrectly went to last time), so we hit the trail.
1, 2, 3, ... INCH!
We headed down the Alpine Trail towards Muir Woods, stopping in Van Wyck Meadow to take a picture on top of a big rock.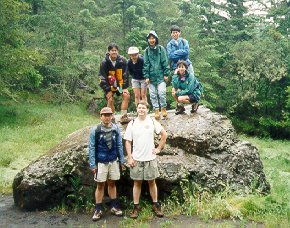 Rusty, Jane, Cindy, Eugene, and Muffy on the rock
Wendell and Peter standing below
At this point, we saw the Bootjack Trail that we had intended to take was closed. Decision time: do we ignore the sign and forge ahead, or take a different (longer) trail down. We took a vote, and the longer trail won.
It turns out that this was the trail we had mistakenly taken last time, so I, for one, was on familiar ground. We walked through the woods, enjoying the beautiful scenery. The good thing about the rainy weather is that it keeps most folks away, making the walk much more enjoyable. The INCH are a bunch of non-sociable outcasts!
After a while, the trail ended and we found ourselves walking along a paved road. I did not remember this part at all. This, coupled with the missing third of our group, got me to thinking of a new slogan: It's not an INCH hike unless someone gets lost!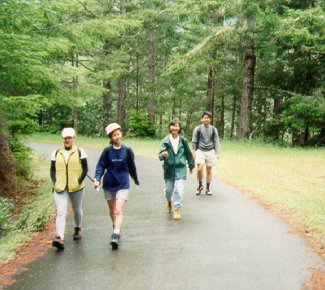 Taylor, Jane (looking curious), Cindy, and Wendell on the road
As usual, all was not lost. I had a rough idea that we were heading in the right direction, and before too long we ended up at Alice's Camp. From here, we picked up the trail again, and in less than half an hour, we were at Muir Woods National Monument.
We found a nice, fat tree trunk and all sat there in a line, enjoying our lunch. It may only be a roast beef or turkey sandwich, but it always tastes so much nicer in the woods, doesn't it? Wendell had brought along cheese and crackers, and seemed to be having a great time. The only thing missing was a glass of Chardonnay! After all, we were close to Napa.
After a brief rest, we packed up and began the uphill climb back to the cars. I was looking to take the same trail back that we had taken last time, but somehow we found ourselves on yet another trail (the Ben Johnson Trail). No problem -- just keep on hiking!
Rusty started to pull away from the pack. I tried to keep up with The Man, but I knew it was a futile effort. The rest of the group had fallen way back, but since we had passed no forks in this trail, I was not worried that we would lose more people.
As I approached the only fork in the trail, I saw Rusty standing there with Esteban, Haydar, and Jamie, looking at a map. The good news was that we had found 3 of them (they had driven all the way to Pt. Reyes), and they had hiked the trail as advertised -- namely Bootjack to Ben Johnson loop, pressing on through the "trail closed" sign. The bad news was that Mary was not with them. The word "lost" keeps coming up a lot on this hike!
We divided up and took separate trails back towards the Ranger Station. I followed The Man up the Stapelveldt Trail, but no sign of Mary. We emerged at a campground at the top and waited for the others to catch up. Well, it turned out "the others" was only Eugene. The rest of the gang had taken the other (shorter) trail back.
We began to head out on what I thought was the final half-mile to the Ranger Station. Well, once again I was wrong. The Ranger Station was less than a hundred yards away. At least, that's the kind of mistake that you don't mind making.
The good news was that Mary was back at the car, so all were finally present and accounted for. All right! Let's get the show on the road and head to the Buena Vista for hot Irish coffee -- the perfect way to end this lovely day!
P.S. I found out the next day that Mei and Rich had also showed up, and they had actually taken the closed trail all the way down and back. Too bad we didn't hook up with them, but they get an INCH leaf as well.
Milestones:
Beth's 20th leaf
Eugene's 30th leaf
Haydar's 1st leaf
Jamie's 10th leaf
Rich X's 1st leaf
Taylor's 50th leaf







Pages maintained by Steve Walstra, Peter Saviz, and Russell Gee.
©2022 Intrepid Northern California Hikers