724. Giant Wilderness Loop (05/01/10)

Hikers (19): Amy D, Chinyet, David, Diane, George, Helen, Jeff, John, Karl, Kevin D, Kristy, Paul, Paul R, Peter, Robert, Ross, Shuli, Steve, Susan
Distance: 26 miles
Rating: 5 difficulty, 9 beauty
Park info: Pinnacles National Monument south of Hollister

Write-up by Peter, Ross, Amy D, David, Robert M, Karl, Susan S, Kevin D, Paul R, and George -- Pictures by Robert M, Paul, and George
What could be more fun than a day at the legendary Pig Fence? Nothing! In fact, it was so great, you need to read the perspectives from multiple people to appreciate it.
The first part of the hike started out fine for me, including the Pig Fence itself. I pointed Diane and Karl up the Pig Fence, and by the time I stopped to shake the South Wilderness rocks out of my shoes and gear up for the fence, they were long gone. I passed Robert and Susan on the way up the fence, and eventually caught up with David near the top. I couldn't see anyone else up ahead, but it turned out they were behind me the whole time (see below). Instead of hopping the fence near South Chalone Peak, I chose to keep going straight along the fence. I figured it would eventually bring me out at the "V" which turns up towards North Chalone Peak. My hunch was right, but I paid the price. That section of trail was slow going, and I found myself hanging on to the fence for dear life with both hands in many sections, forcing me to backtrack and circle down and back up again via alternative routes. This would not be a good place to fall down and break a leg. We need to get George and Rudi in there asap to clear some trail. As I came over the last ridge, I could see David and Co. had passed the "V" and were en route to North Peak. I figured my little adventure had cost me about 20-25 minutes in time (equivalent to about a mile), but more importantly, I had expended a large amount of energy in scrambling about, so I had put my chances of completing the hike on time in jeopardy.
After a fairly long rest at North Peak, complete with twitching and cramping legs, I finally set out. I got down to the reservoir and up to High Peaks fairly quickly, but I was still behind schedule. I had set a goal of getting to Chaparral by 1:30 (six hours after the start of the hike), but I did not arrive there until 2:30. Knowing that I had a poor wife stuck at home with two very energetic kids all day, I had to get back at a reasonable time, so I reluctantly decided to cut out the North Wilderness Trail and take the shorter route back to the car. The good news is that it did allow me to finally see the Balconies Cliffs Trail, which was one of the highlights of the day for me -- very nice!
John and Kristy also (separately) took the same route back. It was not the whole enchilada, but it was still a leaf-worthy 22 miles on the day. Honorable mention to Linda for doing the tough Pig Fence portion of the hike before bailing out (wisely) at the halfway point. She was curled up in a ball and looked pretty green after the hike, but she confirmed by email later on that she had survived (I won't go into details about the vomiting - I have that effect on many women!).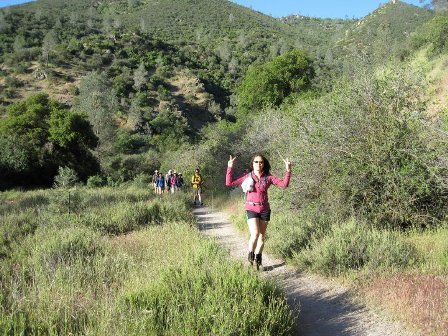 Linda spoke too soon
Here we go, in no particular order (most of these were received by email 1-2 days after the hike):
Ross' notes: Other than finding the pig fence there wasn't a whole lot of drama for me but I was pretty surprised that with all the people I was hiking with, who had done the pig fence previously, and some just two weeks ago (you know who you are), that we could just totally blow past it. I was hiking along the new dirt road intermittently with George, Amy, Steve and occasionally others. I read Peter's description of where to turn but that was totally useless so I just figured all these other guys and gals would know. When we first started down the road Amy had said that there was about 5 or 6 creek crossings. For a while I was following Stevie but then he didn't want to get his feetsies wet so after a while it was just George and I (George is a real man and doesn't care about a little water on his feet) hiking out front. Again I'm just merrily walking along chatting with George, assuming he knew where the turn off was, and after about 10-12 creek crossings I casually mentioned to him that Amy was sure wrong when she said it was only 5 or 6 crossings. George then looks up at me and says "I think we may have passed it, maybe we should wait for Steve and Amy". As it turns out Steve didn't have his GPS which George thought he had and Amy was just kind of blindly following us. As we all regrouped the consensus was that we'd passed the pig fence quite a ways back. As we headed back we kept picking up more errant people and turning them around. As we got to about where various people thought the pig fence might be groups started splintering off and heading up over ridges. George split off first with Eric and someone else. Jeff and I tried another ridge and I think Steve had another group. Jeff and I eventually found the pig fence after bushwhacking through a bunch of Chamise. I was actually surprised that I didn't see more people up ahead of me on the fence. As I went up I slowly passed various people and when I got close to the top I caught up with David, Paul, Peter and Susan and was surprised to hear that Diane was the only one ahead.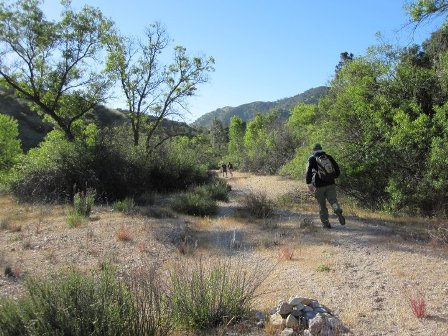 Heading down the South Wilderness Trail -- nobody was lost just yet
We all bushwhacked awhile on South Chalone Peak trying to get to the summit but after a while figured it wasn't worth the effort digging through all the scratching Chamise bushes. We then headed over to North Peak and enjoyed the views for a while. Eric and I left before everyone else and started heading downhill. It was such a pleasant day Eric and I trail ran all the way down to the reservoir - we didn't miss the turn off onto the trail ;-). We caught up to Diane at the reservoir and then headed off to the High Peaks. There was a hoard of people on the saddle at the top looking through the spotting scopes at the condors. I didn't bother staying there too long because of the crowd and decided to go up Scout Peak which is south of the saddle. It was fun scrambling up the rocks. I couldn't, at least legally, get to the very top though because it was closed for raptor nesting. As I was heading back down I saw Diane reaching the saddle and starting down Juniper Canyon Trail. I caught back up to her part way down to Chaparral Ranger Station and we then met up with Eric at the station. We refilled our water and Diane headed out but Eric and I decided to take a very un-INCH like leisurely lunch break. After finishing my peanut butter sandwich Eric and I continued on.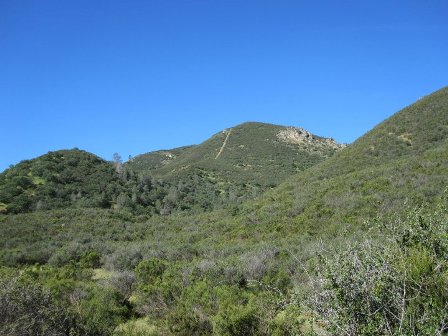 First view of the Pig Fence trail is always fun
We caught up to Diane when the North Wilderness trail started its gradual climb up the ridge. When we got down to the creek bed Diane took great joy in telling us how we'd have to follow the cairns or risk becoming condor food. I've never seen someone so excited about piles of rocks – pointing out each and every one to us. She also had just eaten some Powerbar or other sugary thing and after a while she wanted to know if it was OK for her to pass me – I was hiking too slow for Diane on her sugar high! I of course let the lady go first (always a good thing to do – take note fellow male INCHers) and I think this pleased her no end because now she could see and point out first all the cairns as they came up. I think it was just like looking for eggs on Easter to her.
Anyway she kept blazing along powered by her sugar treats and about half way through the NWT she goes past this little grassy turn and I hear this extremely loud rattling sound. I immediately slowed down and crept up to the area and sure enough within six inches of the trail is this really big very black angry rattlesnake all coiled, ready to strike and rattling away. Eric and I gave it as wide a berth as we could and then headed on. When we caught back up to Diane she said she hadn't even heard the snake much less seen it. I personally think she jabbed at it with one of her poles to rile it up but she just continued to play dumb saying she hadn't seen it. God knows the truth Diane!
Anyway ultimately I forgave her and we merrily continued down the trail with Diane charging full steam ahead. At some point I think Eric stopped for a nature break but I didn't notice. When we did notice that he wasn't behind us Diane was a little concerned that he might get lost but I reminded her that we were hiking with INCH and besides if he did die, there would be fresh meat for the new condor chick that wasn't contaminated with lead buckshot. These things always work out for the good in some fashion or other. Diane agreed and reminded me of Simba and the cycle of life – so on we went feeling no remorse.
When we got back to the Visitor's Center it was time for some libations of which we had plenty especially since George had remembered to give me his car keys. I changed clothes and set up camp at a picnic table in the shade. Even though Diane tried to kill me earlier I let her drink some of the Ridge Syrah wine I'd brought and all was good as I drifted into my alcoholic stupor. When Eric showed up I even offered him some wine – I guess I felt guilty about leaving him for the condors. We sat there many hours drinking wine and beer, eating cheese and crackers along with chips and other post hike snacks while people slowly filtered in – some looking much better than others. All in all it was a great hike. I do have one comment on the route though. I am still amazed at how deft Peter it at avoiding all the really good trails in the park – no caves, no High Peaks Loop, no Condor Gulch. Good job Peter we all love hiking in exposed chaparral for hours on end!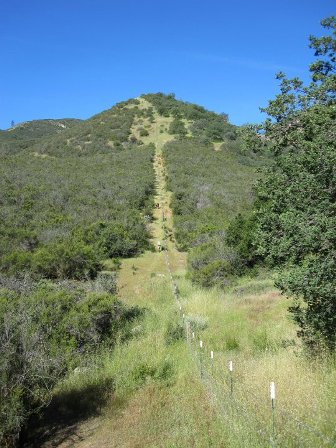 Looking up from the foot of the fence -- only about 4 miles of this to go
Amy's notes: My trip had a lot of adventure. During the creek crossings I mentioned to Kevin that the creek we were crossing looked like the one where we missed the Pig Fence last time. He wasn't sure so we trusted that George had continued on. About 1/2 mile later George asked me if we had missed the turn and I replied I thought we passed it about 5 creek crossings back. Karl, Shuli, John, and I scrambled up a hill and finally found the Pig Fence. While I was putting on my gaitors and shedding a layer I was attacked by red ants.
Climbing the Pig Fence was uneventful. I passed Helen as she was waiting for Kristy and ran into Karl, Shuli, Jeff, John, and Pilot Paul while going up N Chalone. Was thinking of just joining them but didn't want to short cut. Befriended a random hiker and ate lunch while enjoying the view. I thought that the group I had run into was only about 15 minutes ahead of me, so in trying to catch up I made a poor choice and took the road instead of the trail. When has anyone known me to do that? I always take the trail. After consulting my GPS I was going in the right direction so I continued on the road even though it didn't feel right. I saw two condors. After the second gate and no signs, I finally decided to turn back and take the trail. At this point I expected that Helen and Kristy had past me so I continued on trying to catch up.
Going up High Peaks trail I took a detour to some peak, not sure which one, but knew I had made another wrong turn so sat down for my second lunch. When I got back to High Peaks I heard someone call my name and I was surprised to find that Helen and Kristy were behind me. I hiked with them for awhile, until Kristy made a wrong turn at Tunnel Trail. When she got back on trail she told us she was going to the caves and she would see us at the car. Helen and I continued on to Chaparral Station where Helen filled her water. We decided with only about 800 ft left in elevtion we would take the North Wilderness trail since we both enjoyed it two weeks ago and wanted to see wildflowers.
Unfortunately at this point my hips and rings of blisters around both ankles had become intolerable even after the Advil I took while waiting for Kristy at Tunnel Trail. North Wilderness was very slow for me. There were many more cairns this time compared to last time so that part was uneventful except for my pain. There were less wildflowers compared to two weeks ago, but I saw a few new ones I hadn't noticed last time. Bear Gulch trail was my favorite trail of the day even with my pain.
All total 28.8 miles and 6000 ft elevation. A record breaking hike. Previous record 28.5 miles, 6000 ft, 9 hours. Today no soreness, just intense pain around my ankles. Last night I found two ticks that I must have picked up climbing the hill to Pig Fence since they were at my ankle which I covered with Gaitors right after that. They hadn't attached yet, so all is good. Can't wait to do it again, but I will wait until next year. Pig Fence twice in two weeks! CRAZY, CRAZY, CRAZZZZZZY!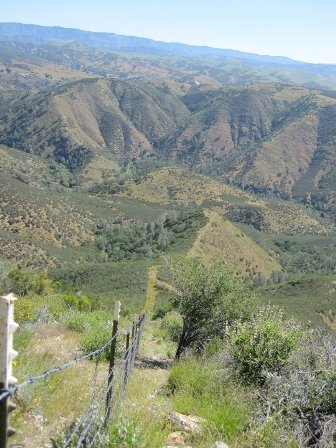 Looking down from near the top of the first section of pig fence
David's notes: Yeah, there was an element of luck to my finding the Pig Fence trail, but I think I would have recognized the error earlier than most. The first time I did the Pig Fence, several of us were seriously off course long before getting to that point (refer to "Lost Souls" in George's pictures that are accessible from the write-up of hike #644) and before I caught up to the pack, I also took the wrong path that got everyone yesterday; I had a good idea what to look for - and what to avoid.
The most frustrating event of my day was arriving at the foot of the Pig Fence and seeing no one on it. I couldn't believe that we were that far behind everybody else. Susan asked "are you sure this is the Pig Fence? No one else is here?" I kept trying to figure out how far everyone else must have progressed until Ross and Eric caught us just after we crossed over the fence at the top towards South Chalone Peak.
When I reached North Chalone Peak, Diane was long gone with Ross and Eric about ready to leave - I understand they caught her at the reservoir. Paul and Susan arrived shortly after me, then Steve showed up just as I was departing. I met George and Kevin as I descended North Chalone; other than Steve passing me on the High Peaks trail, I never saw anyone from INCH until arriving at Bear Gulch.
My route contained no deviations from the hike plan, other than I didn't bother with South Chalone Summit – been there, done that, and it was optional. I took short breaks at the Chaparral Ranger Station, at the first creek crossing on the North Wilderness Trail, and at the Old Pinnacles Trail-Bench Trail junction. My day contained no extraordinary drama, for which I'm grateful. Outside of a left calf muscle that's slightly pulled (which happened halfway up the first stretch of the fence), I feel disgustingly good today.
A couple of random observations from my third excursion on the Pig Fence:

This was my "easiest" experience on the fence. Knowing what to expect helped me pace myself and nothing can compare to climbing the fence in temperatures approaching 110º.
This is the best time of year to hike the North Wilderness Trail - it's much more scenic now than later in the year, after it's turned brown.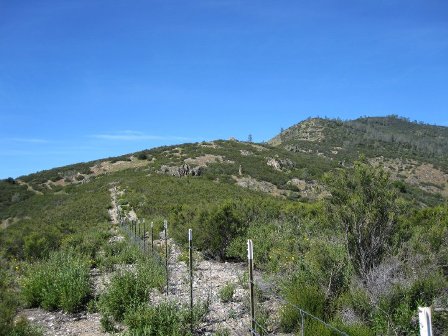 It flattens out a bit, but don't be fooled -- it goes back down before turning uphill again at least twice more
Robert's notes: I followed Peter and Diane after their botched creek crossing to the point where the Pig Fence begins. They uselessly crossed the creek 2 extra times with their boots on, ignoring all my shouting "Stay there, you are on the good side!!"
I took the fence really slow with lots of breaks to conserve my energy. At the end of the climb near South Chalone Peak I hopped the fence, and suddenly felt the urge for a pit stop. I found a nice clearing within the manzanita bushes and earned a couple of brown leaves. After I was done, John and Paul emerged from the climb, and we started looking for the use trail. I found it immediately. (That makes me think, did I have my pit stop at the trailhead of that use trail? Future Pig Fence climbers, watch your steps!!). When I found the South Chalone trail, I shouted out for John and Paul, but they didn't follow me, and that was the last time I have seen them. The North Wilderness Trail was easy to navigate thanks to all the cairns. I lost the trail a few times, but then I just followed the creek bed until I hit the trail again.
The aftermath: I had cramps all evening yesterday, then slept for 13 hours. Today I still can barely move. I have blisters and sunburn all over.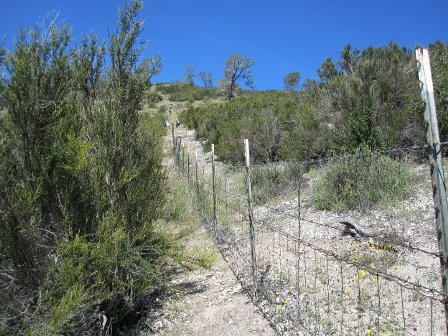 If you have a barbed wire fetish, this is the place for you
Karl's notes: I ended up with an extra mile, or slightly less, when a group of about 8-10??? of us missed the start of the pig fence. Later I regretted "finding" the pig fence after some difficult bushwacking....LOL I will never forget my first image of the pig fence and the steepness of the hills in front of me. WOW that was some climb! I remember looking at my GPS which showed 871 feet at the bottom of the pig fence. I did not note the distance, but the North peak is about 3300 ft...so approximately 2400 ft climb in about 2 miles over uneven terrain with loose dirt and gravel at times. Oh, and you drop about 700 feet from the South Peak, only to hike right back up 700 feet to the North Peak. Another 700 feet climb directly after you just hiked the 2400 feet! WOW brutal comes to mind! I can't imagine hiking this at 100+ degrees.
Karl, Jeff, Shuli, and John wanted to visit the South Peak which required some bushwacking....so we added minor distance there, but lost a fair amount of time bushwacking.
We enjoyed a 30 minute or so lunch break at the North Peak....after we were joined by Pilot Paul who had hiked along the fence line to South peak. So Karl, Shuli, Jeff, John, and Pilot Paul enjoyed a nice lunch in the shade of the building up there...again, we lost some time, but we had a fun time relaxing and exchanging comments about the cruelty and viciousness of hike leader Peter....many expletives were used Peter! LOL
Paul left the North Peak in route to the reservoir. Karl, Shuli, Jeff, and John all headed towards the reservoir right after Paul. We saw Amy heading up towards the North Peak as we were heading down. We stopped breifly to chat. Karl, Shuli, and Jeff continued on to the reservoir. It was the last time we saw John and Amy. We later passed Paul and it was the last time we saw him as well.
Other than the extra hiking distance finding the pig fence, and the extra short side trip to the top of the South Peak, I pretty much followed the planned itinerary.
The North Wilderness Trail is quite scenic, in my opinion, but I wasn't enjoying it on this hike. Karl, Shuli and Jeff all commented that it was "all about completing this hike" at that point. A special thanks to Jeff for helping us stay on the trail that disappeared at times. I really "enjoyed" hiking with Jeff and Shuli. We kind of helped each other with encouragement to complete the hike. We kept wondering why we never met up with anyone else on the hike. I guess the extra time we spent bushwacking to the South Peak, and the time we spent enjoying lunch left us far behind.
I know I hadn't fully recovered from backpacking some very difficult and challenging trails at the Grand Canyon earlier in the week, but I can tell you that this Pig Fence hike was truly BRUTAL and may be the toughest day hike I have ever done. I have done some very tough day hikes with INCH, but this may be the toughest. With that said, I feel a huge sense of accomplishment today. I think it's good to challenge yourself with hikes such as these.
I am very happy everyone survived the hike. Nice job by Helen who was doing well along the lower portion of the Pig Fence. She was gaining on me very quickly and was obviously feeling strong. But she waited for Kristy, Amy and Linda. Nice job Helen!
Well, compared to others, my version of the hike is pretty boring. No rattlers. No puking. No sore knees or blisters. Just a long long day of hiking and some creative combination of the various cuss words in my vocabulary...LOL.
You know what? I feel good now and my lack of memory, and lack of common sense, will no doubt allow me to attempt this brutal hike again! LOL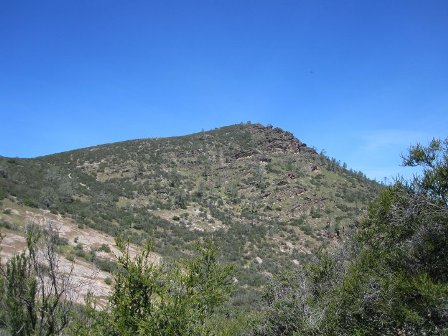 Looking up at fence-free North Chalone Peak
Susan's notes: There was no adventure on my hike yesterday. I tried my best to follow the map when I was alone. I got very lucky by sticking with David before climbing Pig Fence. I don't want to get shoes wet when the hike just starts. David told me to follow the fence. Hiking though the long grass is tough for my leg since it is first time for me hiking with shorts.
Pig fence seems endless. I took one long break in the middle, so tired that I even had no energy to move when Diane passed by me. Sorry to block your way, Diane.
It is toughest hike I have even been. The most exciting thing about this hike is the wild flowers. I got a chance to see some rare flowers and got some nice shots too. All together I also achieved 57607 steps for this whole hike.
Feel great today. I also did another 5 miles hike in Santa Teresa Park this morning. [This hike was too easy for Susan!]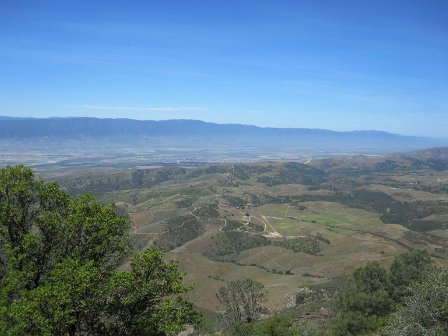 Looking out towards Soledad from the top of North Peak
Kevin's notes: I had done the pig fence two weeks before and we had missed the trail and had to double back and find it. This time I was determined to get to the pig fence early and get it over with. I hustled to stay just behind Ross and George. They plowed right through the streams while I, and Steve, and others ran around and jumped. Sometimes loooong jumps. When Steve takes a good run at it he can jump a long way.
When Ross and George turned around I thought "drat! I missed it again.". After doubling back on the sandy fireroad, George, Eric, and I turned toward the pig fence as soon as we saw it. We plowed through some brush, and then I tried to make a big jump over a stream nearly hidden in the brush. Big splash with my left foot. Crap. George scrambled up the steep slope on all fours pushing rocks and debris down below him. I waited for a minute to get out of the way of the landslide and then crawled up the slope behind him. Eric was off to the side and the three of us scrambled through more brush and along the side of a couple good size hills until we got to another stream, this time near the corner of the bottom of the pig fence. Damn, I was hoping that maybe we could salvage a little elevation, but no, we had to climb down to the bottom of the pig fence and then start up it.
Eric soon got out ahead (of course) up the pig fence. George and I stayed pretty close together and got to the cutoff toward N. Chalone at the same time. We saw Peter taking the hard way along the pig fence instead of the cutoff.
We also met Robert near the top but George and I headed off to the N. Chalone for lunch where we met Paul and Susan coming down. Also I believe David. At the top Peter joined us for a minute for his lunch before George and I took off.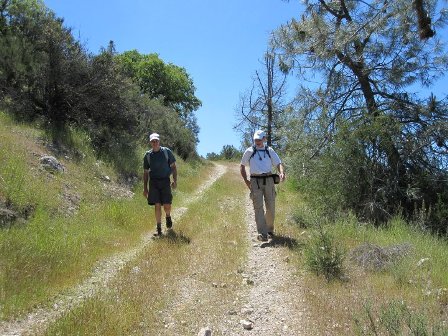 Heading down from North Peak, Kevin's wondering how he can ditch George
At High Peaks, while I was admiring the view I heard my name and turned around to see Susan who had taken a short break. Susan and I took a couple minutes and checked out the view of the condors via the scopes that folks had set up. She, George, and I hiked much of the remaining way together. The three of us filled our water bottles and took a break at Chaparral Ranger Station. When we were about to leave there, Robert arrived. We left him and headed out for North Wilderness Trail. Prior to that, and especially on the beginning of that George regaled us with his keen ability to identify wildflowers. Eventually he sped ahead and Susan and I finished the remaining way back to Bear Gulch. She taking up the slack and continuing to identify wild flowers and taking pictures.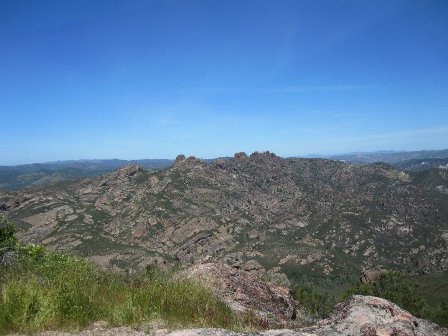 View of the High Peaks -- we have to go down first, then up there, then down the other side, then 10 more miles ("only" 5 if you shortcut) -- welcome to INCH
We saw nor heard no rattlesnakes. When we got to Old Pinnacles Trail we met John, coming from another trail, and chatted briefly with him until he took off ahead of us.
When we got to the turn for Bear Gulch we were thankful, but dreading the remaining one mile "up the hill". It turned out to not be bad, but, for some reason unfamiliar. We both kept wondering if we had somehow made a wrong turn until rather suddenly the parking lot lay before us. We survived. Then, George, my new best friend, gave me a beer and chips.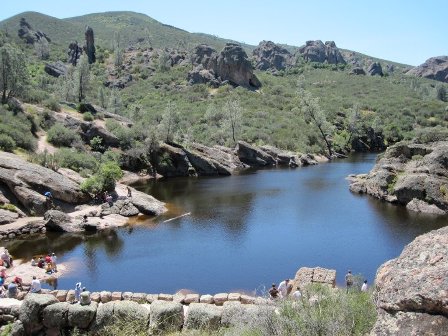 Enough walking -- can't we just go for a dip in the reservoir instead?
Pilot Paul's notes:I normally have a habit of showing up within 5 minutes of "1,2,3 INCH" ... I suppose that I have developed a bad habit of being tardy. In fact, on a few hikes, I have had to rely on the thoughtfulness of our hike leaders, whom have left spare maps on the cars, to allow me to "catch-up" to the rest of the crowd. But ... there is something alluring about being in the back ... it provides an extra incentive to push yourself harder and try to get as close to the leaders as possible!
Unfortunately ... in regard to the pig fence hike, I was doomed from the start. Having completed "Steve's SuperDuper" hike the week before in swift time ... I was hurting ALL week long. Even though I had desperately wanted to do the Pinnacles hike .... my body was saying "ouch." But ... in true INCH spirit, I decided NOT to listen to my body !!!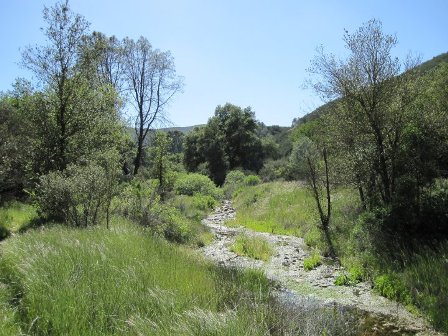 Nope, gotta keep walking -- here's the North Wilderness Trail
I showed up at the meeting place with "crutches" in hand. In the past, I had always thought that hiking poles were "cheating" ... but, on the Friday before the hike ... I succumbed and picked out the cheapest pair that I could find. Thank heavens I did !!! Those "sticks" were the ONLY reason I was able to put weight on my feet !!! In hindsight ... I LOVE walking poles !!! In fact, from now on ... I will ONLY refer to them as the European do ... "Nordic Trekking." Sounds much more adventurous ... maybe even Intrepid ??? ;-)
So ... in regard to the actual hike, I quickly found myself in the "caboose" position. Before I even reached the "fence," I knew that I was never going to finish the entire hike. Fortunately ... our IRON MAN hike leader offered MANY "opt-out" points along the way ... with varying degree of "leaf-worthiness." I committed myself to at least reach "sucker" intersection #3 ... Chaparral Ranger Station.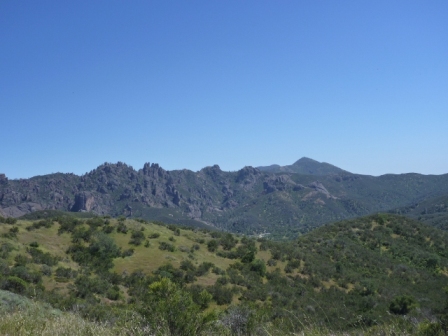 Looking back at High Peaks and North Chalone Peak from the NWT
With this knowledge in hand, I was able to pace myself appropriately ... and actually ENJOY the hike !!! Being that this was my FIRST trip to Pinnacles, I decided to do some SIGHT-SEEING (*Disclaimer ... on an INCH hike, "sight-seeing" is NOT endorsed by the governing body). I explored Bear Gulch Cave Trail, High Peaks Trail, Tunnel Trail and Balconies Cave Trail. They were all marvelous and quite enjoyable !!!
By the time I returned to the parking lot, I had managed to traverse 25 1/4 miles ... and felt quite content :-) The route I took allowed me to APPRECIATE the most DRAMATIC aspects of the park and yet ... feel like I "kinda" earned my leaf. All in all ... a wonderful experience :-)
Oh, wait a minute ... I forgot to mention the pig fence. It was pure hell !!! Forget everything that I said ... this hike tore me from limb-to-limb !!! If not for Russ canceling the following week's hike ... I would need hospitalization. Why do I hike INCH ??? ... I LOVE TO SUFFER !!!
And finally, we interrupt our regularly scheduled programming to bring you a lesson from George: It was hilarious when Robert did his post-hike cooler inspection. Not only did he take Steve's seat at the table, he took the hummus from my table and moved it to his. Then he started looking through Steve's cooler and Steve grabbed it away from him with great indignation. A short while later I took my hummus back. Hold on to your coolers, boys and girls!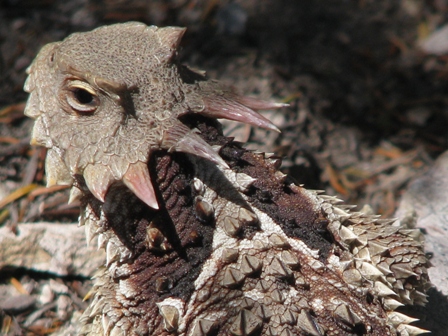 The INCH mascot was there to check out the fun (for those who don't know, this is a horny toad -- named after our hike leader)
Milestones:
John's 40th leaf







Pages maintained by Steve Walstra, Peter Saviz, and Russell Gee.
©2022 Intrepid Northern California Hikers