743. Spikes Peak (09/18/10)

Hikers (15): Chris, David, Diane, Iris, Kirk, Larry H, Mike, Paul, Peter M, Robert, Russ, Sarah, Shuli, Stacy, Steve
Distance: 16 miles
Rating: 3 difficulty, 9 beauty
Park info: Pacheco State Park near Hollister

Write-up by Steve -- Pictures by Diane and Iris
More pictures from Robert.
A few years ago, the Hayward Hiking Club sent me some pictures from Pacheco State Park with the following comment: "It's definitely NOT flat. It goes up, then down, then up, down, up down...oh the pain." and compared it to southern Coe. Knowing this group, I challenged them to do Willson Peak (a quintessential Southern Coe hike), which appeared to be harder than anything in Pacheco State Park based on the Topo. Well, three years later, we finally went to Pacheco. So far, have not heard if our Hayward Hiker friends made it to Willson.
Fifteen people signed up for this "remote" hike. Actually, it's not as remote as it sounds. The carpool got there in about an hour, which is the same amount of time it takes to drive to Mt. Diablo. It's easy to get to Pacheco State Park since the route is all highway.
1-2-3 INCH!
We had a cool and foggy start, but nothing in this area stays cool for long. The fog burnt off and we could see for miles in all directions.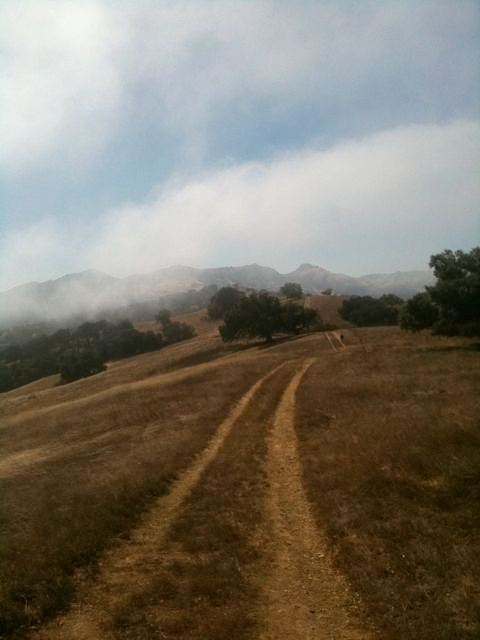 Into the fog
The park did not disappoint! I had put together a loop that hit every lake/pond and most of the trails. We even managed to have 14 people miss one unmarked turn (actually, it was marked, but the sign was down), leading to an extra two miles of bonus hiking down Whiskey Flat Trail. We knew we had gone too far thanks to an unambiguous sign.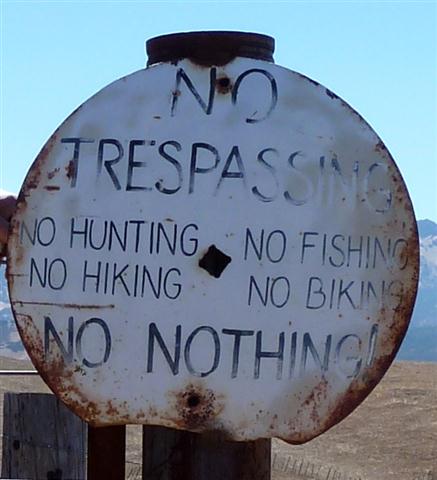 If you see this sign, you missed the turn to Nun Lake
We hiked back up the road and found the elusive turn-off. It headed steeply down to Nun Lake and clearly did not get much visitation. We saw Stacy on the opposite side of the lake. She had gone the correct way. . .and apparently hung out at the lake for a bit. We were all together again.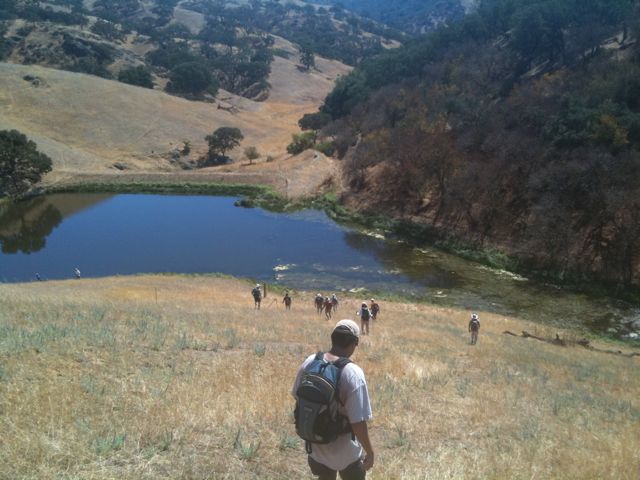 Russ can't wait to get to Nun Lake
The route from the lake back up to the Spike's Peak was easy to lose in places, even though there were many plastic sign posts along the way. About a third of them had broken off over the years. Still, they were crucial, because there were plenty of other attractive use trails here and there.
After getting up to Spike's Peak, it was down again to Diamond and Bear Hide Lakes along the southern perimeter of the park. This trail had seen better days, but nothing INCH couldn't handle. The lakes were nothing to write home about, but the views out there were nice--nothing but earth and air. Once we turned back north up the South Boundary Trail, we crested a hill and saw the large array of windmills. We would continue to get closer to them over the next couple miles. Where there are windmills, there is breeze, and it the breeze was welcome as it was getting a bit warm out there.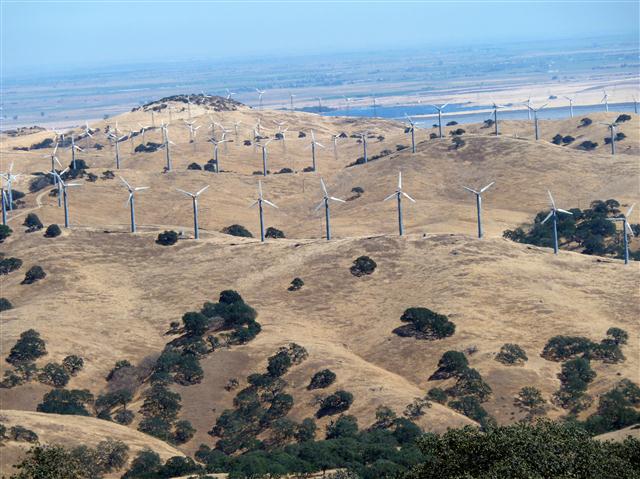 Pacheco Blows
When we hit the last long segment of the route--Dinosaur Lake Trail--none of the signs seemed to indicate the correct way. That being said, with the maps in hand, we figured it out (and left arrows). This would take us as close to the windmills as we could get. After that, it was down to Dinosaur Lake, which many people guessed was named after the fact that it looks like a dinosaur footprint. I thought it was named after nearby Dinosaur Point (in San Luis Reservoir), but it turns out that Dinosaur Lake really is named after the shape. INCHers have good imagination.
From here it was back up and eventually over Windmill Road with a final flat mile back to the parking lot. All in all, this was a much better hike than expected. Took a while for everyone to filter back, so you know it had some good hills. I took a look at the large posted park map and discovered why the signs did not mention Dinosaur Lake Trail--that area of the park is temporarily closed! Whoops. I don't feel too guilty since all the maps they provide still have the trails and the web site doesn't say anything. Considering that part of the route was one of the best maintained, it doesn't look like anyone else knows, either.
I had suggested in the hike notice that we could visit Casa de Restaurant in Casa de Fruta (an INCH tradition after hikes starting from Dowdy Ranch in Coe), but only the car pool went. The Northern California Renaissance Faire was going on nearby and the festival parking area was packed. Luckily the eating/shopping area was not affected, although we did see a few people dressed in period costumes around the restaurant. Fun!
Milestones:
Iris's 1st leaf
Kirk's 20th leaf
Larry H's 1st leaf







Pages maintained by Steve Walstra, Peter Saviz, and Russell Gee.
©2022 Intrepid Northern California Hikers