80. Grant Park Loop (08/02/98)

Hikers (5): Eugene, Mary, Peter, Russ, Steve
Distance: 11 miles
Rating: 3 difficulty, 8 beauty
Park info: Grant Ranch County Park in the East San Jose foothills

Write-up by Peter
It was the hottest weekend of the year. Most of the INCH crew did the smart thing and stayed home. Five of us were dumb enough to head to the brown hills of East San Jose for a day of torture that we called the 80th INCH hike.
We attempted to find a deli or supermarket to get supplies along the way but it was slim pickings. I finally was able to procure a bag of bagels, some pre-packaged turkey slices, and a cucumber. That's all the sandwich fixin's I needed. I could tell The Man was dubious about this arrangement, but he had no choice but to go along with it.
We headed out on the twisty Mt. Hamilton Road to Grant Park. There was virtually no traffic on the road - looks like everyone else was smart enough to stay home too. As we got out of the car, it felt like we had stepped into an oven. No doubt about it, we were going to suffer today.
1, 2, 3, ... INCH!
Right off the bat, we got lost. Esteban led us up to and around a small lake, where the trail promptly disappeared. Hmmm. We thrashed about in the brush for a while, and then Esteban finally found the way out. Onward!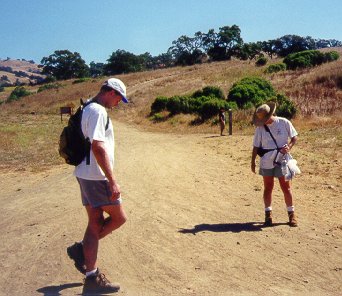 Look! It's dirt!!!
The trail was straightforward from here - a wide fire road leading for 2.5 miles to the top of Halls Valley. As we climbed, we were treated to a beautiful landscape of foothills and grasslands below. It was pretty damn hot, but all things considered, this was not so bad after all.
At the top, the trail flattened out and took us another couple of miles along the ridge to Antler Point, the highest point in the park at just under 3000 feet.
Esty was the first to arrive at the top. When Rusty and I arrived, he was sitting on a bench under the blazing sun. I figured I would be smarter than that and headed off-trail for the shade of a nearby tree. I soon found out I had made a mistake - I walked right into a patch of thorns and burrs galore. Ouch!! As I headed back, Esty told me he had made the same mistake. Thanks for the warning, pal!
I spent the next 15 minutes picking burrs off my legs, during which time Eugene also arrived and Esty provided entertainment by telling us about a guy he had encountered a mile down the road who was sitting with his naked butt hanging over the edge of a bench.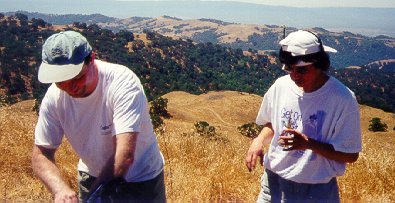 Fixin' lunch (almost as fascinating as looking at dirt)
I finally settled down for lunch. The homemade sandwich tasted pretty damn good. Even Rusty was in agreement. In fact, The Man liked it so much that he decided this was going to be his modus operandi (or, as we say on the force, "M.O.") from now on.
Well, this had not been so bad. I figured we would be dead tired by the time we made it to the top, but everyone was pretty fresh and none the worse for wear. We enjoyed the panoramic view of the Santa Clara Valley a little longer while we waited for Mary. After some time went by, we concluded she had headed back, so we set out to complete the loop.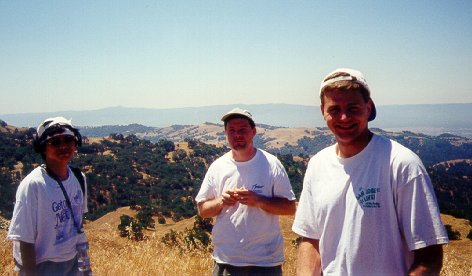 Eugene, Peter, and Esty at Antler Point
From the top, the trail led steeply downhill into a canyon. The bad news was that we'd have to climb out the other side. Maybe this hike was not going to be so easy after all. The old saying about counting chickens before they hatch came to mind.
On the canyon floor, the air was completely still and I could feel the heat coming off the ground and burning through the soles of my boots. I stopped to check my water supply. I figured I would have enough to get me back, but I was cutting it close.
Half a mile further up, the trail forked. One trail led back to the Halls Valley Trail which we had come in on. The second trail, which we had originally planned to take, called for taking a longer loop back to the car. Given the heat factor, we stopped to debate what the wiser course of action would be. Esteban, Rusty, and I decided to stick with the original plan. Eugene opted to take the shorter trail back. He was running low on water, so I gave him one of my bottles as we parted ways.
The upward climb began. It did not take long for us to separate. Esty established a good lead on Rusty, who in turn established a big gap on me. I was not looking to break any speed records at this point. I just wanted to get out of this hell.
As I wound my way slowly up the switchbacks, I looked back across the canyon to the Halls Valley Trail and wondered if I had made the right decision to take this trail. The worst part of it was that this was a U-shaped trail, so it would lead us away from our final destination before finally bringing us in. Adding to the frustration was that after almost two hours of walking under the brutal sun, we were directly across the canyon from Antler Point. It felt like I could just reach out and touch the bench where we had stopped for lunch.
I finally made it to the top of the damn ridge and stopped to rest. The heat was taking its toll. I was panting like a dog and was tempted to take huge gulps of water, but I had to ration myself. The only saving grace was that it looked like it was all flat or downhill from here. Off in the distance, I could see Rusty slipping and sliding down the incline. I wondered which of us was cursing more at this point. That brought a smile to my face. I think I may have even laughed out loud. Maybe I was going insane from the heat!
That downhill was a real mother. I sprained and twisted my ankles and knees in ten different directions going down that thing. Eventually, the trail flattened out in another canyon. I looked at the map (which had pretty much wilted and fallen apart by now). I estimated it was about another 1.5 miles back to the car from here, and I was down to my last bottle of water. I wished I could just sit under a tree for a couple of hours, but no dice. Gotta keep moving. My main thought was not to take a wrong turn at this point.
I trudged along, taking careful sips as I went. If I were to drop that bottle, I may as well just lay down and wait for death! I walked across a dry river bed and began the climb up the bank on the other side. Ordinarily, it would be a trivial climb, but now it felt like I was scaling Everest itself. As I came out the other side, I saw the road was less than a half-mile away. Yes! I was going to make it!
As I walked the last hundred yards towards the road, I tried to pick up the pace but failed dismally. I could not even walk in a straight line. I was weaving back and forth across the trail like a punch-drunk fighter trying to make it to the bell in the final round. I staggered to the gate and collapsed by the side of the road. I was exhausted. As I sat there gasping for air, Eugene and Mary drove by and beeped at me. The bastard did not even stop to see if I was OK! I gave my last bottle of water to this guy, my friend for the last 17 years? If I had the strength, I would have thrown a rock at him!
I used my anger for motivation and picked myself up and headed to the parking lot, about a half-mile away. Rusty and Esteban were there, waiting for me and ready to go. I collapsed in the back seat of the Russmobile and we hit the road.
On the way back, we stopped at a 7-11 where the boys got some Slurpees and I downed a nice cold Heineken. I don't remember the last time I had to work so hard for a beer. Was it worth it? I need a few more before I can answer that question.
p.s. I got even with Eugene. After I got home, I told Taylor what had happened and she called him up and gave him an earful. I love my baby!






Pages maintained by Steve Walstra, Peter Saviz, and Russell Gee.
©2022 Intrepid Northern California Hikers