Boating information:
Fish in this lake include:
Other information: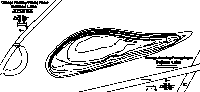 Get detailed map, (26k) (including depths).

Belleau Lake is located just southwest of where Rand Rd crosses I-294.

(Stocking info '02)While we don't have exact figures, normal stocking for this lake is 1500 pounds of average size 1/2 pound trout, The trout season begins April 6th. You must possess a valid fishing license and inland trout stamp.