Boating information:
You can rent rowboats at this facility.
Trailer boats not allowed
Catch and release fishing in this lake include:
Other information: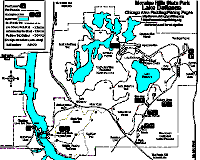 Get detailed map, (52k) of park.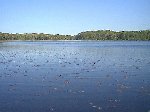 Lake Defiance is a small lake located in the Moraine Hills State Park. This is a shallow lake and is located just east of River Road and north of the town of Holiday Hills.
The lakes main visitor area is at the red dot shown on this Map.
There are are many nature trails, a boat rental and a bait shop.