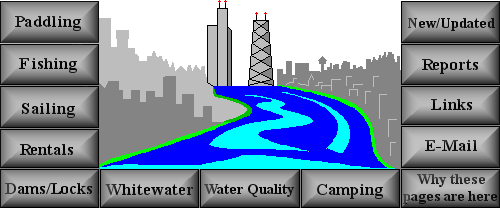 DuPage River
(DuPage and Will Counties, Illinois, U.S.A.)
We are not responsible for errors or omissions.
When boating, regardless of water depth, wear a PFD!
04/30/2007 We've had a report that a temporary boom is stretched across the entire river north of the Mack Road Canoe Landing.
An interesting little river. It's name comes from an old settler family in the area, the DuPhaze (this is how I was told it was spelled) family. Older maps call it Aux Page, Page Creek or LaPage Creek. In the 1800's, in addition to the Naper Settlement, there were also Indian villages called Bonaparte (roughly straight west of Fullerburg), and Glen Ellyn.
Consumption Advisory
Carp Advisory (Mercury)
Officially, the sanctioned canoe launches are at:
Blackwell Forest Preserve's Mack Road Access (DuPage County)
(Camping is also available)
Riverside Park (Will County)
Channahon State Park (Grundy County).
We are mapping the river and hope to have the entire length mapped shortly: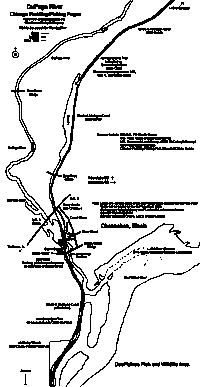 This river runs right through the heart of the Chicago burbs, and yet has many places where you'll feel like your in the middle of nowhere. It's a nice river for canoeing.
---
A trip report from Bob
Submitted 9/7/97
We got on the west branch of the DuPage River at St Charles Rd in West Chicago at about 9:30 this morning. At this point the river is only about 15 feet wide with a thick canopy of trees. From St Charles Rd to Winfield took about 2 hrs. The entire time we were in thick woods. We scraped the bottom a few times but never had to get our feet wet to get moving again. For the most part the river was very narrow with a steady current. We had to go around a few fallen trees, but only one time had to get out and drag the canoe over a fallen tree (but we didn't get our feet wet) After Winfield the river widens to about 40 feet and is pretty shallow. We got hung up on the bottom several times but only had to get out and push 2 times. We reached Butterfield Rd at about 1:30 and decided to call it a day. Along the way we saw at least 20 great blue herons and a giant white egret. We also saw a deer.
Editors Note: Phil Verling has written an excellent pamphlet on the DuPage River. It's available for < $5 at Chicagoland Canoe Base.
---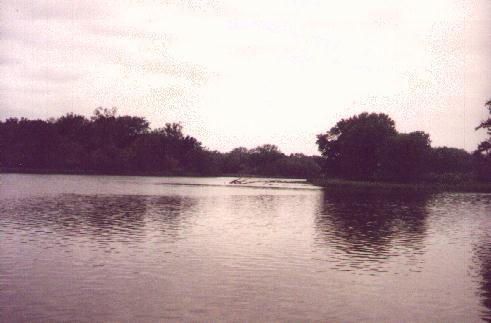 This picture shows a wider DuPage river, just before the dam at Channahon.
DuPage River (Des Plaines River Watershed) Water Quality Report (Illinois EPA)
---