Boating information:
Fish in this lake include:
Other information:
Part of the Calumet Division of the Cook County Forest Preserve District.
Pit toilet facilities.
IEPA Water Quality (Not tested)
Special Fishing Regulations and Stocking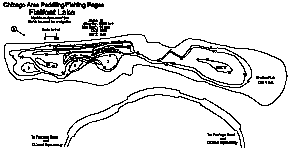 A more detailed map, (17k) (including depths).

Flatfoot lake is located near Beaubien Woods, just west of the Calumet Expressway and just south of 130th Street.