Boating information:
Fish in this lake include:
Other information:
Operated by the DuPage County Forest Preserve District (phone 630-933-7200)
Cleanest lake monitored by VLMP in Northeastern Illinois.
Public Parking Available
Public Toilets
Handicap Accessible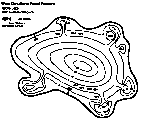 Get detailed map, (31k) (including depths).

Grove Lake is located on Wood Dale Road, north of Lake Street, in Wood Dale, Illinois.

(Stocking info '00)This lake will be closed from March 11th to sunrise, April 1st at which time the lake will be open for Trout fishing. This lake will be stocked with 1800 Trout. (No size limit, 5/day max) You must possess a valid fishing license and inland trout stamp.