Boating information:
Private boats permitted.
Gravel Boat Ramp
Electric trolling motors only.
No rental boats available at this time.
Fish in this lake include:
Other information:
Adjacent to Beaver Lake
Hiking Trails
Access to Fox River
Camping at State Park
(Currently youth groups only)
Toilets (Pit)
Swimming and wading prohibited
Hunting (in season only)
Water Quality Information
Illinois EPA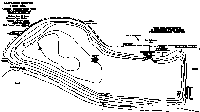 Get detailed map, (44k) (including depths).

Silver Springs State Fish and Wildlife Area is located just west of Yorkville, IL on Fox Road. From the Chicago area, take I-55 south, to Illinois Route 126. Take Illinois 126 west to Illinois 47. Take Illinois Route 47 north to the first stop light (there is a Fire Station and snack shop on the corners) and turn left onto Fox Road. Follow Fox Road thru several curves and you will be at the State Park.

For more information, contact the Park at 1-630-553-6297.

Loon Lake is stocked with Rainbow Trout fingerlings. This lake will reopen for trout fishing at sunrise on April 6th. You must posses an inland trout stamp in addition to your license.