Boating information:
Gas-powered motors prohibited.
Fish in this lake include:
Other information: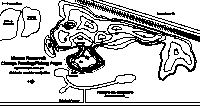 Get detailed map, (23k) (including depths).

Monee Reservoir is located SW of Monee. Take I-57 southbound to Manhattan/Monee Road, exit east to Illinois Route 50. Then Route 50 south to Pauling Road, then take Pauling Road west to Ridgeland Avenue, Ridgeland south approx 1/2 mile to preserve entrance. You may not bring your own boat to this lake, but you can rent canoes, rowboats and pedalboats.
---
Went to Monee reservoir on Friday and again on Sunday. Friday small largemouths and bluegill biting on crawlers. My brother caught a lot of bluegill on flies (he fly fishes). The person next to us caught a nice largemouth (about 3lbs.) on some type of large bass spinner. I don't know what they are called. It was a large weedless spinner with feathers. Sunday was very crowded so we ventured to the small ponds in the back. Pretty good fishing in those ponds; although very weedy and difficult to find an opening to fish. Largemouths biting on flies, crawlers and minnows. Also good size largemouths on top water lours such as weedless rubber worms and rubber weedless frog. cdaiker@idcglobal.net
(Quote/e-mail address used with senders permission)