Boating information:
Private sailboats, canoes, rowboats allowed.
Gas-powered motors prohibited.
Concrete Ramp (above and below the water)
Note: Low water level presently makes part of the ramp use the existing sand that comprises the bottom of the lake.
Fish in this lake include:
Other information:
Part of the Calumet Division of the Cook County Forest Preserve District.
Nature Preserve in northern marsh, no Fishing in that area.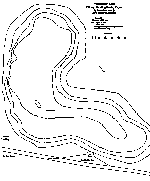 Get detailed map, (34k) (including depths).

Powderhorn Lake is located on Brainard Ave, just east of Burnham Ave. The lake has a sign proclaiming no boating, yet has a boat ramp and is listed as a place that you can bring your boat to. It has a sandy/fine stone shoreline that you can hand launch carry-in boats. On 5/30/96, Cook County Forest Preserve said they would remove the no-boating sign. As of 9/5/98, the sign still says no boating.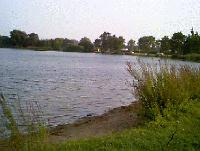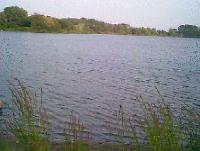 (Low water level, in the spring, the water is right up to the grass)