PCB Design
I designed all the PCBs using a program called 'Pcb' which is open source. You can download it for free from Sourceforge or Harry Eaton's PCB Homepage. It runs under X-Windows on *NIX (Unix/Linux/etc). It is a great program which I highly recommend.
PCB Manufacture
The printed circuit boards were manufactured by Alberta Printed Circuits, www.apcircuits.com, in Canada. They had the lowest price I could find for our volume of boards we wanted. In order to reduce costs I combined all 4 circuit boards onto one rectangle. APCircuits encourages this (unlike many other manufacterers) and only charges the $40 setup fee once (otherwise it would be charged once for each board). We ordered 36 boards total. The plan was to make 34 of each circuit so we could have about 8 fail and still have enough for each of the 25 teams plus one for game control.
Here is the final layout of all 4 circuits


Click on image to enlarge
Notice how the Transmitter circuit uses up the extra space around the Bat Blinker.
Circuit Manufacture
We had a team of Game Control people help with building the boards. The experience level ranged from no-experience up to soldering expert. Many thanks to all who helped!
A Circuit Building Party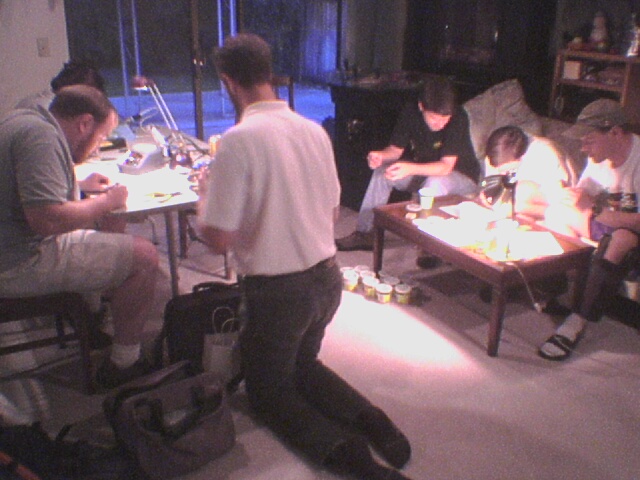 Soldering DRUID circuit boards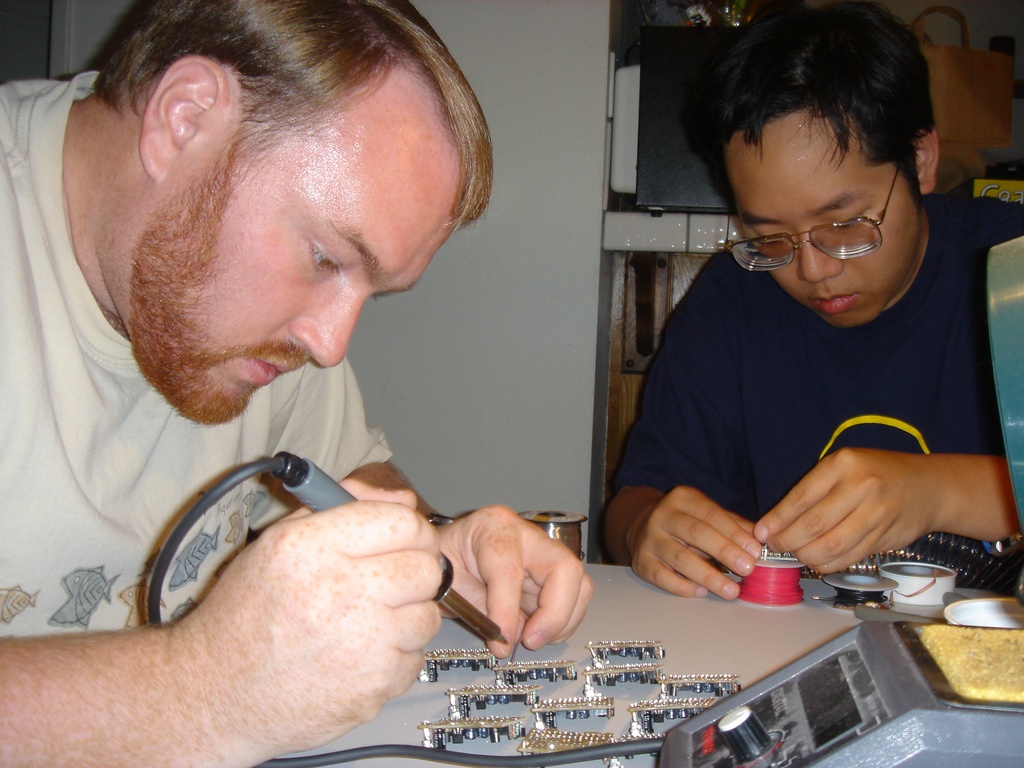 Adding Parts to a Bowl full of circuits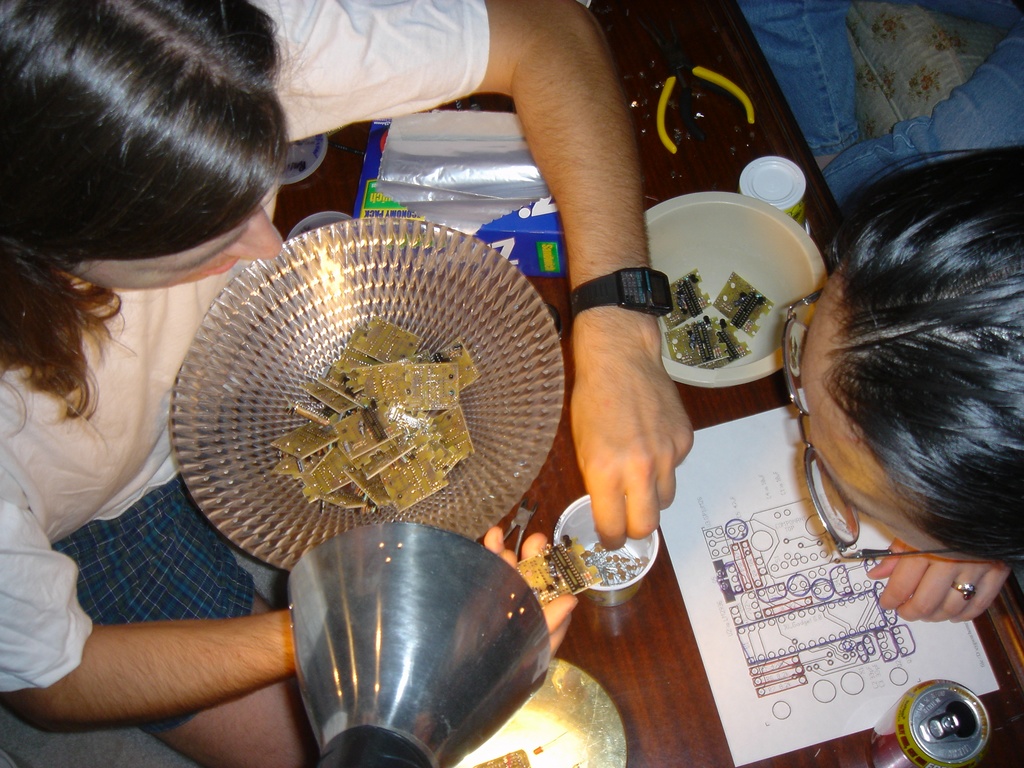 After the speakers were added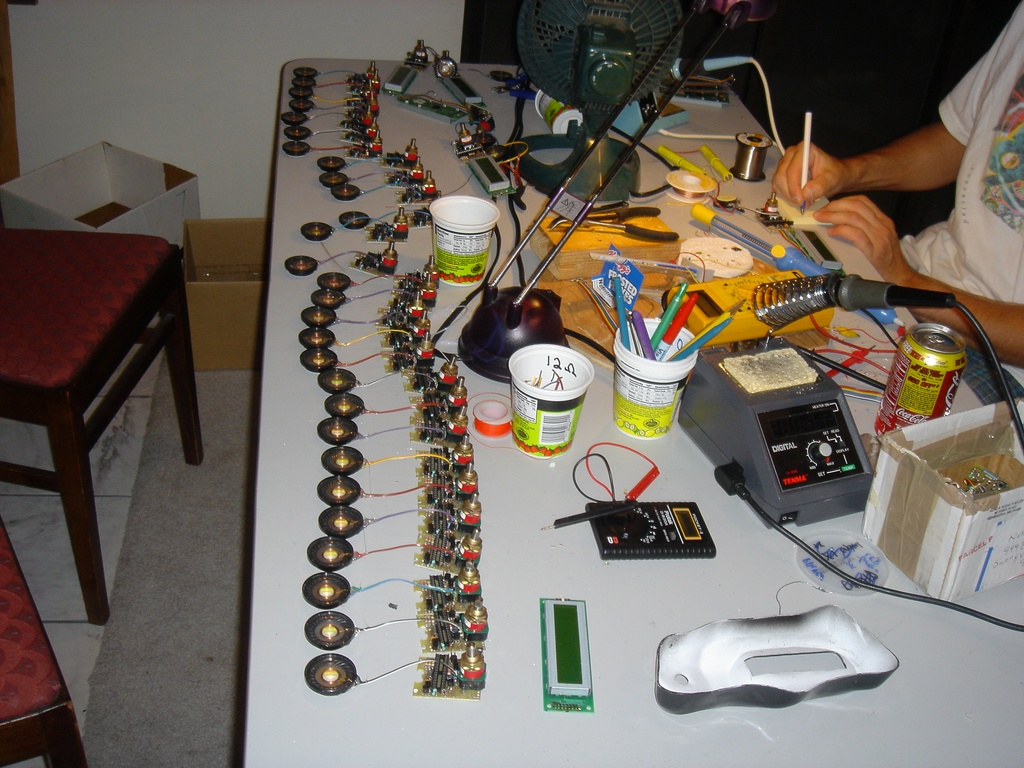 All DRUID circuits were given serial numbers for bug tracking purposes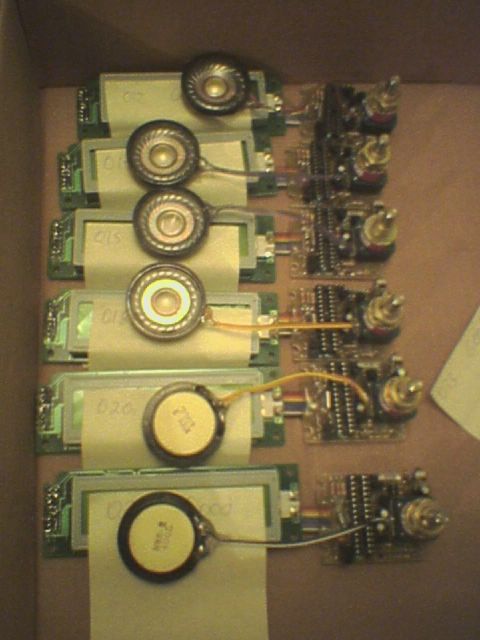 DRUIDs with (3) and without displays attached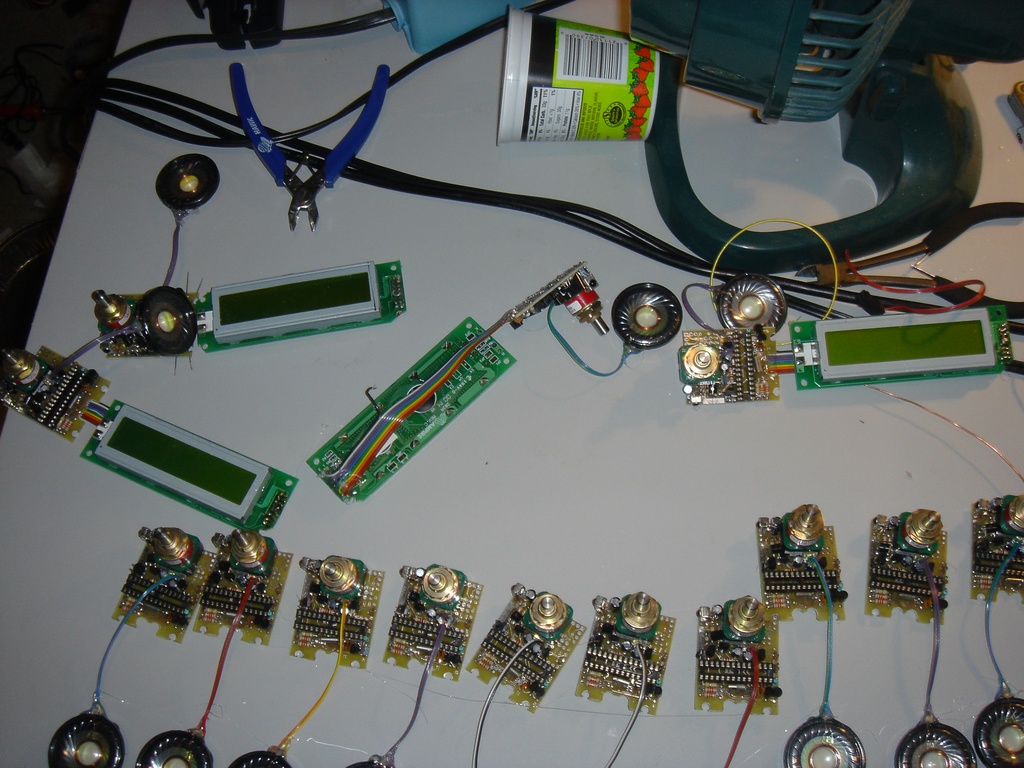 DRUIDs glued into the top of the case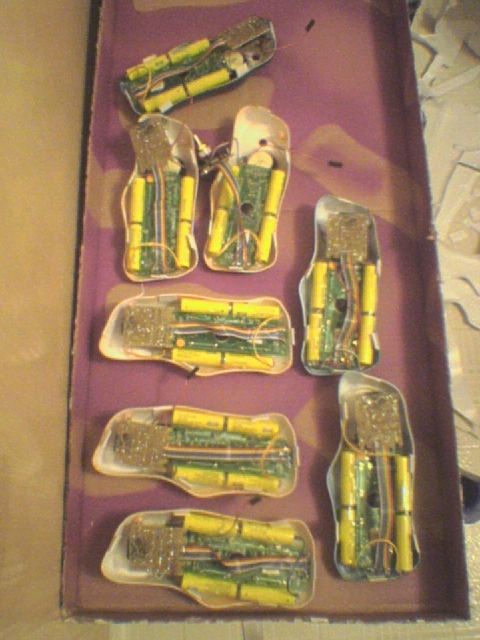 Circuit Data
All the data needed to build the circuit boards is included in the file ju_circuits.tgz. It contains several files.
druid.pcb - DRUID pcb layout for Pcb program
trans.pcb - transmitter pcb layout for Pcb program
blinker.pcb - Bat Blinker pcb layout for Pcb program
resistors.pcb - Resistor Clue pcb layout for Pcb program
combined.pcb - Combined pcb layout for Pcb program (includes all 4 of the above)
combined_netlist.txt - netlist for combined.pcb
all_front.gbr - gerber file for the front layer
all_back.gbr - gerber file for the back layer
all_drill.cnc - drill file (plated drills)
Cost
You can see our parts list and cost for each gadget here.
Feedback and Questions
Click here to send feedback to Acorn! All questions, comments, suggestions, etc. are welcome!
Click here to see feedback that others have posted!
Click here to post your own comments on this website!
---
This file Copyright (C) 2004 by Nathan (Acorn) Pooley
Return to Justice Unlimited Homepage
Return to Gadgets of Justice Unlimited Go to Acorn's personal webpage
Contact Acorn
See comments from others
Post your own comments