1179. Sea to Sea (06/01/19)

Hikers (8): Alan, Christina, Crystal, Dan L, David A, Giulia, Mihail, Steve
Distance: 27 miles
Rating: 5 difficulty, 6 beauty
Park info: Butano State Park near Pescadero

Write-up by Steve -- Pictures by Alan, David A, Giulia and Steve
One of the hike leaders dropped the ball, so I scheduled this long hike at the last minute. 8 people still showed up, and we managed to squeak 5k ft out of this long hike.
Everyone was on time to where the hike would end (Gazos Creek Beach). We piled into two cars and drove to Waddell Beach to start the hike.
1-2-3 INCH!
I forgot to take a picture of us "at" the "Sea" to begin the hike. We were too anxious to start!
We shot up Chalk Mountain--it was a fast group. It seemed easier than usual, perhaps because it was mentally not the crux of the hike like it normally would be. Mihail and I ran into everyone except David A and Dan L as we were leaving.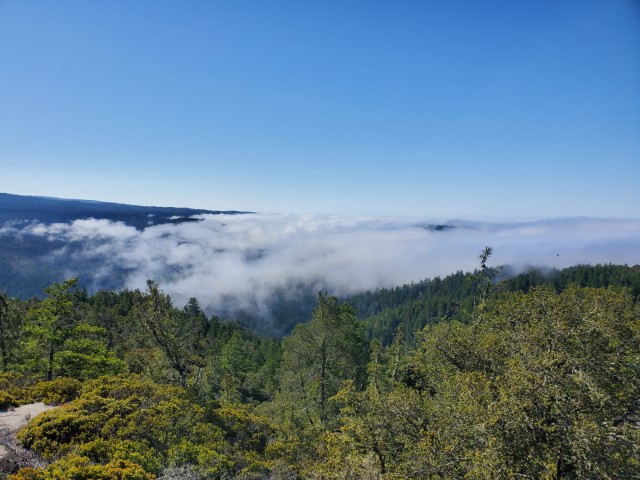 View toward the ocean from Chalk Mountain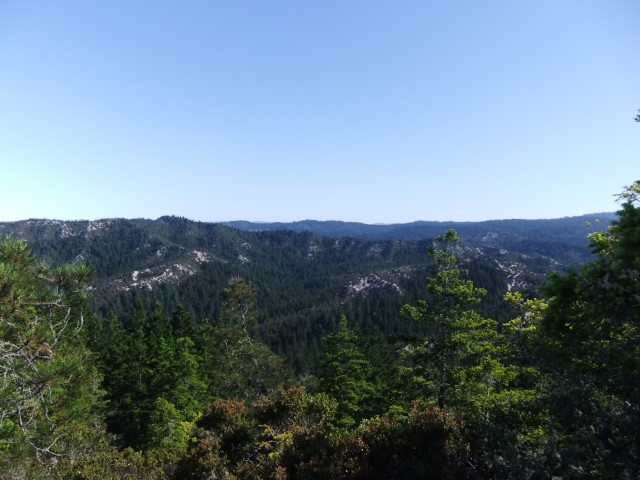 View from Chalk Mountain toward slightly higher Peak 1688
This was an official picture spot. After everyone sent in pictures, I dropped Dan L, who was AWOL in the summit shots. He came back later with a picture of other people at the summit as his proof. Why is this hard?
Several miles after Chalk Mountain, Mihail came along for a "there used to be a road here. . ." detour, which took longer than expected. That resulted (apparently) in us being just barely in front of everyone else.
Soon we were crossing the land between Big Basin and Butano. . .the road was clearly being widened. Took a quick detour to a clearing which featured a small memorial grove before heading down the Ray Linder Memorial Trail.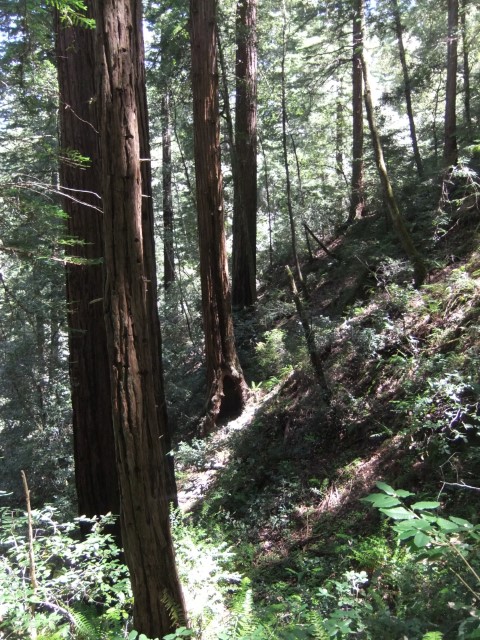 Along Ray Linder Memorial Trail
A bit later in Butano we took Doe Ridge Trail. This was the best trail in the whole route in my opinion. To make sure everyone took it, I made the end of the trail a picture point. It ends on the Goat Trail, which we can only assume refers to Doe Ridge as being the G.O.A.T. trail in Butano. . .
From there, it was up to a gap in the ridge and down the backside to a paved road. But at least along the way there was a cool tree!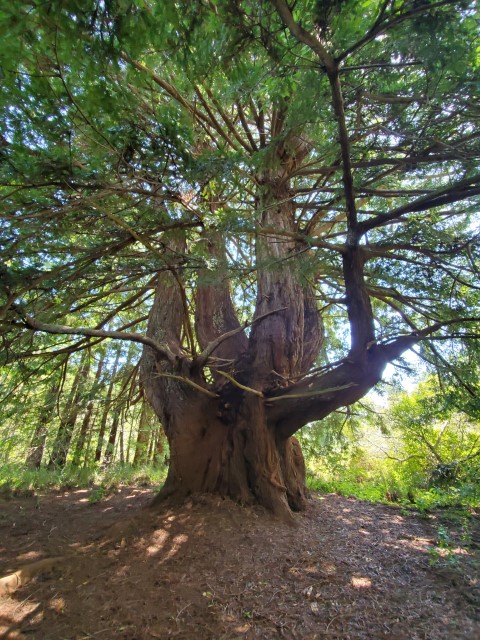 The Candelabra Tree
Can't say anyone enjoyed hiking on Gazos Creek Road back down to the parking area, but it wasn't without some beauty. Lots of wild flowers were growing along the route.
Mihail and I eventually reached The Sea to take pictures. We then took my car back to Waddell Beach, and picked up his and Christina's cars. Upon return, everyone had already made it to the parking lot, meaning we'd all finished within about 30 minutes of each other, which is pretty amazing for a 27 mile hike. But while talking to everyone, it became clear no one had actually gone down to The Sea (i.e. the beach) as Mihail and I had--they just took a picture at the edge of the parking lot.
That was easily resolved, and after a second set of beach shots was taken, we all headed across the street to refuel at Highway 1 Brewing Company. Not a bad place to recover from a hike.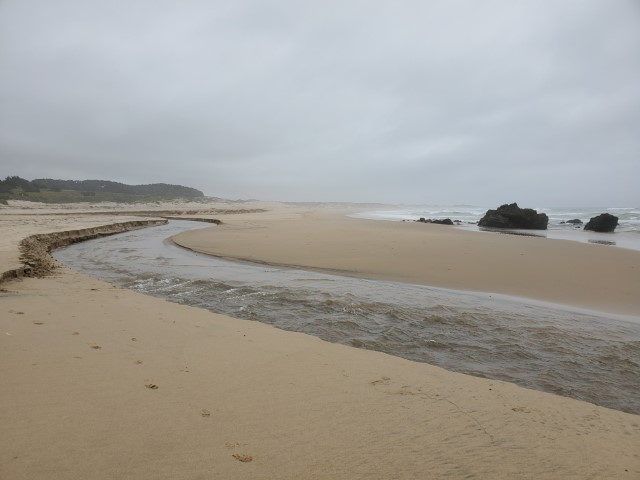 Gazos Creek reaching the ocean
Milestones:
Dan L's 10th leaf







Pages maintained by Steve Walstra, Peter Saviz, and Russell Gee.
©2022 Intrepid Northern California Hikers