1232. Five Peaks of Diablo (10/03/20)

Hikers (5): Bernadette, Chinyet, Mihail, Peter, Sandy F
Distance: 16 miles
Rating: 4 difficulty, 9 beauty
Park info: Mt. Diablo State Park near Clayton

Write-up by Peter -- Pictures by Bernadette and Mihail
Air quality had been bad all week in the Bay Area due to the fires up north, but the hike must go on.
At one point 20 people had signed up for the hike. When I checked the list at 6am on the morning of the hike, it was down to 17. When I got to the trailhead, I saw Manfred driving away and only Mihail and Chinyet were in the parking lot. Mihail told me 12 people had dropped out in the last hour. Final tally: 5 accepts, 45 declines!
1, 2, 3 ... INCH!
The plan was to do the Five Peaks in reverse (clockwise) direction. Sandy had set out already. Newbie Bernadette had picked a momentous hike for her first leaf.
It was rough going early on. It was a warm morning, and the air was still and thick with smoke. We were huffing and puffing just going up the first hill. I was desperately hoping that air quality would improve and temperatures would drop as we got higher up.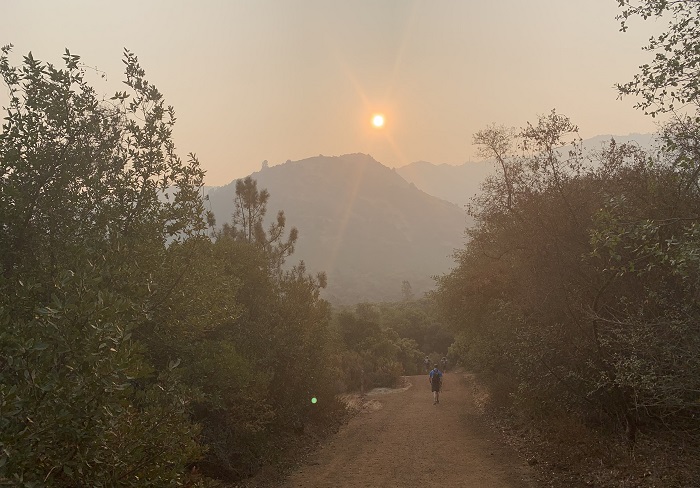 Starting out under smoky skies
Things started to improve as we climbed higher. As we got closer to Olympia Peak, I could see a glimmer of blue sky up above. Mihail and Chinyet were going slower than usual, allowing Bernadette and I to catch up with them for Mihail's 200th leaf celebration.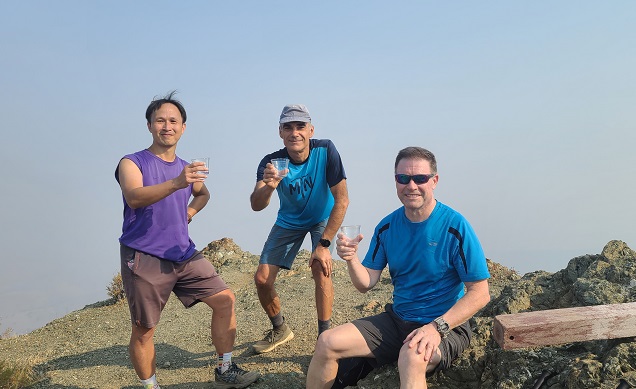 Toasting Mihail's 2nd forest on top of Mt Olympia
From there, it was a short hop over to North Peak. The smoke had cleared, but that meant there was no protection from the sun. You're screwed either way! Welcome to INCH.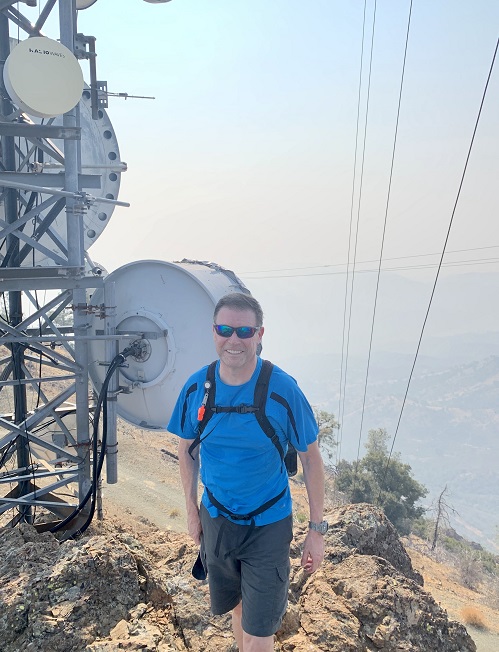 Skies started to clear up by the time we got to North Peak
The stretch from North Peak to the Summit seemed more difficult than usual. I was pretty gassed and had to will my way up to the top. The parking lot at the top was closed off (lower lot was open with a few cars there), and the visitor center was officially closed, but the ice cream stand was still open. Good to know that Covid and the fires could not shut down the ice cream stand!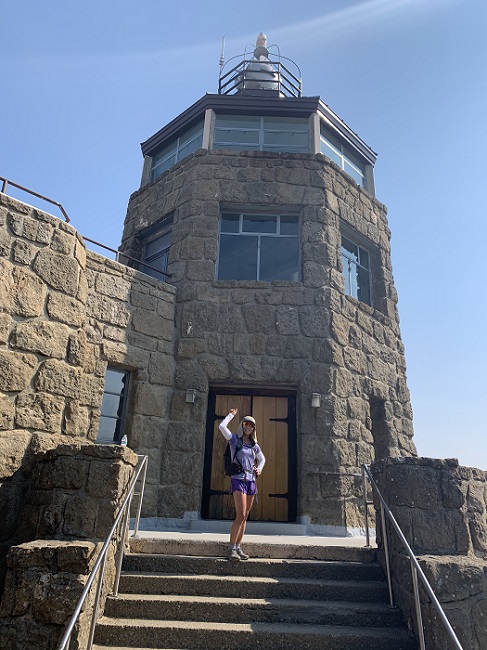 Bernadette celebrating her first trip to Diablo Summit!
As I sat there catching my breath and watching my calves twitch, Bernadette was skipping around the parking lot taking a bunch of selfies. She and her sister Brenda, who hiked Grand Canyon with us last year, are both crazy ultra-marathoners. This hike was too easy for her!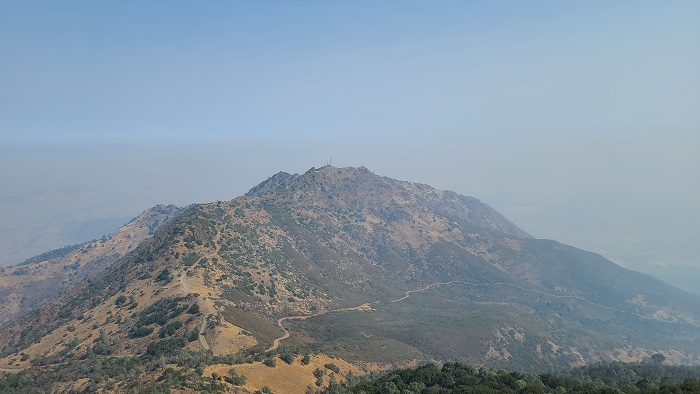 Looking back at North Peak from the Summit
Mercifully, it was mostly downhill from here to the end, where I knew I had some cold beer waiting for me. Mihail and Chinyet were back earlier, of course, but they looked pretty beat up too. Mihail was telling me I should give this hike a Level 5 and Chinyet took 3 or 4 cold showers under the tap while we were recovering.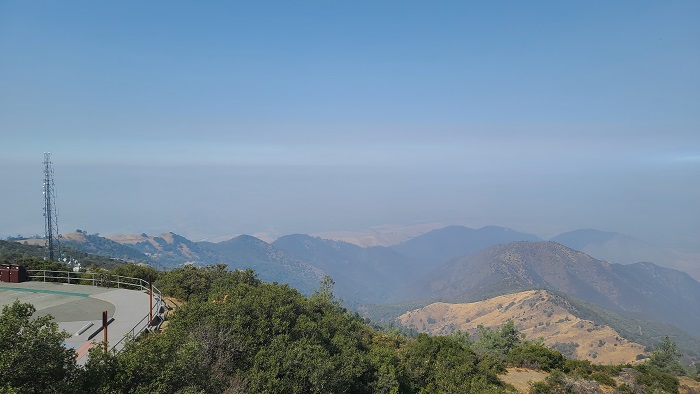 Smoke-filled skies hanging over the Bay Area (Eagle Peak to the right)
Epilog: Sandy made it back after 10 1/2 hours. He told me later he lost 5 pounds on the day. That man is a warrior!
Milestones:
Highest point in Contra Costa county
Bernadette's 1st leaf
Mihail's 2nd forest







Pages maintained by Steve Walstra, Peter Saviz, and Russell Gee.
©2022 Intrepid Northern California Hikers