25. Holy Jim Trail & Santiago Peak (02/15/97)

Hikers (4): Jeff X, Peter, Russ, Taylor
Distance: 16 miles
Rating: 5 difficulty, 8 beauty

Write-up by Peter
INCH invades Southern California!
Taylor and I had planned a trip to Southern California for the long weekend. When we found out Rusty was heading down as well, we figured it was a good opportunity to expand our hiking horizons. We searched the hiking bible for a Level 5 trail within driving distance - the Holy Jim trail had a nice ring to it.
We met in Rancho Santa Margarita bright and early on Sunday morning. Just to make things more challenging, Taylor and I stayed out late the night before (at the infamous Club X), and showed up to hike with only three hours of sleep. Rusty showed up with his friend Jeff, and the four of us headed off in search of food.
We found a Ralph's supermarket down the street and scouted out the deli. The deli section at Ralph's had not been open very long and the guy behind the counter was as slow as molasses, but he made us some huge sandwiches for 4 bucks a pop, so we weren't complaining.
We drove away from Ralph's and after about 5 minutes, turned off the paved road into Trabuco Wash. Originally a river bed, this was now a rocky dirt road along the bottom of Trabuco Canyon. The bible had warned us not to attempt this road without a 4-wheel drive vehicle, but I had pre-scouted part of the road the day before, and it seemed passable. In any case, we had a rental car, so what the heck! Onward!
After passing through a bunch of streams and over various rocks and deep potholes (thank goodness it was a rental car), we arrived at the trailhead around 9:30. It felt like we had just been through Mr. Toad's Wild Ride at Disneyland!
Looking up the walls of the canyon, the countryside looked pretty rugged, The usual mountain lion and rattlesnake warnings were posted at the trailhead. We had heard the story of a mountain lion killing a young boy in these hills a couple of years earlier, so we were a little nervous. In addition, we knew we were in for a long hike, so we wasted little time and got ready to hit the trail. Rusty was not taking any chances -- not only did he bring his flashlight, he also brought along a cellular phone!
1, 2, 3, ... HIKE!
The first mile was pretty easy, except for having to navigate a half-dozen stream crossings by stepping over some rocks. We made a pact that the first one to fall in the water would buy dinner. Well, there were no big splashes, but there was always the return trip to look forward to.
After crossing over the last stream, the switchbacks began -- two miles straight up! Rusty was in front and was setting a blistering pace. We just kept charging along, passing people, zipping past bikes, not stopping for an instant! It was truly a great effort by everyone.
As the trail flattened out a bit, we stopped momentarily to catch our breath, and to shake the pebbles out of our shoes. After a very brief interlude, we pressed on. Two more miles at a fast pace. The grade was not as steep as before, but there was no shade at this point, so we were sweating like pigs.
Parts of the trail had eroded away, and we could see the rock slides had cleared a path straight down into the valley. Better not look down, and better not stop in the middle of the rock slide area unless you want to end up 100 yards downhill in an instant. Just keep your feet moving and let Big Mo carry you across!
We arrived at the fire road at exactly the 2-hour mark. From here on, it was a straightforward walk up to the antennas at the top. The road kept winding along at a constant grade and lulled us into a slower pace. Fatigue was starting to set in, and we stopped a few times for water. As we approached the top, the air was noticeably cooler, and there was even some ice on the ground.
We arrived at the top in just over 3 hours. The peak area was broad and flat, with about 10 different antennas and transmission towers dotted about -- not very scenic, but the view from the top was great. Santiago Peak is the highest point in the Santa Ana range, and one can see inland from Riverside all the way to the ocean.
Unfortunately, there were so many bugs at the top that we did not get to enjoy the view in peace. Poor Jeff was literally covered in a cloud of bugs that followed him everywhere he went, making his life miserable. Taylor was not doing much better, but to her credit, she did not scream a single time! However, when trying to bat the bugs away, she did end up flicking one of her pearl earrings into the brush. Kiss that baby goodbye! But, no! Just when all seemed lost, ol' Eagle Eye Pete spotted the little pearl and saved the day.
The bugs won the battle. After spending a few brief moments at the top (just enough to scarf down half a sandwich and some Gatorade), they chased us away. Not a moment too soon for Jeff!
The trip down took us longer than we had anticipated. Going back down the fire road and through the rock slides took over an hour. Russ took a little slide on one of the smaller ones and landed on his butt, but no harm done (plenty of padding). The highlight occurred when Rusty stepped on a twig, and Taylor thought it was a rattlesnake and let out one of her patented blood-curdling screams that echoed through the hills. This one was second only to the famous scream on the road back from Yosemite (see Hike #10).
The next stage, through the switchbacks, took over an hour as well. We must have been smoking on the way up! We stopped at the stream at the bottom of the switchbacks and rested for a while. I took off my boots and soaked my tootsies in the ice-cold water. Aaaaaaaaaaahhh! That felt good!
We were debating taking a half-hour side trip to the Holy Jim Falls, but Jeff had to get back to go to a softball game and he had seen the falls before and promised us we weren't missing out on anything, so we headed back. As we started crossing back over the half-dozen streams, Canteen Boy was getting nervous, and sure enough, he stepped into the drink! The new shoes got wet!
The round trip took us 7 hours, and we were back well before dark. Not only did Rusty owe us a dinner, but he didn't even get to use his flashlight or cell phone! Oh well ... better safe than sorry. Certainly a good hike (even though Russ thought it didn't deserve a 5), and worthy of the prestigious INCH leaf (Doubletree for Taylor).
---
Addendum by Steve:
8.5 years later, I flew down to LA and hiked seven county high points in six days w/a net 20.3k ft of elevation gain. For this particular Orange County HP, the worst part was the drive to the trailhead on 10/28/2005. It was a long, slow ride in both directions on a rocky, potholed wash. Thanks Hertz!

To add insult to injury, my camera fell off a five-foot post being used to capture the "I was here" summit shot, and broke parts of the camera. For the rest of the trip, I would have to take multiple pictures of everything just to get one that wasn't in false colors, or just noise, or have some other weird digital defect. The black edges in the second (post-fall) picture below was caused by the mechanical zoom also being broken--the camera lens was locked in one position regardless of the zoom level. . .
Santiago Peak from the tail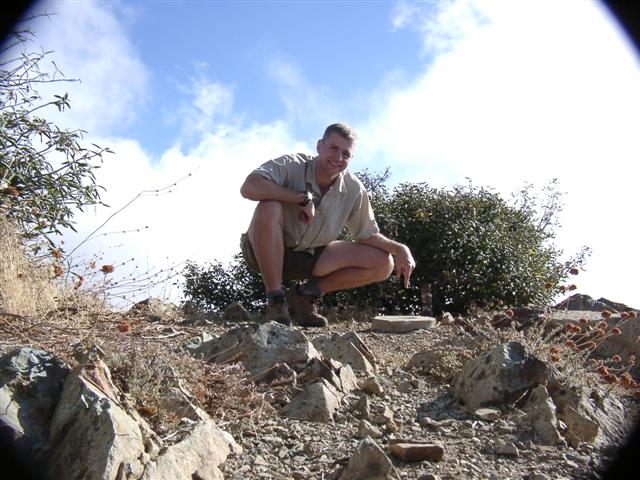 Tunnel Vision: Took 8.5 years to get to the summit
Milestones:
Highest point in Orange county
Jeff X's 1st leaf
Taylor's 20th leaf







Pages maintained by Steve Walstra, Peter Saviz, and Russell Gee.
©2022 Intrepid Northern California Hikers