266. Inspiration & Stanford Points (06/01/02)

Hikers (8): Changhong, Cynthia, Damon, Gina Y, Jane M, Peter, Russ, Steve
Distance: 8 miles
Rating: 3 difficulty, 9 beauty
Park info: Yosemite National Park

Write-up by Peter -- Pictures by Changhong
After checking in to Curry Village, we kicked off the big Yosemite weekend with a short warm-up hike. The goal was to make it to the top and back in under 4 hours in order to get back to Curry Village in time for dinner. Little did we know that this would end up being the toughest hike of the whole weekend, but more on that later.
1, 2, 3, ... INCH!
We headed out from the trailhead just east of the Wawona Tunnel shortly after 3pm. It was an overcast early summer day, with a hint of mugginess in the air. The forecast had called for "possible showers", but it looked like we were going to luck out.
We headed up the switchbacks towards Inspiration Point, 1.3 miles from the trailhead. I don't know know if it was due to the altitude or the humidity or just being out of shape (what do you think?), but I was sweating like a pig before we hit the half-mile mark. The only consolation was that I was not the only one. I decided to just pace myself and not push it. After all, we had two more days of hiking ahead of us. The Man, being a wily veteran, decided to hang back with me.
By the time The Man and I made it to Inspiration Point, everyone else had moved on. My immediate reaction was this place was not that inspiring, especially by Yosemite standards. It was more like a clearing in the middle of the woods. If there hadn't been a sign there, I would have guessed we were in the wrong place.
We pressed on ... the others had not stopped to rest, so we figured we'd be catching up with them pretty soon. Sure enough, about a mile up the trail we met up with Changhong and Gina, and a little further up we caught up with Cynthia and Jane. We knew Esteban and Damon would be too far ahead to catch, so we decided to take a short break next to a small waterfall. It was beautiful and peaceful here in the woods. I love Yosemite!
Knowing we had just over a mile to go, we didn't rest very long and hit the trail again. It was shady and cool here in the woods, so it made the going easy. The added bonus for me was no big drop-offs to freak me out. Sweet!
When we reached the top, we found Esty and Damon sitting in a small clearing looking towards the western part of Yosemite. Hmmmmm ... this didn't seem quite right. Firstly, the trail notes had indicated that there would be a great view of the valley from the top, and secondly, Esteban said he had seen a sign farther up indicating 3.8 miles back down to the trailhead. This indicated to me that Stanford Point should be farther up the trail. This was more like Boof Point!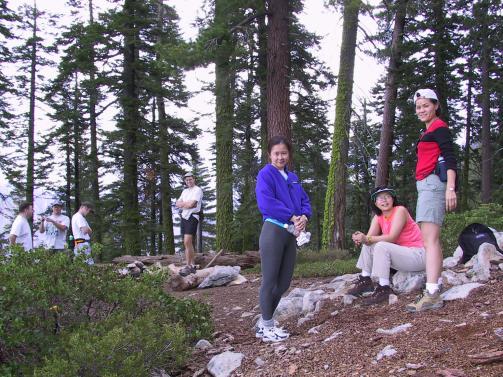 At Boof Point -- nice job, Esteban!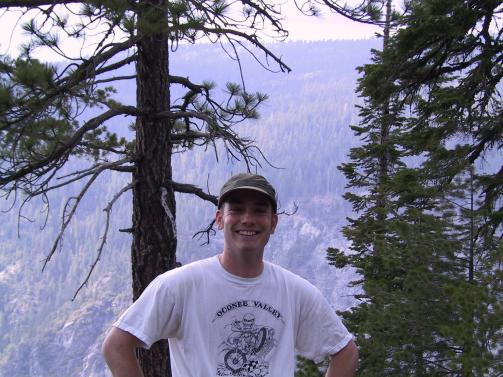 Damon's thinking "Why did I follow Steve?"
After resting a while, and ignoring the protests of the others, I decided to investigate. Sure enough, Esteban had taken us to the wrong place! We all descended on the real Stanford Point and admired the view. This was much better!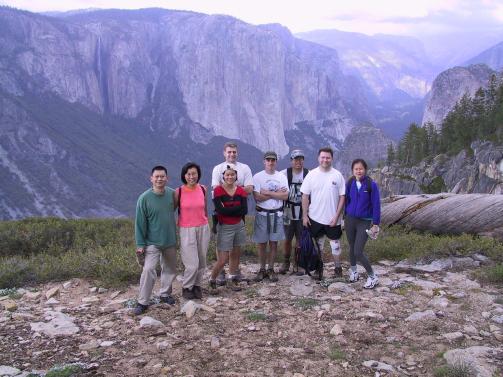 At the real Stanford Point (left to right):
Changhong, Gina, Cynthia, Steve, Damon, Russ, Peter, and Jane
After enjoying the view, we headed back down. I was grateful for the soft footing all the way through the woods. Changhong and Gina were walking slowly, so I stopped for a while in order for them to catch up. I wished I had a sleeping bag with me, so I could just roll it out and spend the night in the woods. This place was beautiful.
Shortly afterwards, Changhong and Gina showed up and we headed down together, stopping to take a couple more pictures along the way.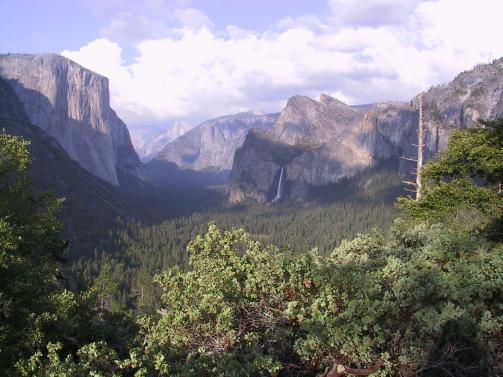 View of Yosemite Valley from the trail:
El Capitan on the left, Half Dome in the distant background, and Bridalveil Falls in the center
By the time we made it to the car, everyone else was all packed up and ready to head to dinner. Mmmmmmmmm, dinner!
All in all, this was one of the best hikes we've done in a long time. I would definitely recommend it, especially as a good warm-up and introduction to Yosemite hiking.
Milestones:
Jane M's 40th leaf
Steve's 210th leaf







Pages maintained by Steve Walstra, Peter Saviz, and Russell Gee.
©2022 Intrepid Northern California Hikers