267. Glen Aulin Trail (06/02/02)

Hikers (9): Changhong, Cynthia, Damon, Gina Y, Jane M, Peter, Russ, Steve, Taylor
Distance: 7 miles
Rating: 2 difficulty, 9 beauty
Park info: Yosemite National Park

Write-up by Peter
This hike was intended to be a 14-mile round-trip from Tenaya Lake to Cloud's Rest, climbing 1000 feet above Half Dome. We were eagerly anticipating this hike, advertized by GORP as "one of the most beautfiul hikes in the world". We arrived at the western edge of Tenaya Lake, and geared up to hike.
1, 2, 3, ... INCH!
Unfortunately, the best-laid plans of mice and men go oft astray. Less than 100 yards into the hike, we found the trail was completely underwater! We beat a hasty retreat and decided to try from the other side of the lake, so we got back in the cars and headed down the road. At the other end of the lake, we once again geared up to hike.
1, 2, 3, ... INCH!
Less than 100 yards into the hike, we were once again thwarted. Everything was submerged and there was no way to proceed.


On the banks of Tenaya Lake, all dressed up and no place to go
We sat around and scratched our heads for a while. Some hardy souls wanted to press on, but sanity prevailed, so we headed back to the car in search of another hike. Even if we had been able to continue, it would have added about four miles to an already tough 14-miler.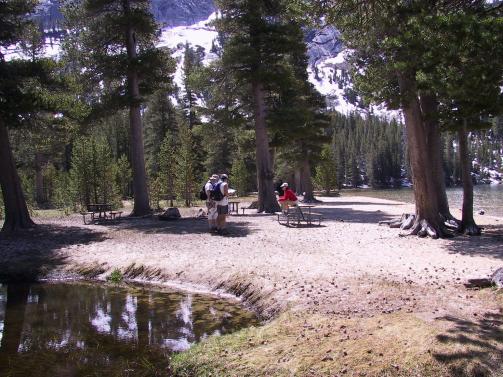 Hmmm ... I think we're hosed!
We drove a few miles down the road to the Tuolumne Meadows Visitor Center. If nothing else, we finally got to see the famous Tuolumne Meadows, which we had never visited on our three previous trips to Yosemite. At the Visitor Center, the ranger told us that if we had proceeded on towards Cloud's Rest we would have been waist-deep in ice-cold water for part of the trail. It had been a wise move to turn back! I felt much better now.
After exploring some different options, we decided to take the ranger's recommendation and try the Glen Aulin trail. He warned us that we might get our feet wet, but it was almost unavoidable in this area at this time of year when the snow was melting and the creeks were flowing at peak capacity.
1, 2, 3, ... INCH!
After the third INCH cheer of the day (sorry, only one leaf), we finally set out on a real trail. It was a gorgeous day ..... nice and sunny, but not too warm. A perfect day for a hike!
The trail started at Soda Springs, along the north side of Tuolumne Meadows. The first mile was completely flat, and took us along the foot of Lembert Dome. We could see deer grazing off to the side of the trail. This would be a great spot for a picnic.
After the one-mile mark, the trail led away from the meadow and into the woods. There was a slight elevation gain, but nothing notable. Pretty soon we came across the first major stream, Delaney Creek. It was more like a raging river! The only way across was by going over a fallen log. Most of the gang scampered right across, but when it was Steve's turn, he went part-way in and then turned around and came back and said he'd try to find an alternate crossing. This gave me an uneasy feeling in the pit of my stomach, and I was a bundle of nerves as I attempted the crossing. I did not like this one bit! My legs were shaking and my heart was pounding. I decided to play it safe and cross on all fours. I knew I looked like a fool, but I didn't care. By some miracle, I made it across without falling in while providing much entertainment for all in attendance. I knew I would get grief about this for a long time to come, but better safe than sorry!
The next couple of miles were flat-to-downhill trails through the woods. We crossed a couple more streams, including log crossings, but things were much less dramatic. The only noteworthy item was a couple of folks getting their feet wet when crossing Dingley Creek (actually it's a series of 3 creeks).
Around the three-mile mark, we found ourselves at the foot of a large granite slope. Damon suggested we climb to the top. There was some initial hesitation, but we soon all decided to go for it and headed up the side. The footing was good and it was not steep at all, leading to a quick but nontrivial climb to the top. The highlight of the way up was seeing a small water snake, which caused Taylor to let out a mighty scream that echoed all the way across the meadows!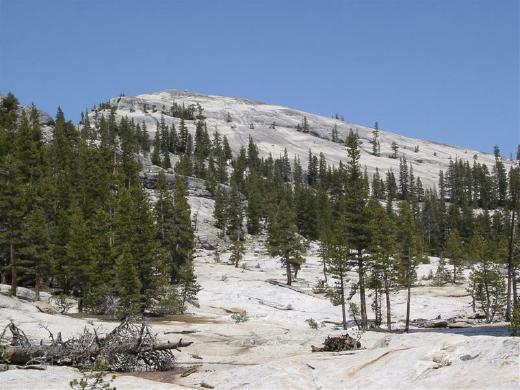 The Hill (renamed "Mt. Abraxas" by Steve!)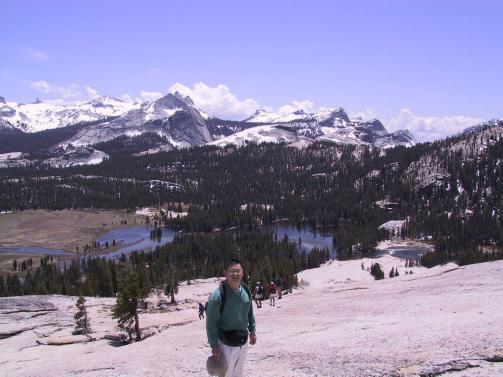 Changhong overlooking Tuolumne Meadows
At the top, we were treated to an awesome panoramic view of Yosemite's high country. It was just like a postcard! This was the perfect place to stop and rest for a while. We unloaded our backpacks and stretched out on the sun-baked granite slabs. This felt great!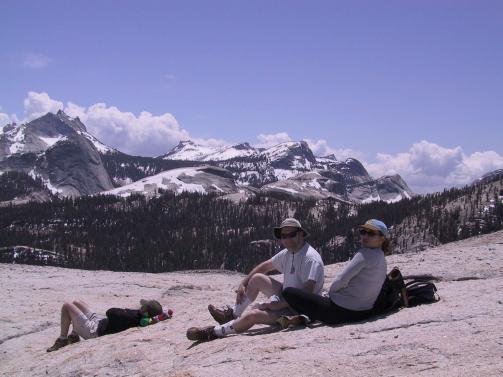 Damon, Peter, and Taylor chillin' out at the top
We stayed there for a long time, taking many photos, having lunch, and just enjoying the view. Rusty even took the time to make a snow angel and to write his name in the snow: The Man Was Here!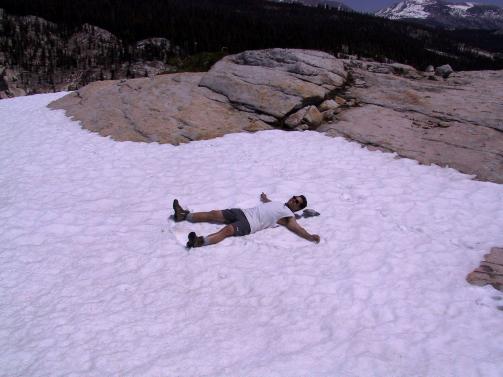 Rusty makes a snow angel!
Eventually and reluctantly, we made our way back down. Back down by the river, we met up with another hiker who told use we were about a mile away from Glen Aulin. Since Jane and Taylor needed to leave that night, we decided to only go part of the way. As it turned out, we were not too far from some of the rapids, so we decided to use that as our stopping point.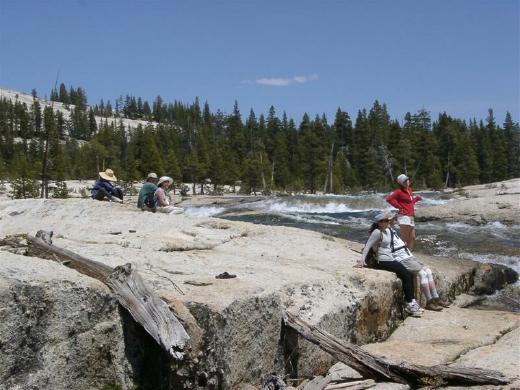 Chillin' by the rapids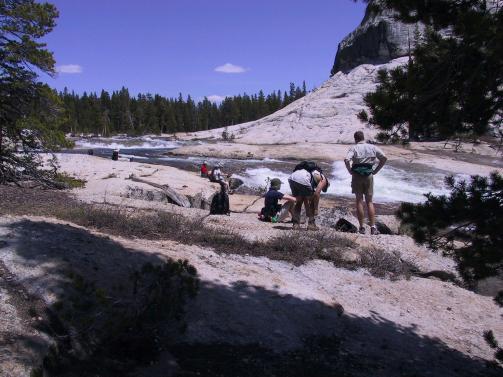 More chillin' by the rapids
Thoughts of whitewater rafting filled our heads as we sat alongside the rapids. We sat there daydreaming for a while, before picking up our gear and heading back.
The hike back was smooth sailing. Most of the outbound trail had been at a slight downhill slope, so the trail back was a little more challenging. We needed to get back soon, so we didn't stop anywhere and just kept going. I even crossed the log with no problem, proving that it's all in the mind!
For some reason, the last mile seemed to take forever. My back was sore and I was having flashbacks to the last mile of Henry Coe. Luckily, The Man was there to provide encouragemant and verbal abuse to ensure I made it all the way back.
Epilog: I later found out that we had stopped just short of Tuolumne Falls and White Cascade. These are both supposed to be very scenic, so it just means we'll have to go back here again!
Milestones:
Changhong's 10th leaf
Cynthia's 40th leaf







Pages maintained by Steve Walstra, Peter Saviz, and Russell Gee.
©2022 Intrepid Northern California Hikers