314. Mt. Sizer (04/19/03)

Hikers (7): Blinky, Cathy, Dave M, Eugene, Peter, Russ, Steve
Distance: 11 miles
Rating: 5 difficulty, 9 beauty
Park info: Henry Coe State Park east of Morgan Hill

Write-up by Peter -- Pictures by Russ
Good ol' Henry Coe! For the fifth time in the last six years, I chose this as my birthday hike with the goal of making it up the Shortcut Trail from Coyote Creek to The World's Tallest Bench in fewer minutes than my age (I missed the hike in 2000 due to knee surgery). This year, that meant I would have to do it under 42 minutes.
Despite the advertized difficulty of the hike, three newbies showed up. Cathy and Dave were in training for Mt. Shasta and a bunch of other good hikes so they were looking for something challenging, and Beth was looking for an upgrade over her usual Windy Hill hike. They had come to the right place. Welcome!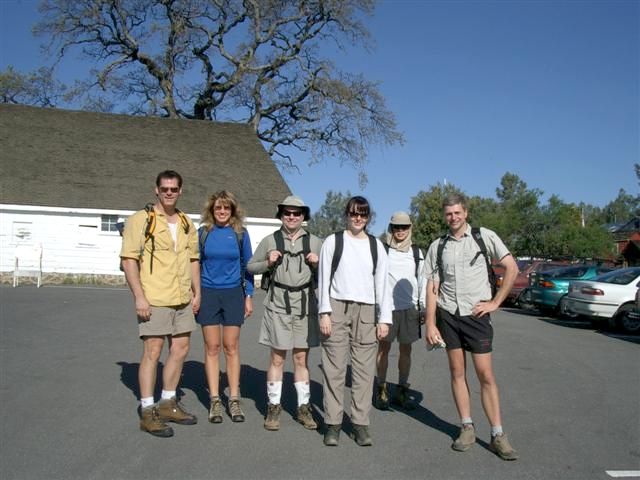 Dave, Cathy, Peter, Beth, Eugene, and Steve at Coe Park HQ
Steve had decided to make the hike even more challenging by not only doing the extra 2 miles from The World's Tallest Bench to the actual top of Mt. Sizer, but also bringing along a heavy ammo box to create a geocache at the top. When Beth saw the ammo box, she started having second thoughts about hiking with us -- I'm sure she was thinking it was probably not a good idea to go hiking in the woods with a bunch of strangers carrying ammo boxes! But since she had found us via the web, she figured we must be harmless. After all, you never meet any strange people on the web. :)
1, 2, 3, ... INCH!
Steve was blazing trail right off the bat -- he must have been pumped up about the ammo box. I tried to keep pace for a while, but soon slowed down. I wanted to save energy for the climb up Sizer. I also wanted to make sure the newbies didn't go off on the wrong trail. I waited at Hobbs Road for everyone to catch up. I didn't take them too long, and we were back in business.
From there it was quick stroll down to Frog Lake (where we came across a friendly coyote!), and then we continued on the hikers-only trail over the next ridge until we met back up with Hobbs Road again. After a brief rest, we descended down the long trail to the creek. At the bottom, we found that the creek did indeed have a good amount of water due to all the recent rains, but it was crossable. I stashed my extra pair of sandals, which I had brought for crossing the creek, along with a few bottles of water behind a rock. I needed to be carrying as little as possible going up Sizer.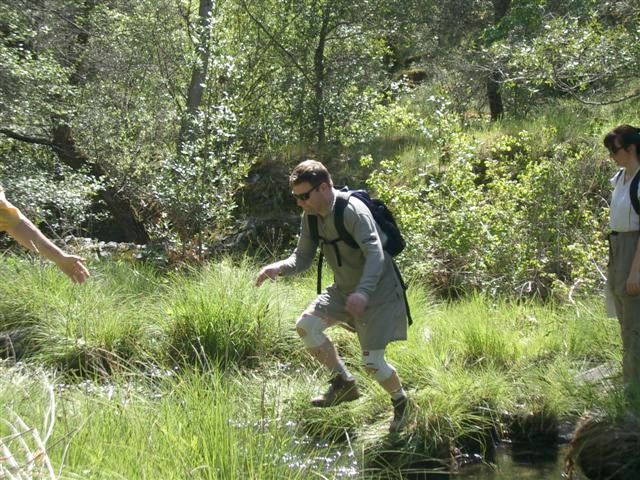 Peter leaps a raging creek
Safely across the creek, Dobby quickly began the assualt on Sizer, followed by Cathy, Dave, and Beth. I stayed at the bottom to make some more last-minute adjustments -- retying my boots, resetting my stopwatch, etc. -- and The Man stayed with me to make sure I didn't cheat on my starting time. Finally, we were off!
The Man started off at a good pace -- not too fast, not too slow. I knew if I could keep from falling too far behind, the 42-minute goal was well within reach. We caught up with Beth at the first turn, and shortly after that passed up Cathy and Dave who had stopped to make some adjustments. A little more than one-third of the way up, we caught up with Dobby. He'd done well to make it this far, this fast, but was starting to slow down. He shot his wad too soon! The Man showed no signs of slowing down, in fact he seemed to be speeding up. The good news for me was that I was keeping pace.
I was feeling good about this climb. The temperature was good, my legs weren't hurting, the load on my back was just right, and I was cruising on autopilot. At about the two-thirds point, we passed up some other hikers. We hadn't seen them earlier, so they must have started well before us. They looked pretty tired but were still plugging away. Rusty had about a 1-minute lead on me at this point, but I think he thought he was further ahead. He looked back at one of the switchbacks and was surprised to see me on his ass. This helped to give me an extra boost of confidence. I was in the zone today, baby!
We both made it to the bench in good time -- 34 minutes and change for The Man and 36:05 for me. I had done this trail in a little over 35 minutes once, but I didn't have a record of the official time. Either way, this was one of my best times ever -- and well under the 42-minute goal. Props to The Man for setting the pace.
I threw off my backpack and climbed up onto The World's Tallest Bench for a well-deserved rest. By the way, the name "World's Tallest Bench" does not mean "World's Highest Bench". In other words, it doesn't refer to the altitude of the bench's location (it's less than 3000 feet, and I'm sure there are thousands of benches at higher altitude than this throughout the world) -- it refers to how high the seat is relative to the ground. They must have designed it like that in case there was a flood at the top of Mt. Sizer!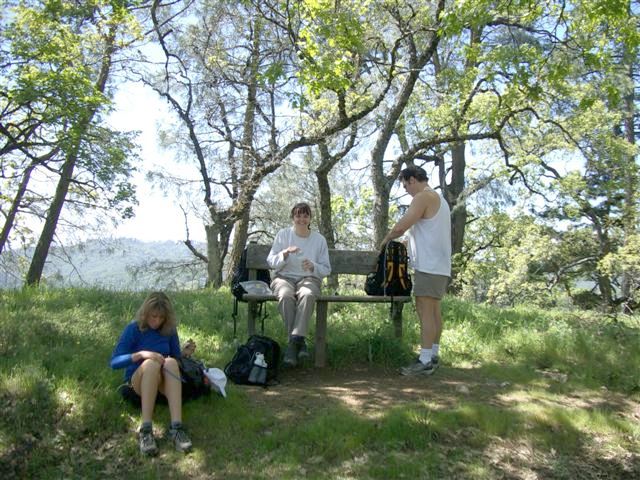 The World's Tallest Bench -- notice dangling legs of 5'10" occupant
It took the better part of an hour before all the others made it to The Bench. They all seemed to be feeling OK, but agreed that it was a hell of a climb. In the meantime, hordes of flies were buzzing all around us. I guess the heat from our sweaty bodies was attracting them. I usually like sitting at The Bench for a while, but in this case I couldn't wait to get going. Steve had also made it back from setting his cache at this point, so we packed up and headed back.
The trip back went smoothly. I think the long rest at The Bench had something to do with it because I didn't feel nearly as tired as I usually do at this point in the hike. I was practically running up the hill, and encouraged everyone to do the little extra trail to the Henry Coe Monument. Gotta pay our respects to Big Henry for giving us such a great place to hike!
Overall, our 10th trip to Mt. Sizer was one of the best ever. And I now have one additional minute to work with next year!
Milestones:
Blinky's 1st leaf
Cathy's 1st leaf
Dave M's 1st leaf







Pages maintained by Steve Walstra, Peter Saviz, and Russell Gee.
©2022 Intrepid Northern California Hikers