315. Trail Camp Loop (04/26/03)

Hikers (23): Alan W, Barbara, Blinky, Bunny, Dori, Elaine, Ernie, Glen, Hoy, Jinglan, Kelly, Nancy, Patrick, Peter, Rus R, Russ, Sergei, Sue, Sue B, Tammy, Taylor, Van, Wendell
Distance: 7 miles
Rating: 2 difficulty, 8 beauty
Park info: Castle Rock State Park in the Santa Cruz Mountains

Write-up by Sue -- Pictures by Russ
What a turnout! The second largest number of hikers on a hike to date if you include Dori. She was finishing the hike just as we arrived. The unusual start time must of thrown her off ... but wait, she is a newbie. Ah well, she still gets a leaf. Welcome to INCH! This was the first hike for several people so while we were waiting for latecomers, Beth entertained us by trying to remember everyone's names.
1, 2, 3, ... INCH!
And we are off. Thank goodness. It was getting cold standing in the parking lot.
Castle Rock Falls: Our first stop was the Castle Rock Falls observation deck. A good photo opportunity if you don't mind heights. Take a picture now though, the falls won't have water in them during the summer.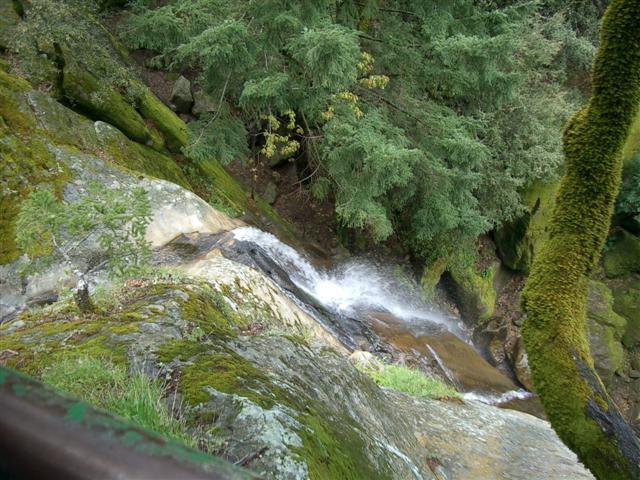 Wet moss
Campground Amphitheater: A quick lunch stop and an inspired rendition of "YMCA" by Peter. It was also a chance to learn more about the new INCHers. Make sure you ask Van about her backpacking adventures, Dick about his famous toy designs and Rus about rocks and minerals.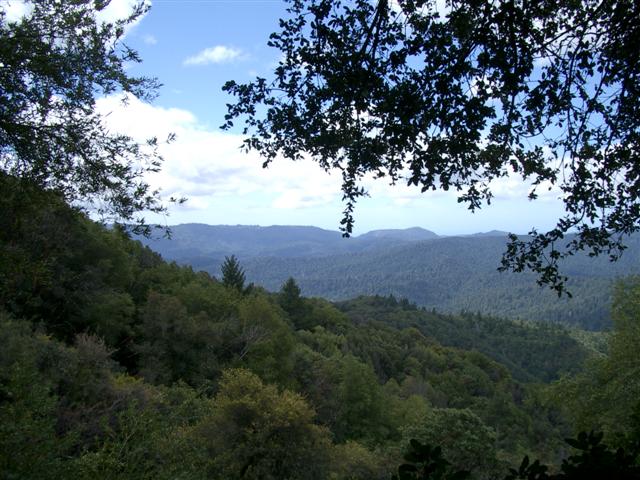 Away from it all
Goat Rock: Fearless INCHers make their way to the top of the rock to peer over the edge at the view and the rock climbers. WOW! We only had to climb up 10-12 feet from the trail to be on top of Goat Rock, but looking down the backside my guess was we were looking 60-70' straight down. Castle Rock and Goat Rock are popular climbing spots. We were sitting with Belayers who help the climbers up and down the rock. The Belayers are tied to the rock with ropes and wearing helmets for protection. "On Belay...Belay on. Climbing...Climb on!"
Castle Rock: Another popular climbing spot, but on a much smaller scale than Goat Rock. On previous trips, this rock seemed to be a popular place for free climbing - climbing without ropes. The climbers seemed to find the smallest holds and hang on by their fingertips as they climb overhanging rocks. We were the only visitors to the rock today and enjoyed a brief bit of sunshine before heading back to our cars.
A last farewell hug for Russ and best wishes as he prepares for his European vacation!
Milestones:
Barbara's 1st leaf
Dori's 1st leaf
Kelly's 1st leaf
Rus R's 1st leaf
Taylor's 140th leaf
Van's 1st leaf
Wendell's 20th leaf







Pages maintained by Steve Walstra, Peter Saviz, and Russell Gee.
©2022 Intrepid Northern California Hikers