316. Myers Trail (05/03/03)

Hikers (14): Aneesh, Christina B, Eugene, Gwynneth, Hoy, Kelly, Nancy, Peter, Rima, Steve, Sue, Tammy, Taylor, Wendell
Distance: 5 miles
Rating: 2 difficulty, 9 beauty
Park info: San Lorenzo River Redwoods near Saratoga

Write-up by Sue -- Pictures by Tammy
The San Lorenzo River Redwoods Hike was an unusual arrangement for INCH. The hike was run by the Sempervirens Fund, who only gave us a limited number of spaces for the hike on their land. We also had assigned docents for the hike (Joe and John), who organized a roll call at the start of the hike. All the INCH hikers who had won the "lottery" were there, despite the eminent rainfall, while a majority of the Sempervirens members were missing. Way to go INCH (though it is not a competition)! INCHers were so into this that Eugene, who didn't respond in time to get on the INCH wait list, joined the Sempervians just so he could hike in the rain!
After distinguishing ourselves from the rest of the crowd with an INCH cheer, we started the hike up a gravel fire road and almost immediately had to cross a fairly deep and fast moving river. Although the weather was still clear and dry, our shoes were already plenty wet. At this point I think it is fair to say that Steve was worried that his prediction of rain wasn't going to come true yet again. He just kept repeating "Just wait, you'll see, it will rain."
After a very short distance, Joe and John made us stop for a break. To quote Cal on a previous hike "We don't take breaks!". John and Joe explained a bit about the area:
The 1340 acres of Redwoods were recently put up for sale by the San Lorenzo Valley Water District and acquired by the Sempervirens Fund. The Myers trail we were about to take was built as a tribute to young man who had died in a diving accident off the coast of California. His family and friends had spent many hours helping to build the relatively new trail to Lightening Peak. Lightening Peak was named for all the trees burnt out after being hit by lightening. Some were hollowed out, and some were re-growing trees from what was left of the original stump. Very nice...now let's hike.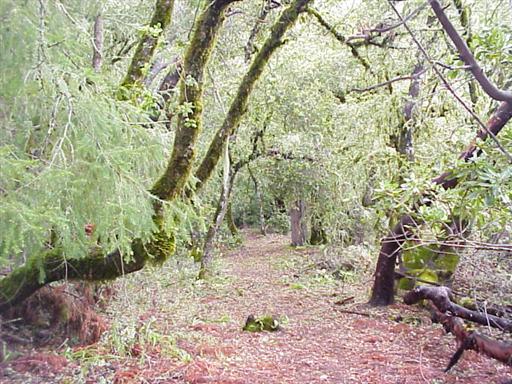 Sunny and lush
We moved off the fire road onto Myers trail. The trail wound beautifully through the Redwoods, where we encountered all the typical flora and fauna: slugs, ferns, newts, orchids, lichen, oak, California rose, and of course, fungus just for Hoy! The primary entertainment was watching Joe try to keep us in check. It was his first time guiding a hike and he certainly had his hands full trying to rein the lead INCHers.
We reached the top of Lightening Peak and stopped for a long lunch. There was a spectacular panoramic view of the redwood-laden hills all around. The fog creeping over the distant hills added to the ambience. PHOTO OP! The view was well worth the numerous forced "breaks" on the way up.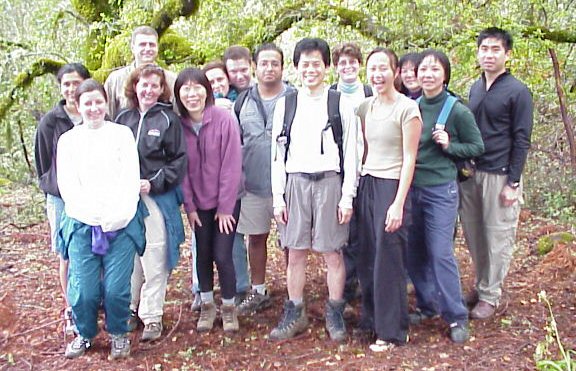 Lightning Peak Pix: Rima, Christina, Steve, Sue, Hoy, Taylor, Peter, Aneesh, Eugene, Gwynneth, Tammy, Kelly, Nancy, Wendell


On the way off the hill, Nancy led the way with her "Salsa" steps. The weather held out for a short time on the return trip until Steve's rain dance finally succeeded, and the skies opened up with a drenching shower that lasted the rest of the hike. Joe finally gave up on us, and let us find our own way back to the cars. We crossed back over a now deeper and faster-moving river and found our way back to the cars. Everyone was soaked!!!

After everyone dried off and settled down in my car, we found that we were stuck in the mud. Everyone got out again to help lighten the load. Success!

Docent Joe earns his keep
All that auto-drama resulted in hunger, so Hoy, Tammy, Eugene, Steve, and I met up in a downtown Saratoga bar for a late lunch. Hoy's excellent wine selection accounted for nearly half the (not-so-small) bill. Thanks Hoy! Hmmmm. Something was still missing from a typical INCH hike. There was not yet enough thrill. Just then, the strong and able Saratoga firemen and paramedics pulled up in front of the bar to come to the rescue of a woman in the restaurant who had sampled a bit too much wine herself (not Hoy!). OK, now that is an INCH Hike!
P.S. In honor of Tammy's entertaining Hawaiian stories and photos, here is a link to convert names into Hawaiian equivalents!
Milestones:
Aneesh's 1st leaf
Rima's 1st leaf







Pages maintained by Steve Walstra, Peter Saviz, and Russell Gee.
©2022 Intrepid Northern California Hikers