322. Half Dome (06/06/03)

Hikers (12): Barbara, Changhong, Elaine, Eugene, Gina Y, Gwynneth, Oliver, Peter, Rob P, Sue, Taylor, Tim
Distance: 17 miles
Rating: 5 difficulty, 10 beauty
Park info: Yosemite National Park

Write-up by Peter -- Pictures by Gwynneth, Tim, Sue G, and Changhong
June 6th: D-Day. In this case, the "D" stood for "Dome". I had tried three times in the past to climb this rock, but had turned back each time due to fear of heights. Following our previous trip I guaranteed in writing that I would do it this time, so the pressure was on! I knew that with the support of the INCH troops behind me, I could not fail. Even Rusty had mailed in his encouragement from somewhere in Europe.
1, 2, 3, ... INCH!
We got an early start and were on trail before 7 o'clock. We did not want to be fighting crowds and the heat on the way up the cables, and wanted to be off the Dome in case there was a repetition of the previous day's afternoon thunderstorm. Rob was even more of an early riser, and had hit the trail at 5:30. I was not worried about him -- he had climbed 27,000+ feet on Everest so this had to be a piece of cake for him.
The crew was pumped up as we headed up towards the foot of Vernal Falls. Everyone was laughing and joking and in excellent spirits. I had a good feeling about this hike. At the Mist-Muir junction, we split into two groups, with Taylor, Tim, and Oliver heading to Nevada Falls up the Mist Trail and the rest of us taking the John Muir Trail. I told myself that if I successfully made it up Half Dome, I would take the Mist Trail back but I didn't want to push my luck at this point.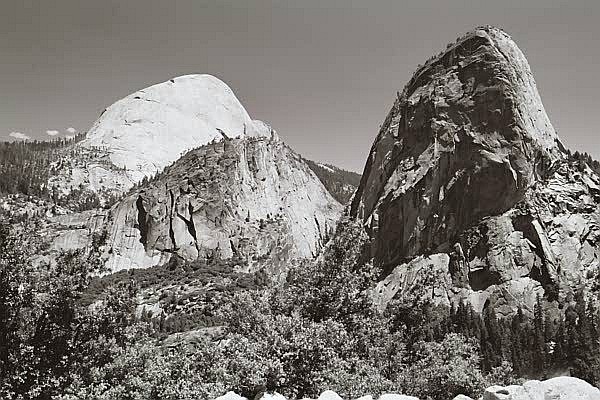 Artistic view of Half Dome and Liberty Cap from the John Muir Trail
I was the first one up to Nevada Falls. I wasn't sure if the Mist crew had already passed through, so I radioed Taylor on the walkie-talkie. Just as I finished putting the call through, she showed up! We rested there a little while for most of the gang to drift in, and then headed out towards Little Yosemite Valley.
Everyone was in pretty good shape, so we kept going at a brisk pace. As we walked along the only flat portion of the entire trail, we got a nice side view of Half Dome. Looking up, you could see that the cable section was a 45-degree angle at worst, so I told myself it could not be that bad. It only looks like a sheer wall when you're at the foot of it!
We turned up the switchbacks towards our final destination. I was in the lead, followed closely behind by Oliver, Taylor, Eugene, Tim, and Elaine. Sue, Gwynneth, and Barbara were still in radio contact, so we knew they were not too far behind. Changhong and Gina had told us they'd be starting later, so I figured we wouldn't see them until the top.
This part of the hike usually takes its toll on me, but this time seemed different. I don't know if it was the earlier start (cooler air), the previous day's warm-up hike, the adrenaline, the fear(!), but whatever it was sure helped a lot. I made it to the foot of the granite steps with only a single rest stop, and that was essentially to wait for the others to regroup. I took a quick break to stash some water in the bushes and geared up for the climb up the granite steps and the cables. I put my gloves on right from the get-go because I didn't want to be fumbling about in my backpack at the foot of the cables. I just wanted to keep going all the way without stopping. That had been my downfall on the previous try.
I started the climb up the granite steps at exactly 11 o'clock. Oliver was right behind me. The others decided to take a longer break before the big climb. About 5 minutes into the climb, I found myself off trail and on a steep slab of granite ..... this had happened last time, so I was not too worried about it. A couple up ahead of me were in the same predicament. We scrambled about on all fours and eventually found our way over to the trail (good thing I had put my gloves on). I have to say the new pair of Merrells that Taylor had bought me for my birthday were a great help -- those babies gripped the granite like glue and gave me a lot of extra confidence.
Twenty minutes later, I was on the saddle at the foot of the cables. I had told myself that I would not look up, but I found myself doing it anyway. Bad idea! My knees started to tremble and I began to feel queasy, as I had so many times before. Uh-oh! This was not good. My heart was pounding and my mouth was as dry as the Sahara. I felt hot flashes together with cold sweat on the back of my neck. I turned away from the cables and took several deep breaths. I looked over to Oliver and saw he was gearing up for the climb .... I figured it was now or never. The conditions would never be better than this. I would either make it up this goddamn rock today, or never come back and live with the failure hanging over my head for the rest of my life. Here goes ....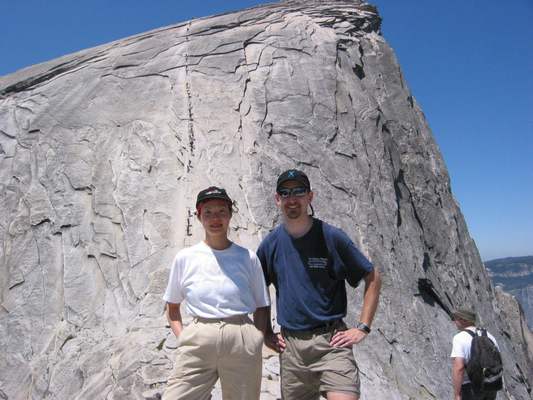 All smiles: Elaine and Tim at the foot of the cables
With Oliver behind me, I began the assualt. I grabbed the cables and headed up at a strong pace, not looking down or to the side. I only looked a couple of rungs ahead to make sure the path was clear ahead of me. Two minutes into the climb, I would knew I was going to make it. It was not as bad as I had feared and I felt a lot more comfortable. I loosened my death grip on the cables and began to actually enjoy the climb. I still was not brave enough to look around, but I was not afraid of falling either.
About halfway up, everything came to a complete standstill. People up ahead had tired out and were resting. Meantime another bunch was heading down the cables from the peak. This was going to be a long traffic jam. My arms were now starting to hurt. In the weeks leading up to this hike, I had told myself I should be going to the gym to work on the upper body, but it never happened and I was paying the price now. I rested one arm at a time while holding on to the cables with the other. Suddenly I felt my hand slip and lunged for the cable with the other hand, only to grab air and smash my thumb into one of the poles. Owwwwww!!!! I could feel the nail had bent backwards, but I was not about to take off my glove to look. The last thing I wanted to see at this point was blood.
By now some people behind me were starting to get restless and started making their way up the outside of the cables. I felt myself starting to get nervous again, so I just closed my eyes and took a few more deep breaths. Having Oliver behind me was very helpful. I appreciated that he did not keep talking to me during this time (Dobby!). Eventually things up ahead began moving again, so we continued the climb.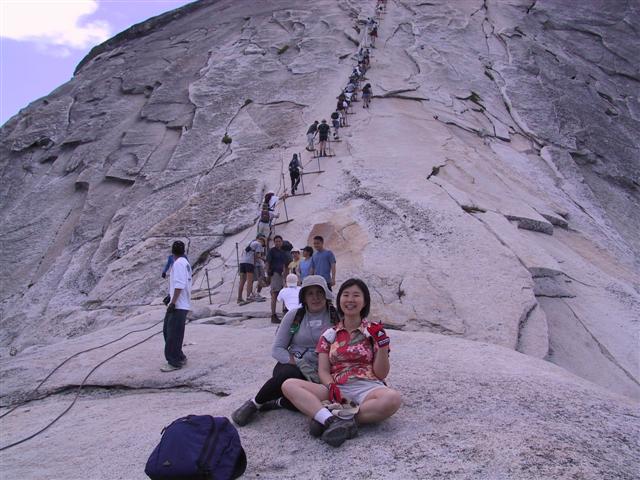 Huddling together for support: Taylor and Gina at the foot of the cables
As we got closer to the top, the angle became less steep and things started to pick up. I even let go of the cables and was practically jogging! I had made it!!! the monkey was finally off my back!! Whoooooooooooo!!!! It was a great relief. I finally got to see the top of the famous Half Dome that had eluded me all these years. It was true what they said -- it was huge. There were even some remnants of the winter snow at the top.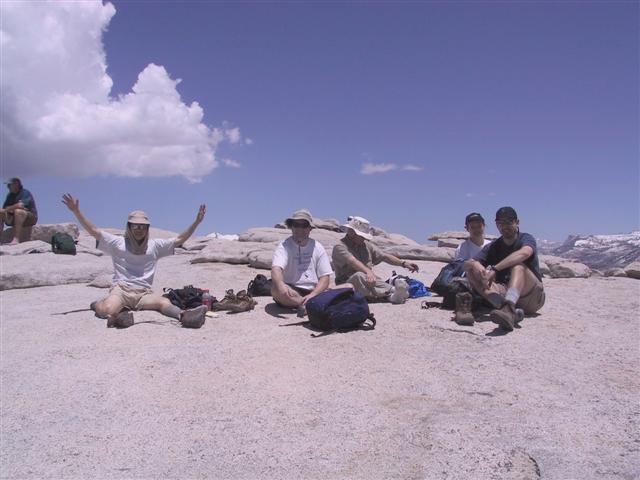 At the top: Eugene, Peter, Oliver, Elaine, and Tim
It had taken 25 minutes to climb up the cables, including the stops. It was now High Noon on Half Dome, so we had made it all the way from the valley floor in excatly 5 hours. I picked an empty spot (far away from the edge!) and threw off my backpack. I tried to sit down, but my quads had cramped up so bad that I couldn't bend my legs. I lay down sideways and rubbed my aching legs. Holy moly! I had not cramped up like this since the end of our last trek to Mississippi Lake. I just lay there twitching for a while and drinking water, and eventually things started to straighten out. By this time, most of the gang had made it to the top and came by to offer congratulations. Thanks guys! I could not have made it without your support.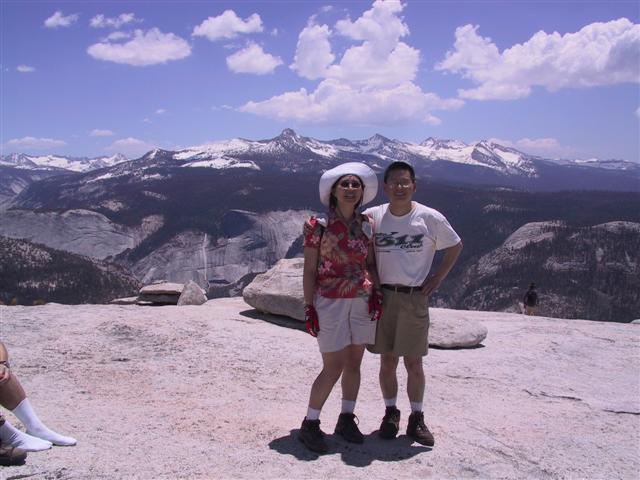 Gina and Changhong enjoying the view from the top of Half Dome
I was in no hurry to head back down, but I was concerned that Taylor had not made it up yet. I knew her shoes did not have good tread, and I was a little worried. Gina told me that Taylor had said she would turn back, so I settled down to rest a little longer before going back down. I also called Esteban to let him know I had made it (good cell phone reception on top of the Dome). I wanted him to know that if I fell to my death on the trip down, he should have them write on my tombstone that I had made it to the top.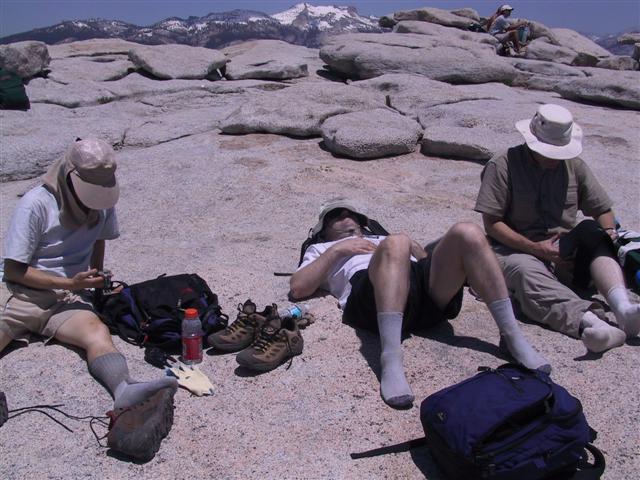 Time for a nap before heading back down
After an hour at the top, most of us began to head back down, leaving Changhong and Gina behind to enjoy their lunch. Taylor, Sue, Barbara, and Gwynneth had not made it and we assumed they had turned back. I was debating whether to go forwards or backwards down the cables. After assessing the situation, I decided to go facing outwards. It was not so bad. I just kept focusing on the few yards in front of me, instead of looking all the way down. I did look down to the valley below a couple of times, and it was actually not so bad.
About halfway down the cables, I met up with my baby coming up! She had some moments of trepidation on the granite steps, but after three attempts had conquered her fear and was going all the way. We exchanged a mid-cable kiss (how romantic!) and continued on our separate journeys. Her plan was to go to the top, drink a can of nectar she was saving for the occasion, do a quick U-turn and come back down. I waited for her a while at the foot of the cables, but each time I looked up to see her I started to feel queasy again. In fact, I felt like I was on the verge of fainting, so I thought it best to keep going. I went as fast as I could down the granite steps.
Back on good old solid ground again, I met up with Barbara. She had started towards the top, but seeing the dark clouds moving in and feeling some raindrops had wisely decided to turn back (Steve would later tell me the storm was because my presence on the Dome had angered the gods). She told me Gwynneth's knee had been killing her, and so she and Sue had turned back some time ago. We sat there and waited for the rest of the gang to make it back down from the rock.
Feeling brave after making it to the top of the Dome and back, I even took the Mist Trail back down, after a brief rest at Nevada Falls to cool off my tootsies. There were a couple of dicey moments along the way down the Mist Trail, but nothing compared to what I had just been through. Needless to say, I was completely drenched by Vernal Falls, but it was was beautiful -- this trail was a lot of fun and just the relief I needed. I took my time going back down, and got back to the bottom around 6 pm.
Safely back at the trailhead, we ran into Rob and Sue who had arrived with a perfect gift -- a cold bottle of Half Dome Ale! Rob had made it back down by 1 o'clock, which gave him plenty of time to rest and, more importantly, get beer. Other folks on the trail had seen him earlier that day, but I think I just missed him when I went to stash water off-trail at the foot of the granite steps. In total, 9 out of 12 of us made it to the top that day. Good job, INCH! Our D-Day feat was perhaps a tad less historically significant than the Allied liberation of Europe, but it was at least worth a cold one. That was the best tasting beer I have ever had!!!
Epilog: The next day, while visiting Glacier Point and looking across at Half Dome, the gang presented me with a signed T-shirt commemorating my achievement. You can read the next writeup to get details of the elaborate ruse that went into getting the shirt, but for me, it was one of the happiest moments of my life. Thank you, guys!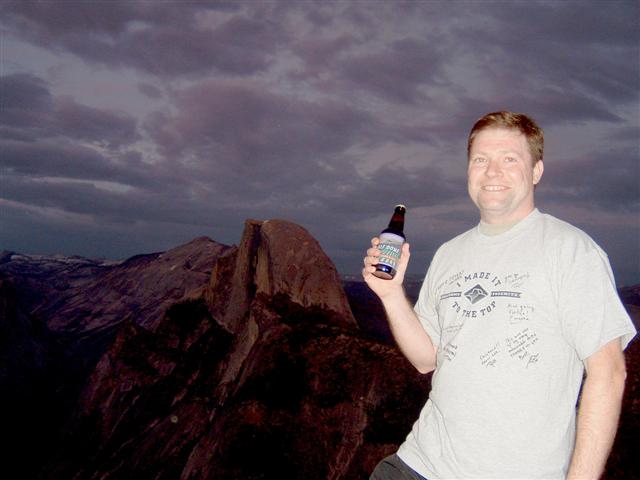 I finally made it!!!
For additional photos, check out Tim's photo album.
Milestones:
Oliver's 10th leaf







Pages maintained by Steve Walstra, Peter Saviz, and Russell Gee.
©2023 Intrepid Northern California Hikers