321. Inspiration & Stanford Points (06/05/03)

Hikers (9): Barbara, Elaine, Eugene, Gwynneth, Oliver, Peter, Rob P, Sue, Tim
Distance: 8 miles
Rating: 3 difficulty, 9 beauty
Park info: Yosemite National Park

Write-up by Sue -- Pictures by Gwynneth and Sue G
Day 1 of the 2003 INCH Yosemite Trip. We left the Bay Area early Thursday morning for our much anticipated trip to Yosemite National Park. We drove through the congested Bay Area commute and made our way to Hwy 120 and through the small town of Oakdale. The road then ran lazily through orchards and by Don Pedro reservoir. With each mile the city life faded away along with the rush and stress of Silicon Valley.
A couple of miles after entering the gates of Yosemite National Park, we glimpsed the first views of Yosemite Valley and echoed John Muir's sentiments of this grand place: "I am bewitched, enchanted". The valley's architecture commands your attention: granite domes, rock monoliths, hanging valleys and cascading waterfalls that all flow into the mighty Merced River. The park is home to several of the highest waterfalls on earth with Yosemite Falls holding the honor of the highest Falls in North America at 2,425 feet. No wonder 4 million people visit Yosemite National Park each year!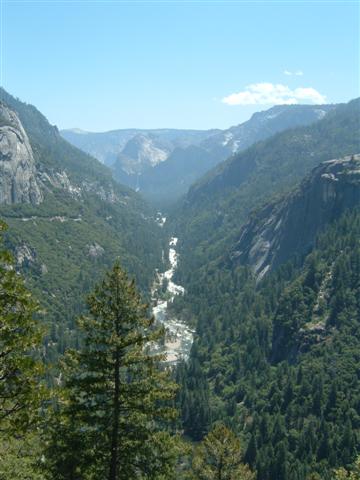 First views of Yosemite Valley
We unloaded our gear in our Curry Village cabins at the base of Glacier falls, and drove to the Inspiration Point trailhead a mile or so past Bridalveil Falls on the road to Wawona.
1, 2, 3 . . . INCH!
Peter had said this was a fairly quick and easy hike for our pre-Half Dome "warm-up". The rocky trail started off fairly steep and Peter's pace was wicked fast. We were soon out of breath. Maybe it was the altitude? We met up with Peter taking a break at Inspiration Point just 1.6 miles from the trailhead, and asked him to provide his definition of a "warm-up" hike. He said we shouldn't worry, we were almost to Stanford Point, and the trail would be less rocky.


One of Gwynneth's stunning B/W photos (Ansel Adams would be proud)
Over the next couple miles we were truly intrepid hikers crossing several rivers via logs and stones, and finding our own way when the trail disappeared in a field of fallen trees. The group had several sets of walkie-talkies, which actually helped us stay in touch and on track when we got spread out. Eugene's voice was most often heard on the walkie-talkie, usually cursing Peter for this difficult warm-up hike. Eugene also tried to keep tabs on the location of the ladies in the back of group, but we gave him several misguided updates and returned to our conversations on family and friends.
As we passed a patch of snow, Barb noticed the word "INCH" that Peter had written in the snow indicating we were still on the right track. A few moments later we would meet up with Rob who was waiting to show us the (unmarked) path to Stanford Point. The view was breath-taking. Peter was instantly forgiven for his penchant to understate.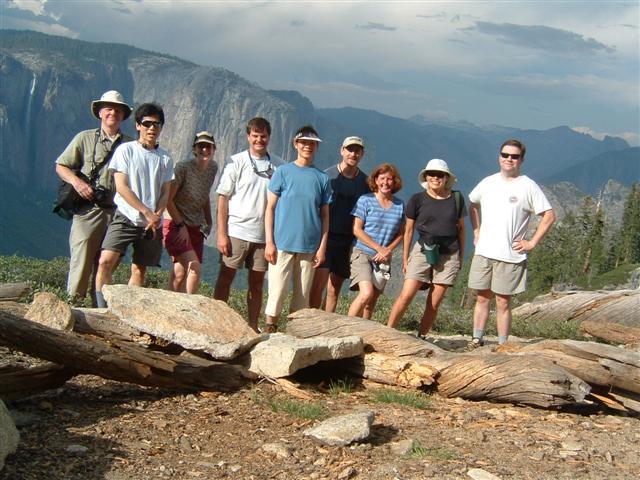 At Stanford Point (L to R): Oliver, Eugene, Gwynneth, Rob, Elaine, Tim, Sue, Barb, Peter
The panoramic view held such prominent features as the valley's highest peak, El Capitan, as well as Half Dome. We noticed the clouds were starting to build, and thunder could be heard off in the distance. A few seconds later, there was a bright flash of lightning across the valley. Time to get going! After a short break and a group photo, we decided to move quickly back down the mountain to avoid getting caught in a storm. Back over the rivers and through the woods to Inspiration Point.
On our final leg of the trail, Rob noticed Barb had stepped on two large arrows pointing off the trail ..... hmmm. A few more steps and we saw a sign for Bridalveil falls and the path became paved. Ok, this isn't right. We remembered driving past Bridalveil Falls on the way to our trailhead. Were the arrows left by the lead INCHers? They just pointed down a hill without a trail. We back-tracked and found there was a four way intersection that had been covered by a small creek. We decided to pick the direction the arrows had pointed. It turns out that Tim had gone down the same wrong path, and had left the arrows to show the right way to precede at the intersection, just in case we made the same wrong turn. Thanks Tim!
INCH leaves and trees would be a frequent conversation topic during the weekend and both Elaine and Tim earned their first INCH trees on this hike. Congratulations!
Milestones:
Elaine's 10th leaf
Tim's 10th leaf







Pages maintained by Steve Walstra, Peter Saviz, and Russell Gee.
©2022 Intrepid Northern California Hikers