320. Fremont Older's Drunken Hike (05/31/03)

Hikers (21): Blinky, Bunny, Carol R, David, Deb, Dotty, Eugene, Glen, Hee, Hether, Jinglan, Michael, Nancy, Patrick, Rus R, Sean, Steve, Sue, Sylvia, Tim, Wendy R
Distance: 9 miles
Rating: 3 difficulty, 7 beauty
Park info: Fremont Older Open Space Preserve in Cupertino

Write-up by Sue -- Pictures by Sue G
We were past due for our quarterly hike to Picchetti Winery via Fremont Older and Stevens Creek parks. Of course, you don't have to hike there -- you could follow Patrick and Jinglan down the black leaf path and park a car at either end. But Jinglan gets style points, arriving in a stunning pink shirt, matching pink hat, and sassy little backless dress shoes (which were later switched to more appropriate ones).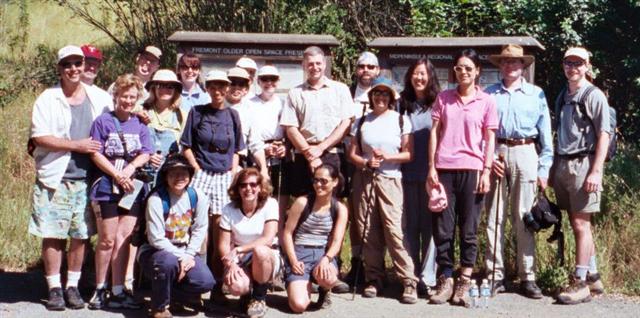 Twenty heads, but only one tongue.
After some car parkings and re-parkings (safely away from the golf course), we introduced the large number of newbies to our traditional cheer:
1, 2, 3, ... INCH!
The hike to Picchetti Winery features steep uphills and downhills akin to a roller coaster ride. You start off on a steep uphill, followed by steep switchbacks hiking down to Stevens Creek reservoir, and finally back up the other side. Bunny and I were in the front group (amazingly) and remembered the directions to the winery. This put us in the rare position of leading the hike. Steve added in his directions for good measure "you can't go wrong if you go right!"
Deb Z. provided the entertainment with stories from her fast and furious life as we trudged up the hills. Her story this time involved a mountain biker she met on her last INCH hike to Priest Rock and their subsequent ill-fated bike trip to Mission Peak, followed by a side trip to the emergency room (you'll have to ask her for the rest of the steamy story).
The discussion then turned to what exactly constituted a "date" (hospitalization, oddly, was not one of the criteria). We started with Tim's suggestion that a date was anytime two people went out, but later adopted Sean's eloquent recital of Miss Manners definition of a date:
There are three possible parts to a date, of which at least two must be offered: entertainment, food, and affection. It is customary to begin a series of dates with a great deal of entertainment, a moderate amount of food, and the merest suggestion of affection. As the amount of affection increases, the entertainment can be reduced proportionately. When the affection is the entertainment, we no longer call it dating. Under no circumstances can the food be omitted. -- Miss Manners' Guide to Excruciatingly Correct Behavior
At this point the lead group (mostly women) decided that we had most of the makings of a "date" given the entertaining conversation and the promise of food (and libations). All we needed was the merest suggestion of affection! Oh, Tim!!!! As we waited by the stream for all the hikers to re-congregate, Tim graciously "hugged" 12 women to make the date official. We even have a photo to prove Tim was on a date with 12 hot women, since it is doubtful that will ever happen to him again.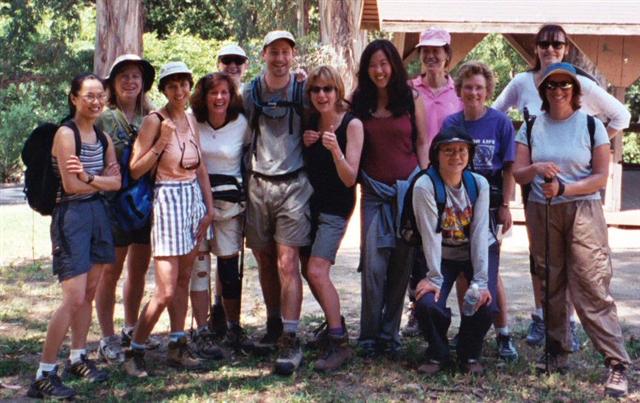 Unfortunately, Miss Manners also said "Never on the first date".
Once at the winery we were pleasantly surprised that the $5 tasting fee was waived because Bunny is a member. Sláinte Bunny! We drank, talked, ogled the deer antler chandelier, appropriated wedding seating, and were entertained by the peacocks. There was one especially randy peacock displaying his superior plumage to hens and frightened Picchetti patrons alike. The spectacular company, weather, and entertainment were in stark contrast to the wine this time, which did not live up to previous visits. We tried another few bottles after the tasting, just to make sure we had a statistically significant sample size, but the conclusion remained the same. Perhaps the vintner saw the 21 hot hikers coming up the road and hid the good stuff for the wedding later that afternoon!
Another story and a cartwheel from Deb, who was insisting that she was not a hiking club member (she has a biker reputation to uphold), and we were ready to head back. Patrick and Jinglan are looking like geniuses as they shamelessly headed for their car, while the rest of us hit the road with our feet. With a bit of a buzz, the hike back along the Zinfandel trail went by quickly until we had to cross the creek and hit the steep uphill switchbacks. By this time, Tim was counting his blessings that he hugged us before we were all drunk and dripping with sweat.
Once that was over, it was all downhill. No golf-related damage to the cars, although a woman parked next to Nancy recounted a harrowing story of a golf ball landing between their two cars.
Side Story (from Steve): As I was waiting for the last people to trickle in near the end of the hike, I started talking to Sylvia. Once everyone had caught up, I took an alternate trail back to the parking lot. Sylvia came with and said, "Is this the part where you kill me?" "Ha ha," I said ambiguously. Soon after, I managed to take the only wrong turn on the quarter-mile trail and deposited us in what looked like a pet cemetery. And what do we see? A tombstone with "Sylvia" written on it! Right out the Twilight Zone. But, fear not, for there were still 21 live hikers at the end of the hike. The May quota had already been filled.
Milestones:
Carol R's 1st leaf
Dotty's 1st leaf
Hee's 1st leaf
Hether's 1st leaf
Michael's 1st leaf
Nancy's 10th leaf
Sylvia's 1st leaf
Wendy R's 1st leaf







Pages maintained by Steve Walstra, Peter Saviz, and Russell Gee.
©2022 Intrepid Northern California Hikers