324. Huddart Park Loop (06/07/03)

Hikers (17): Alan W, Bunny, David, Ernie, Glen, Hether, Jinglan, Julie W, Macy, Mary L, Sean, Sergei, Steve, Sue B, Tammy, Van, Winnie
Distance: 8 miles
Rating: 3 difficulty, 9 beauty
Park info: Huddart County Park in Woodside

Write-up by Steve -- Pictures by Bunny
This was an unexpectedly large hike considering it was coinciding with INCH's annual Yosemite trip. Adding our 17 hikers to the 10 in Yosemite, we set a single-day INCH record for turnout.
We had a lot of new people on the hike: Winnie and Mary L found the hike from the web, Macy was invited by Jinglan, and my sister, Julie W, came all the way from Michigan just to snag an INCH leaf.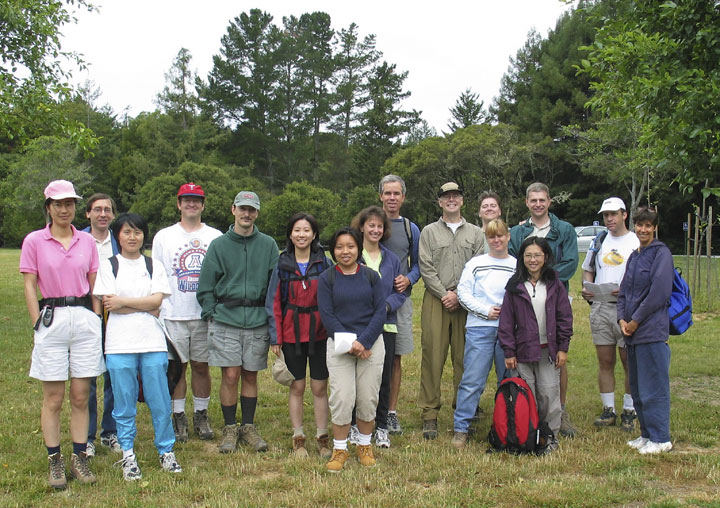 Huddart Hikers: (L to R) Jinglan, Dick, Macy, David, Sergei, Winnie, Mary L, Sue B, Ernie, Glen, Julie W, Tammy, Van, Steve, Sean, Hether



After scouting ahead to find the Dean Trail (cutting through an empty picnic area), we did the ol' INCH cheer and set off.

It was nice and cool inside the park. The shaded redwood-lined trails have reasonable inclines that never work you too hard. As the group slowly spread apart, we soon discovered why Jinglan brought her friend Macy--it gave her someone to beat on the hikes! But in Macy's defense, she said she's been hiking Mission Peak regularly, so perhaps she's optimized for the harder hikes.

After hearing prior complaints about INCH's weak display of our "Love to Eat" motto, we stopped along the trail for a formal lunch break. This was a chance for everyone to sit down and socialize. Sean displayed his contempt for the idea by refusing to sit down. Of course, he didn't skip the eating part.

A couple miles after lunch, we were almost back to the cars. There were some suggestions that maybe the was shorter than advertised, which might be true. Huddart doesn't have mileage on their maps, but it looks like 8 miles based on the legend, and we did every inch of intended trail. Hmmmmm.

I was happily patting myself on the back for not getting us lost as I climbed out of the Dean trail and into the parking lot. After a few minutes, a headcount showed about six people missing. D'oh! So I went back down to the trail and jogged along the route those guys must have followed. A couple hundred yards later that trail deposited me in far end of the parking lot. From there I could see everyone but me was now back. . .Double D'oh!

After saying our good-byes in the parking lot, we took Jinglan's carpool car back to Intel, stopping by 7-11 along the way to introduce Julie and Macy to the greatest post-hike INCH tradition. Ah, Huddart and a Slurpee®--it doesn't get any better.

Milestones:
Bunny's 10th leaf
Glen's 10th leaf
Julie W's 1st leaf
Macy's 1st leaf
Mary L's 1st leaf
Winnie's 1st leaf







Pages maintained by Steve Walstra, Peter Saviz, and Russell Gee.
©2022 Intrepid Northern California Hikers