325. Mirror Lake (06/08/03)

Hikers (10): Barbara, Elaine, Eugene, Gwynneth, Oliver, Peter, Rob P, Sue, Taylor, Tim
Distance: 4 miles
Rating: 1 difficulty, 8 beauty
Park info: Yosemite National Park

Write-up by Sue -- Pictures by Gwynneth (aka Ansel Adams) and Sue G
Day 4 of the 2003 INCH Yosemite Trip. Even though Russ and Steve were not on this hike, we could hear them yelling "Cheap Leaf!" from miles away. We'd prefer to think of it as either the Half Dome post-cool down hike, or a celebration of Eugene's second forest and Gwynneth's first tree!
1, 2, 3 . . . INCH!
The path to Mirror Lake, our first destination, led us by the Happy Isles Nature Center, over the Merced River, and by the John Muir trail. After a short walk alongside the Tenaya Creek, we arrived at Mirror Lake at the base of Half Dome. From this vantage point you could clearly see the silhouette of Tis-sa-ack, a Miwok Indian Legend, in the face of Half Dome. Her tears were said to have been what formed Mirror Lake. On a normal day this reflecting pond would have been a good place to take a break, but Eugene had his fart machine running non-stop. The only good thing about it was that it was frightening away the other visitors to the lake. We stayed just long enough for Gwynneth to snap another award winning B&W photo, and then we were off to the Ahwahnee Lodge.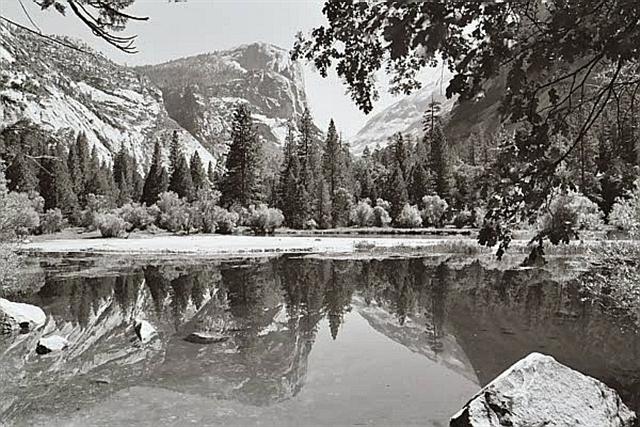 Gwynneth's photo of Mirror Lake
As we approached the red carpet entrance to the Grand Ahwahnee Lodge, Peter suddenly had a panic attack and kept repeating, "Act like you belong here!". I'm not sure if he was more worried about our informal attire or Eugene's fart machine. He must have known about the Lodge's prestigious guest list which included several presidents, British royalty, and movie stars. We promised Peter we would behave as we entered the lobby.
The building designs and decorations were flawless. Large windows lined the halls, Persian rugs covered the floors, and antique chandeliers illuminated the rooms. The photographer Ansel Adams once wrote about the Lodge: ... yet on entering The Ahwahnee one is conscious of calm and complete beauty echoing the mood of majesty and peace that is the essential quality of Yosemite.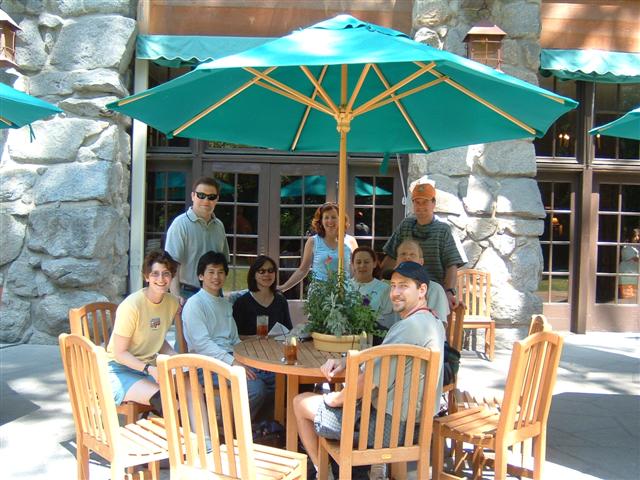 Farewell drinks at the Grand Ahwahnee Lodge
We explored the building for a while and then went outside to the patio to have a drink and enjoy the scenery. This certainly was a wonderful way to end our adventure and say farewell to the Yosemite Valley.
Several noteworthy milestones were attained during the 4 day trip:
First INCH tree: Elaine, Gwynneth, Tim and Oliver
Second INCH forest: Eugene
Twenty-something birthday (again): Taylor
Finally conquered Half Dome: Peter
Eaten by a bear: No-one
Had a good time: Everyone!
Milestones:
Eugene's 2nd forest
Gwynneth's 10th leaf







Pages maintained by Steve Walstra, Peter Saviz, and Russell Gee.
©2022 Intrepid Northern California Hikers