326. Mission Peak (06/14/03)

Hikers (22): Alan W, Bunny, Dana, Elaine, Eugene, Glen, Gwynneth, Hima, Jinglan, Kelly, Miwako, Mozhdeh, Nancy, Neel, Patrick, Peter, Sergei, Steve, Sue, Taylor, Wei-Kai, Wendell
Distance: 6 miles
Rating: 3 difficulty, 8 beauty
Park info: Mission Peak Regional Preserve in Fremont

Write-up by Peter -- Pictures by Sue G
We scheduled an evening hike in order to catch the full moon. Checking the forecast, I saw sunset was at 8:30, so I scheduled a 7:15 start time. This would give us just over an hour to make it to the top and catch the show.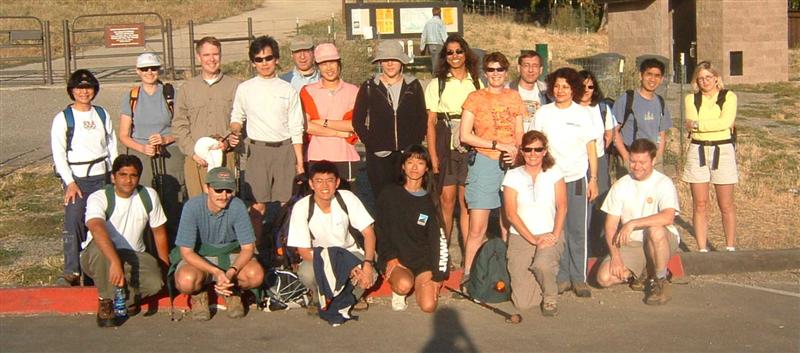 A beautiful summer evening for a hike
It was another large turnout, with close to two dozen people showing up. The more amazing part was that almost everyone was on time! After making sure everyone had a legal parking spot (a few of us have gotten tickets here before), we hit the trail.
1, 2, 3, ... INCH!
We headed out at a good pace. I encouraged everyone to make it to the top without stopping, and it looked like they were up to the challenge. There was a brief cow encounter at the first gate, but other than that it was smooth sailing. I was glad to see most of the side trails were closed for a long-overdue restoration, giving the hill a chance to recover from the erosion.
I made it to the top in just over an hour, arriving there at the same time as Esteban, who had taken a different route up. As expected, it was chilly at the top and the temperature was dropping by the minute as darkness approached. One by one, the rest of the gang made it to the top (even Dobby with his sore ankle -- good job). Everyone was much better prepared for the cold than Steve and myself, who were only wearing short sleeves and shorts.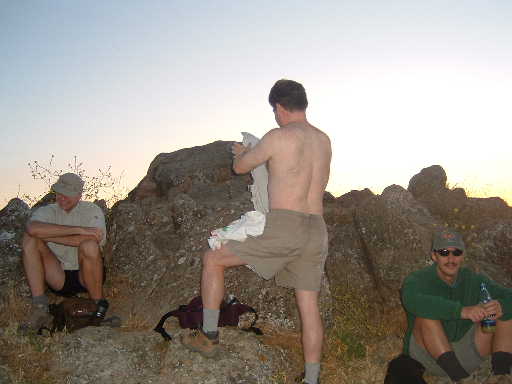 It was freezing at the top, but my back hair kept me warm!
Sunset came and went, but no sign of the moon. At this point I learned a valuable lesson: sunset does not equal moonrise! It's rather obvious when you think about it, but I guess I had never thought about it. Most of the group started to grumble that they were too cold and didn't want to wait any longer so they headed back down. Only Bunny, Glen, Weikai, Miwako, Nancy, Mozhdeh, and myself were the intrepid ones who stayed behind.
Another gentleman who had hiked along with us informed us that the moon would be visible at around 9:10. We had about half and hour to go, so we hunkered down behind the rocks and waited ...... and waited .... and waited. It was actually not too bad behind the rocks because they protected us from the wind, but Bunny still felt the need to put on 12 layers of clothing. I hate to see how much she wears for a trip to Alaska.
Well, 9:10 came and went and no sign on the moon, so the rest of us also threw in the towel and began trudging back down the hill. Naturally, by the time we got down to the parking lot after 10 oclock, a beautiful full moon was out in all its glory. I was mighty tempted to head back up again just to see it from the top. We'll be back again, and next time I promise to find out when the moonrise will be beforehand!
Epilog: This hike was originally listed as a Level 4, the same as all the other Mission Peak hikes, but Steve says it was too easy so he downgraded it to a 3. If you feel ripped off, let him know about it!
Milestones:
Dana's 1st leaf
Neel's 1st leaf
Patrick's 10th leaf







Pages maintained by Steve Walstra, Peter Saviz, and Russell Gee.
©2022 Intrepid Northern California Hikers