327. Coit Lake (06/21/03)

Hikers (11): Bunny, David, Glen, Gwynneth, Nancy, Neel, Ney, Sean, Sergei, Steve, Sue
Distance: 14 miles
Rating: 4 difficulty, 8 beauty
Park info: Henry Coe State Park east of Morgan Hill

Write-up by Steve -- Pictures by Bunny and Sue
While going through the hike statistics page, I noticed that Coit Lake had not been attempted in four and a half years. After reading through the previous attempts (82, 91, and 99), I was reminded why. It previously took three expeditions to finally get a full group to Coit Lake. Would we have the same disastrous luck?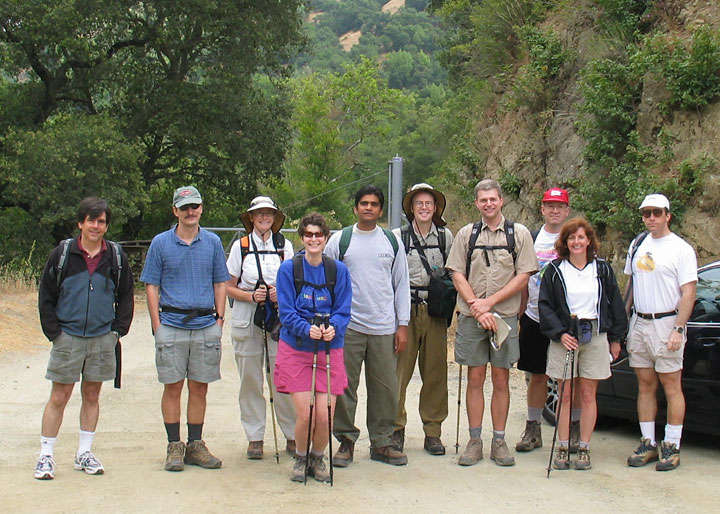 INCHers are ready to roll (Gwynneth is ready to ski)
It certainly didn't get off to a great start. We missed the first turn-off (need to take the Timm Trail if you want to catch the Grizzly Gulch trail from Coyote Creek parking lot), which made us hike the route clockwise instead of the counter-clockwise. This was no big deal, except that Glen had lovingly programmed his GPS with the route in the counter-clockwise direction (based on my info!), so all that work was for naught. Sorry Glen!
Like all Henry Coe hikes, this one involved a lot of up-and-down hiking (mostly up), and we got spread out. Every time the lead group would get out of eye-shot with the second group, Nancy would announce (over the walkie talkies) that the lead group needed to slow down. Later that day she recounted that some of the Sierra Singles folks hike too slowly, and that any guy who wanted to pursue her better be able to keep up (Ney, who she "recruited" from Sierra Singles, stayed quiet). It was all very confusing, but I did find the off switch on the walkie talkie.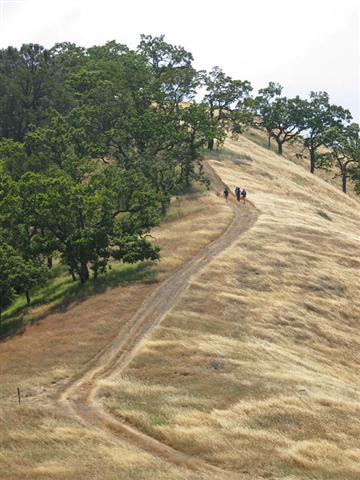 Some of Henry Coe's fine elevation gain
When we finally made it to Coit Lake, we were surprised to see two bikes, a tent, and even a couple inner tubes. After not seeing anyone else the whole hike, this place was like Disneyworld. We climbed up a little hill and enjoyed lunch (and temporarily lost a third of the group).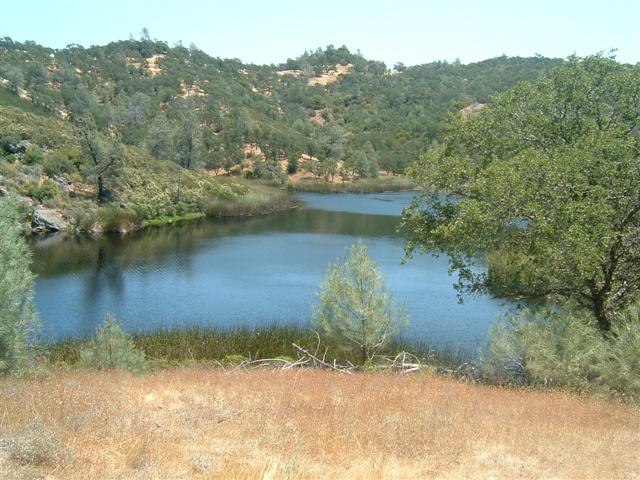 The elusive Coit Lake (from the lunch spot)
The way back was more rolling hills, but largely downhill. We waited near Kelly Lake for Bunny and Glen, who then told us to leave them behind, since they were snapping pictures (check them out). There were two trails from Kelly Lake: one going steeply up a hill, and another following along the lake. I decided to take the high road, at which point Sean said, "How do you know that one is the right trail?" I didn't have a good reason, so he lobbied to take the easier route. We took the low-road, which dead-ended at a camp site a little farther down. Leading a hike ain't so easy!
After getting over that ridge, we went temporarily SE (i.e. away from the cars) to pick up the Dexter Trail. This section of trail was a highlight of the hike, with golden fields of parched grass for as far as the eyes could see. If it weren't for the gold-digging 1849'ers, then this would be why California's nickname is "the Golden State".
Everyone made it back to the cars without any of the drama encountered on previous attempts. The curse of Coit Lake seems to have dissipated, although ol' Henry will get us back eventually. He always does.
Milestones:
Ney's 1st leaf
Sean's 20th leaf
Steve's 260th leaf
Sue's 20th leaf







Pages maintained by Steve Walstra, Peter Saviz, and Russell Gee.
©2022 Intrepid Northern California Hikers