328. Boccardo Trail (06/28/03)

Hikers (17): Blinky, Bunny, David, Elise, Eugene, Glen, Guillermo, Gwynneth, Hether, Macy, Miwako, Neel, Peter, Richard, Russ, Steve, Wei-Kai
Distance: 10 miles
Rating: 3 difficulty, 8 beauty
Park info: Alum Rock Park in East San Jose

Write-up by Russ and Blinky -- Pictures by Russ
This was my first hike back after a long and well deserved sabbatical in Europe. No sooner did I get off the airplane was I thrown to the wolves. I had to organize the hike that weekend! What happened to welcome back? So what to do? I vaguely remember Gwynneth asking for me to do the Boccardo Trail since it was one of her favorite hikes. A relatively easy level 3 seemed to work for me. Let's do it! Naturally, this turned out to be of the hottest days of the year and I picked a hike in East San Jose, one of the hottest areas around the Bay! Everyone gathered in a shady spot waiting for the hike to begin. Not a good sign.
1, 2, 3...INCH!
As expected for my first hike back, there was some confusion about which way to go. I was depending on Gwynneth to get us on trail. Unfortunately, Gwynneth was a bit turned around because she normally comes into the park from another direction. But being the intrepid hikers we are, we eventually got on trail. On on!
Fortunately, most of the first half of the trail was almost all in shade. We started out walking on a trail connecting to the picnic areas. Some INCH hikers thought of trying to crash some of the family reunions getting underway, but it was too early for us to blend. There was a little bit of uphill hiking and the rest was down long switchbacks.
Boy this seemed to be going on for a long time. A careful examination of the map showed that the hike was going to be ten miles, not the seven that was advertised. Lesson one: You can't always trust what you read!
We stopped at the bottom of the ridge, sat at some benches to rest and consume water before crossing the creek and hiking on. We finally got to the Boccardo Trail, which is the sunny, and therefore brutally hot section. Perfect timing, it was about 2pm, the hottest time of the day. At this point, Blinky and her friend Elise turned back. But no leaves of shame earned, thanks to Blinky's gimpy knee and her friend's loyalty (I was feeling generous)! And then I noticed Wei-Kai and Miwako disappeared! What is going on here? Turns out they expected a seven mile hike and were late for an appointment. Lesson two: Never count on a hiking ending on time.
Living the easy life of a European for the past two months was starting to take it's toll. I was having problems with the heat and seriously lagging. The Man kicked my butt going up the trail and I can't remember the last time that happened! I'm totally weak. Half way up the trail, I saw Guillermo walking back down the hill. Oh my god, he went all the way up and is coming back before I even got half way. Turns out that the heat was getting to him and he had enough. I don't blame him, I was going to pass out too and was tempted to go back with him. No way. I couldn't take the abuse Steve and the Man would heap on me if I did not finish my own stupid hike!
After what seemed like an eternity, I finally made it to the top. That is when I found out from Steve that he had taken a different route from the parking lot, found Macy and her husband, took them to the top, back down, and then hiked back up to the top again with Peter and the group. I was too tired to care. I took in the smog filled view from the top. Just like Croagh Patrick...not!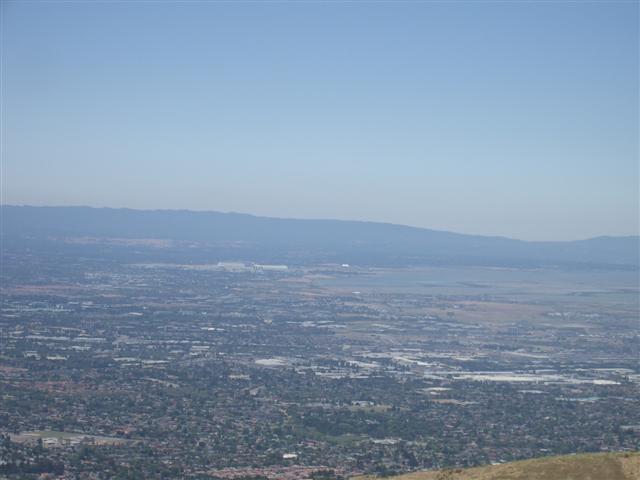 View from the top (worth the suffering!)
At least the hard part was over. Just needed to do the downhill trek back to the cars and air conditioning. The whole way back I kept thinking I was living large in Europe last week and now I'm suffering on these stupid hikes! Lesson three: INCH is about suffering! It was good to be back.
Milestones:
Elise's 1st leaf
Richard's 1st leaf
Wei-Kai's 30th leaf







Pages maintained by Steve Walstra, Peter Saviz, and Russell Gee.
©2022 Intrepid Northern California Hikers