329. Dipsea Trail (07/05/03)

Hikers (17): Cynthia, David, Elaine, Eugene, Guy, Hoy, Janice, Judy, Kevin K, Laurie, Miwako, Nancy, Peter, Russ, Steve, Sue, Wei-Kai
Distance: 15 miles
Rating: 3 difficulty, 10 beauty
Park info: Mt. Tamalpais State Park from Stinson Beach to Mill Valley

Write-up by Peter -- Pictures by Sue G
INCH celebrated the Fourth of July by donning our red, white, and blue outfits and heading to Mount Tam. The legendary Dipsea Trail is a great hike, but we don't get to do it that often due to the long drive from the South Bay. For a change, Elaine lived closer to the trailhead than the rest of us (but she still got there late!). We welcomed her friend Kevin (aka K2) and Guy to the group and hit the steps.
1, 2, 3, ... INCH!
I could tell the group was pumped as we practically ran up the three tiers, 671 steps in total. Maybe we're getting better with old age, but this definitely seemed a lot easier now than in the past. Good! After a very brief rest, we continued on, along a private road leading through a bunch of fancy houses (they route the trail through there just so the high and mighty can look down on the poor slobs trudging along), and then finally onto the dirt trail that would take us all the way to the beach.
The next couple of miles to Muir Woods went by quickly as it was downhill all the way. Judy entertained us with juicy stories about her social life, including an episode involving a ketchup bottle and another involving the lusty Viking. You'll have to contact her for the gory details.
At Muir Woods, Steve went off on his own and the rest of us began the long trek up Cardiac Hill. I think the fast pace was starting to take its toll, and I could see a noticeable dropoff in the groups' enthusiasm, so I slowed things down and let them rest a couple of times. At the second rest stop, at a fork between a steep hikers-only trail and a gentle-grade fire road, I took a poll as to which route people wanted to take. "Hard trail or easy trail?", I asked them. "Easy, easy, easy!!" was the overwhelming response. Naturally, I took them up the steep trail as punishment for their sin. They're just lucky I didn't Black Leaf the whole bunch of them (except Sue).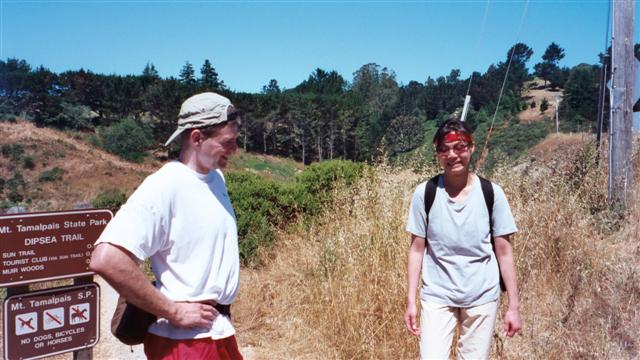 Elaine is all smiles after doing the hard trail
From the top of the ridge, it was all downhill to the ocean and we got a gorgeous view of the beach as we came over the bluffs.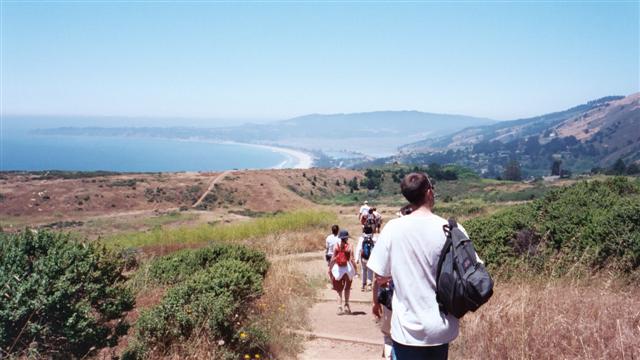 View of the beautiful Pacific Ocean as we approached Stinson Beach
What could be better than spending the Fourth of July at the beach? I guess it would be better if we were dressed a little more appropriately -- we looked like a bunch of dorks as we descended on the sandy beach in full hiking gear. But we were too tired to care. Janice found a nice spot near the water and we plopped down on the warm sand. Time to enjoy my salami and cheese sandwich and bottle of Red Hook ESB from the deli down the street ...... Mmmmmmmmmmmm! Burp! That reminds me -- why is it that the people who are showing the most at the beach are usually the people you want to see the least of? You guys who have been blessed with the jiggly man-boobs, please take note. The same thing applies to guys wearing shorts in the office -- do society a favor and put some goddamn pants on! But I digress ...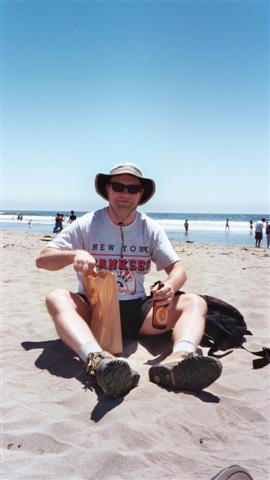 Beer-swilling slob spoiling the view on the beach
After sitting there and soaking up some rays for about an hour, and giving all the various stragglers a chance to catch up, we began to gear up for the trek back. But first, as promised, we had to make an ice cream stop. Hey, it was the Fourth of July and we hike because we love to eat!
I think the salami / ice cream / beer combo proved to be too much for my brain to handle, as I completely lost track of reality and ended up leading everyone on the wrong trail back. Note: This is the first time we have taken a wrong trail on an INCH hike ..... I guess there's a first time for everything. Luckily, we found a fat guy in a tie-dye shirt and wool-knit cap who set us straight, and we were back on the right trail again (but not before more whining by certain unnamed people -- OK, it was Nancy and Sue -- who wanted credit for an additional mile on the hike).
Back in Muir Woods, we met up with Esteban who suggested we take a different trail back. His suggestion actually made sense for a change. The Ben Johnson trail was not only more scenic, fully shaded, and did not add much extra mileage, it is also named after a disgraced Canadian athlete (no, not really, but just play along). Onward!
When we got back to Muir Woods, we discovered that everyone else had the same idea to go there for the Fourth. The place was like Time Square on New Year's Eve. We elbowed and shoved our way through the crowds, out the other side, and back on the trail again.
The group was pretty tired by now (we had come over 12 miles), but we slogged our way up the steep climb out of Muir Woods in good time. We just wanted to get this thing over with. There were a lot of red faces and huffing and puffing when we got to the top. After a rest, the last leg back to Mill Valley went smoothly, and everyone was all smiles as we finally emerged at the bottom of the steps where it had all begun 6 hours earlier.
Epilog: On the way back, we tried to make our traditional post-Dipsea stop at the Buena Vista, but were thwarted by all the traffic going to the Wharf to catch the fireworks. It was not meant to be, so we settled for dinner at the Steelhead Brewery in Burlingame instead. Not a bad place, but it was no BV!
Milestones:
David's 10th leaf
Guy's 1st leaf
Hoy's 20th leaf
Judy's 10th leaf
Kevin K's 1st leaf







Pages maintained by Steve Walstra, Peter Saviz, and Russell Gee.
©2022 Intrepid Northern California Hikers