343. Bumpass Hell (09/13/03)

Hikers (17): Barbara, Cal, David, Elaine, Ernie, Eugene, Gwynneth, Jayne, Neel, Oliver, Peter, Russ, Steve, Sue, Sue B, Taylor, Winnie
Distance: 6 miles
Rating: 2 difficulty, 10 beauty
Park info: Lassen Volcanic National Park

Write-up by Sue
Day 3 of the Lassen Trip: After our Lassen Peak hike, we made our way to Kings Creek picnic area. I'm still not convinced of the INCH slogan: "The eating club with a hiking problem". Perhaps "The drinking club with a hiking problem" would be a more appropriate slogan for this INCH trip. Nonetheless, we snacked on pretzels and soy nuts, and enjoyed the sunshine next to a meandering creek.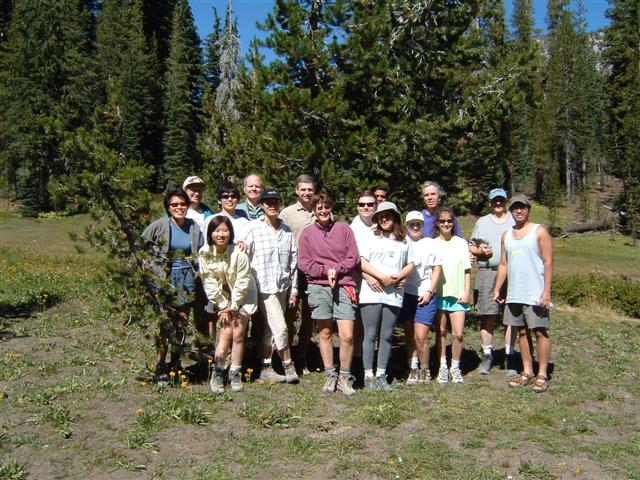 The INCH crew poses for their last known photo before heading off to Hell
The scenery in Upper Meadow was vastly different from the bare rock of Lassen Peak. This particular hike had the dubious honor of starting and ending with attempted port-a-potty tippings. Russ chased Peter out of the house at the start of the hike, and Peter returned the favor after our trip to Hell.
1, 2, 3, ... INCH!
INCH on the trail to Bumpass Hell. Would it be like Dante's Inferno? No barren forests or burning sands here. The trail started out flat and wound up past Cold Boiling Lake at the end of a beautiful green valley. After passing the lake, the trail began to ascend gently around Bumpass Mountain. We made our way through tall fir trees, past fields of wildflowers and bubbling creeks. We could see Crumbaugh Lake below us, and rocky crags above us. The scenery rivaled the beauty of Yosemite, with far fewer people on the trials.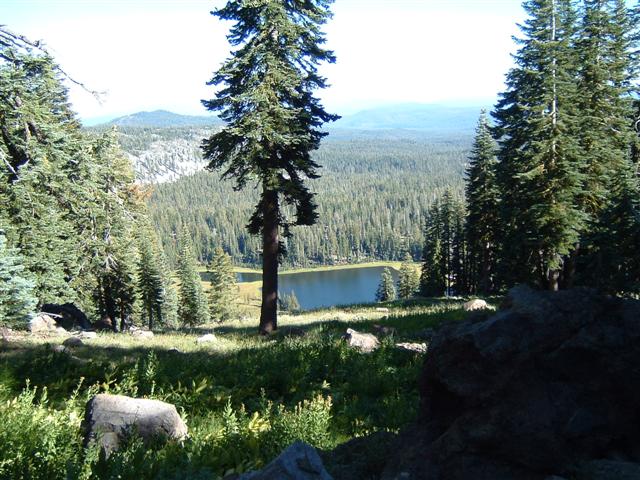 Crumbaugh Lake: Rated 10+ for beauty!
Another mile or so, and we found ourselves above the 16 acre basin of Bumpass Hell. The first views of Bumpass Hell are breathtaking. From above we could see the steaming pools, mud pots, and multi-colored rocks. As we walked closer we were overwhelmed by the smell of sulfur and the sound of boiling water.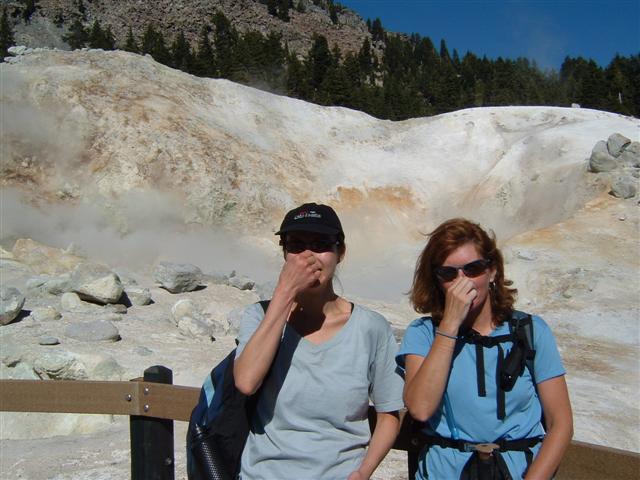 Is that smell Bumpass or Rusty?
OK, enough of the PBS editorial of our trip. This is where all Hell broke loose! INCHers can only behave for so long, especially after a couple of drinks. Even with severe warnings, Ernie had to touch the water himself to see if it was hot. Eugene went past the sign on the boardwalk that said "unlawful to pass". David decided to take a nap and accidentally dropped his backpack off the boardwalk, which was immediately swallowed whole by a boiling mud pot. E1 had us snort-laughing over her imitation of E2, while I perfected my impersonations of Russ. To top it all off, two splintered groups of INCHers decided at the same time that this would be the perfect place to resurrect the famous "Bump-ass" dance from the 70's!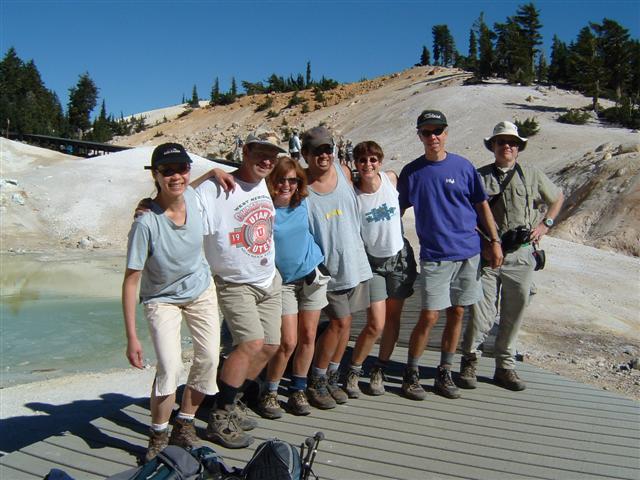 Oliver forgot how to do the "bump"!
Cal, the man we usually rely on to help us keep our sanity, joined in the insanity at the end of the hike. He had been telling us earlier about his penchant for misunderstanding song lyrics. So much so, that his daughter had bought him a calendar of commonly misquoted lyrics. Well, Cal's most famous flub was mistaking "There is a bad moon on the rise" with "There is a bathroom on the right". After a couple drinks and a couple hours hiking, he casually said to me "There is a bathroom on the right". I replied (innocently) "Oh good. Where is it?". Hysterical laughter ensued that particular exchange. INCHers certainly know how to have a good time, but perhaps having us around that day was Hell for the other visitors of Bumpass!
Interesting Bumpass Hell Tidbits: Bumpass Hell has a very intriguing name. A bit of research uncovered that the spot was named after Kendall Vanhook Bumpass who had discovered one of the thermal pools by stepping into it. He lost his leg as a result of the burns that he suffered. The thermal pool was created by remnant molten magma in a cavity that lies 6-12 miles below Lassen Peak. The sulfur smell in the area is from the volcanic gas, hydrogen sulfide (not Rusty), released by the magma. In addition to thermal pools, Bumpass Hell is one of the best places in Lassen to view other geothermal activities such as: boiling water, steam, super-heated fumaroles, and mud pots. The temperature in some of the hot pools has been gradually increasing, signally a potential future eruption.
Congratulations to Ernie, Neel and Gwynneth for earning trees on this not-so-Hellish hike!
Milestones:
Ernie's 10th leaf
Gwynneth's 20th leaf
Neel's 10th leaf







Pages maintained by Steve Walstra, Peter Saviz, and Russell Gee.
©2022 Intrepid Northern California Hikers