344. Shasta Mine Hill Loop (09/14/03)

Hikers (14): Barbara, Cal, David, Elaine, Eugene, Gwynneth, Laurie, Oliver, Peter, Russ, Steve, Sue, Taylor, Winnie
Distance: 3 miles
Rating: 2 difficulty, 8 beauty
Park info: Whiskeytown National Recreation Area west of Redding

Write-up by Gwynneth -- Pictures by Gwynneth and Sue G
Since INCHers had grabbed plenty of ash in Lassen over the past three days, a vote was confirmed for a road trip to Whiskeytown Shasta National Park, an hour northwest of Mineral. The morning of our departure, we gathered together for one last nostalgically slow breakfast at the Mineral Lodge Restaurant. Table conversation included such delightfully eclectic topics as:
Papua / New Guinea (Barbara & Taylor)
Leeches and how to pop them off (Taylor)
Estrogen side effects for those of us possibly seeking transgender options (Barbara)
Once post-dining belches eased bloated stomachs filled with such deliciously varied fare as snow-tire thick French toast, 5-penny nail hash browns, runny oatmeal, Beach Blanket Babylon–sized pancakes and weak coffee chasers, INCHers declared themselves ready to launch into the next hike. Barbara performed the Mt. Lassen ceremonial closing speech by graciously bestowing "thank you" T-shirts from the group to the organizers.
Road trip time! North of Red Bluff and West of Redding was the magnificent 39,000-acre Whiskeytown National Recreation Park just waiting to be traipsed over by our intrepid feet. We met up at the ranger station for the pre-requisite potty breaks, National Park Passport stamps and maps. Upon arrival at the trailhead, we saw a notice that the Mine Loop trail beyond the mine itself was closed, so we decided to do a quick there-and-back 2.4 mile hike to the mine. We all hurried to toss on hiking gear, with Gwynneth winning the dubious contest of who would strip first on this hike. Stripping competition apparently involved Steve, Russ, and David but they were (and will never be!) a match for one whose role model includes Brandi Chastain.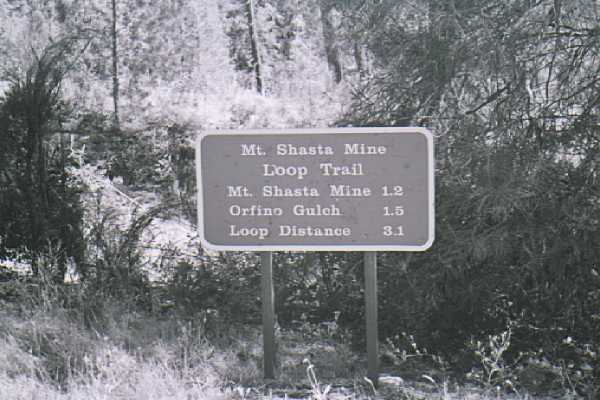 Sign for the Mine Loop Trail
1, 2, 3, ... INCH!
One mile or so to the mine shaft. One mile or so of baking sun and dust choked trail. Who cared? It was our last hike and according to Peter, this was not going to be Everest. We would be back in our exquisitely air-conditioned cars in no time! Ankles were twisted from rocky by-cuts and skirting burned out trees but we reached the enclosed mineshaft in record time and in high spirits.
A long moment of silence clearly indicated that there was no getting jiggy with this mine shaft. In fact, Cal was so underwhelmed by something looking less than an echoing crevasse haunted by the ghosts of miners past and more like the back-40 dump on a family farm that he stoutly proclaimed his rebellion. We were no mere mortals to walk away from such an anticlimactic ending to our road trip. We were INCH ... we would finish this hike with the proper bang! We would complete the entire Mount Shasta Mine Loop trail and bask in the views of the lake and its cooling breezes. According to the brochure from the Visitor Center, the remainder of the trail would bestow lovely visions of gurgling pools filled with sparkling water and breathtaking vistas of Whiskeytown Lake. Onward to higher, stronger and faster achievements!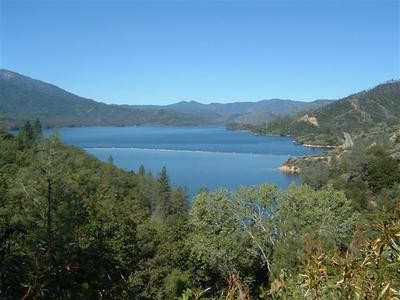 The mirage
Higher: yes. Stronger and faster? With limited water supplies? Not necessarily. Eugene and Laurie turned back to the cars less than one-quarter of a mile into the new trail. They were not interested in pursuing this gamble any further without a decent water cache. The remainder of us struggled upward in the gasping heat and choking dust, clambering over the cracked, dry Orofino Creek bed and the occasional tree root. Our meager portions of warm water and Gatorade became severely rationed while mirages of discarded water bottles and bleached cattle bones by the trailside ran rampant. It was so hot, even our shadows screamed in agony as they slithered over the fiery rocks.
A pitilessly steep switchback finally brought us to the top of the Shasta Divide ridgeline where we recuperated in a cluster of trees that obscured all but the most meager views of Whiskeytown Lake. Were we lost? Where did the trail continue? How much water did we all have? Sue, Russ, and Oliver pondered over map intricacies, each diplomatically jockeying for the upwind position while David became so freaked out from the stress that he had to take a short nap. 10 minutes later, Winnie and Cal joined our group and the consensus was made to point our poles toward the fire road leading downhill.


Hmmmm ......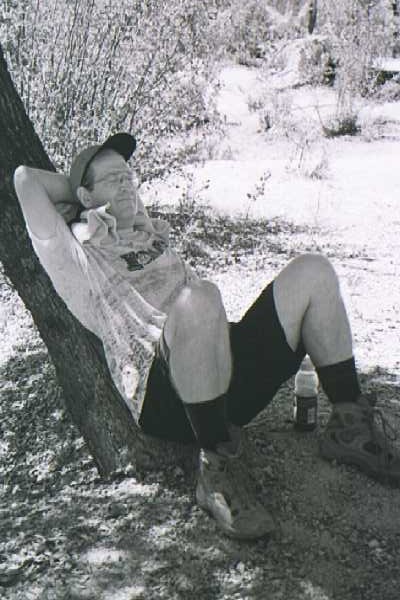 I can't handle the stress!!
Hooray! Less than a mile later, we saw the parking lot and gathered to congratulate each other. We made it! And there were Barbara and Taylor! They had somehow split off from the group before making their way back toward their own adventure. During the time they were relating their tale of strolling the Whiskeytown Cemetery and meeting scary stranglers hiding among the tombstones, we realized Eugene and Laurie were missing. No one knew the path they took after initially turning back and to make matters more unnerving, Eugene hadn't been heard on the walkie-talkie for some time. Were they OK? Did the Cemetery Stranglers get them? It had to be ... what if they were ... dead? What would we do?
After a few frantic pages on the walkie-talkie, relief washed over us as the familiar sound of spewing obscenities drifted back upon Motorola airwaves. Curse words never sounded so refreshing.
Sue and Russ raced off to rescue the filthy and tired stragglers as the rest of us began departure preparations. Hugs and good-byes were exchanged as another INCH hiking adventure began to fade into exaggerated remembrances. We survived Lassen National Park and the INCH virginal Whiskeytown Expedition! We also learned something very valuable – Whiskeytown Shasta National Park is truly worthy of the INCH sweat, tears and despair as its brochure propaganda utilizes the same standard of pathological "misinformation" (a.k.a. LIES) as do our beloved INCH founders. Til the next road trip ...
Milestones:
Taylor's 160th leaf







Pages maintained by Steve Walstra, Peter Saviz, and Russell Gee.
©2022 Intrepid Northern California Hikers