346. Phleger Estate (09/27/03)

Hikers (12): Cal, Charles, David, Elaine, George, Gwynneth, Kevin T, Russ, Sergei, Sue, Tim, Tom E
Distance: 8 miles
Rating: 3 difficulty, 8 beauty
Park info: Phleger Estate in Woodside

Write-up by Sue -- Pictures by Sue G
An even dozen hikers showed up for our jaunt in the woods. One person for each month in the year, or each sign of the zodiac. We initiated the newbies George and Tom to the INCH cheer.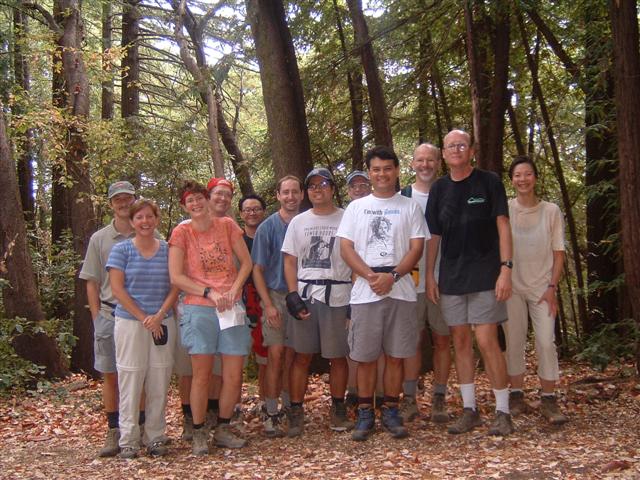 Sergei, Sue, Gwynneth, David, Charles, Tim, Russ, Cal, Kevin, George R.,Tom E. and Elaine.
1, 2, 3, ... INCH!
We were off. Rusty set a quick but constant pace. To make the hike more challenging, Rusty wore his arm weights and Elaine wore her raincoat. It was an overcast morning and the humidity was high in the forest. The folks wearing glasses had trouble keeping them de-fogged. I mentioned that spit was actually a good de-fogging solution, but no one believed me. Our first goal was making it to the famous bench inscribed with the inspiration: "Rest and be filled with the beauty of the forest." We arrived at the bench all together. Amazing. A dozen hikers all hiking at approximately the same pace. There was no denying the beauty of the forest, or the natural beauty of INCHers. See for yourself: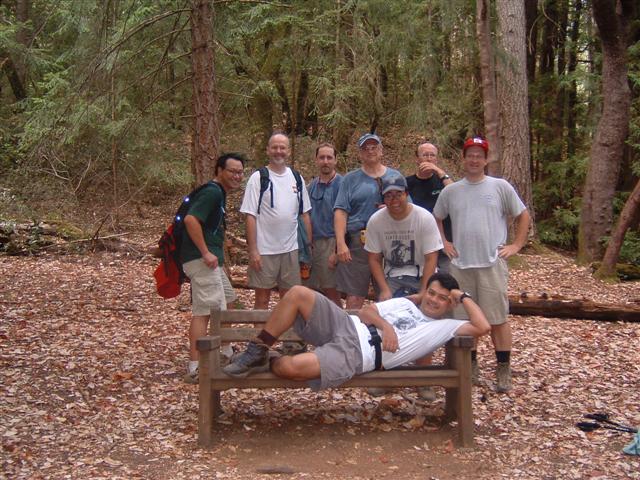 Guys submission for 2004 INCH calendar. Featuring the former male model, Kevin.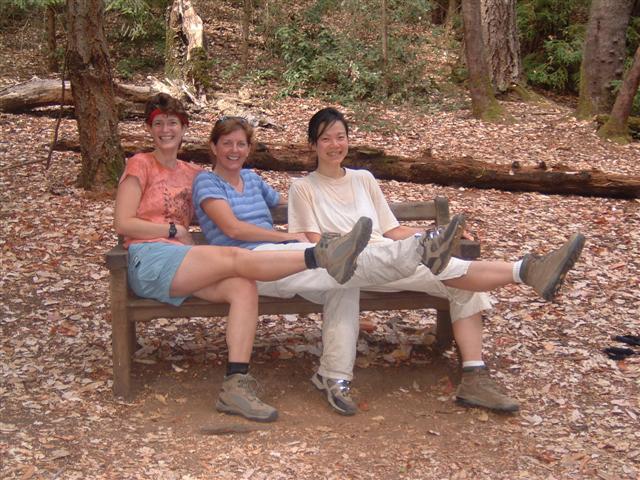 Gals traded in their dance shoes for hiking boots: Gwynneth, Sue and Elaine.
After a quick bench break, we continued up the hill. Gwynneth is in training for Mt. Whitney and pushed the pace faster and faster. She is a lean, mean, hiking machine and tested the limits of Da Man. The rest of us let them vie for the top position. At the top of the hill, Rusty asked a random hiker for directions back to our cars. The conversation then turned to football, baseball (Go Cubbies), our trip to Hawaii, and Russ' move. Tim graciously offered to help Russ move. I mistakenly insulted my favorite cheesehead, David. George shared his passion for backpacking. Russ revealed that his first response to just about everything is "That sucks!" while talking about European cities with Elaine and Kevin. Pretty typical INCH conversations.
Towards the end of the hike, Rusty was a bit off the established route, and one of the newbies suggested backtracking 1/4 mile to the correct trail. Cal responded with a laugh and the insight that INCH founders don't stop. Cal knew we were lost, but also knew Rusty would keep going and figure out where we were later. It is nice to have Cal back on our INCH hikes. He has come back from his hiatus with a renewed vengeance for being in the lead pack. I clued the newbies in on the legend and the man:
CalVan: Cal's van used in the Uvas to the sea hike.
CalMobile: Cal's SUV.
Calism: Any made-up song lyric.
Calvinator: Well, that's the world famous rocket scientist (and unstoppable hiker), Cal!
D.T.M.: Cal's Downhill Trekking Methodology. Drop your butt to save your knees.
During a break, Cal schooled all of us on the proper techniques for using your poles and saving your knees. At which point David was doubly upset that his brand new poles were still sitting at home.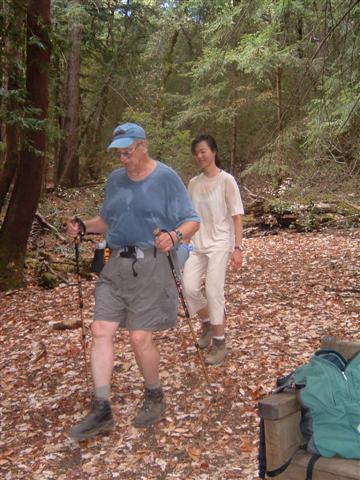 Cal unveils "D.T.M." to his student, Elaine.
Gwynneth decided that no hike was complete without something muttered over the airwaves. Since Eugene wasn't on the hike cursing, Gwynneth called Rusty and said in her best Taco Bell Chihuahua voice : "I'll take two gorditas, with a taco...and super size my fries."
Soon we were back at our cars and we all thanked Rusty for a beautiful jaunt in the woods. I was also thankful the Cubs were within a couple of innings of clinching their division title. Jack Brickhouse, former Cubs announcer, once said about the lovable losers: "Anyone can have a bad century."
Milestones:
George's 1st leaf
Russ's 270th leaf
Tom E's 1st leaf







Pages maintained by Steve Walstra, Peter Saviz, and Russell Gee.
©2022 Intrepid Northern California Hikers