348. Boundary and Montgomery Peaks (10/04/03)

Hikers (5): Hima, Janice, Kay, Padraig, Steve
Distance: 12 miles
Rating: 5 difficulty, 9 beauty
Park info: Inyo National Forest on NV/CA border

Write-up by Steve -- Pictures by Steve and Hima
Boundary Peak is the highest point in Nevada (13,143 ft) and 9th highest in the US. It is also rated as the 11th most difficult. The difficulty comes from the ~4k ft elevation gain, although the round trip distance is only about 10 miles. To make it a little more interesting, I also wanted to hike over to 13,441 ft Montgomery Peak, which is only 3/4 mile away, but requires going down 300ft and then up 600ft along a rocky ridge surrounded by slippery scree.
Due to the considerably more dangerous aspects of this hike (compared to our normal well-marked, high-safety trails), a limited notice was sent out to previous Whitney hikers, the founders, and a few others. In the end, we had a seasoned quintet (only Padraig hadn't done Mt. Whitney). Best of all, everyone (except me) had camping equipment, so we were well prepared for the night before.
We had a car coming from the Bay Area (Janice, Padraig, and your humble author) and another coming from Sacramento (Kay and Hima), and were going to meet at the trailhead. Through an odd twist of fate, we met up thirty miles outside of Benton, CA when the Sacramento car spotted our rental car pulled over for the 100th "rest stop" since San Jose. We drove into Benton together and had a less-than-stellar lunch at the only diner in town.
Next stop was the camp, situated among some abandoned mines. I had logged the coordinates of the dirt road that leads off the highway, so knew immediately when I blew right by it. A U-turn and five miles of rugged driving later, we were at the camp. After setting up camp, we hiked a mile (and 800 ft) up a 4WD road to get a view of our destination. As it turns out, we still couldn't see it. However, we did determine that Kay's 4WD Subaru probably didn't have the clearance to make it up the road, so we'd add another two miles RT to the hike. Padraig took this as a positive: "That'll be a good warm-up in the morning."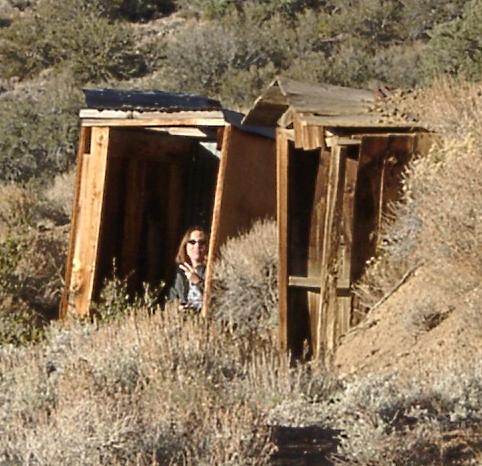 Our campsite had all the modern conveniences. . .plus a great view.
There is much debate about the "right" way to hike Boundary. Most people take the Trail Canyon route, but after much reading/research, I chose the Queen's Canyon route. It has many nice qualities including (1) a shorter dirt-road segment (5 versus 13 miles) and (2) a higher camp, particularly if you can get up that 4WD road. Because the hike was supposed to be cross-country (no trail), I plotted what seemed to be the most reasonable route from the Queen's Canyon trailhead, borrowing several waypoints from a very useful hike report. The route looks like this (in red) from the trailhead.
When the sun set, the temperatures dropped pretty quickly. We started a fire and chatted for a while (and ate some delicious dinners, had hot coco, and all the fun camping stuff). We were in our sleeping bags (some were in two sleeping bags) by 7:30pm. This, to me, was incredibly early, and I woke up almost every hour thinking it must be 5am. Around 2 am I stuck my head out and watched the stars for a while. The Milky Way was clearly visible out there, and after a few minutes of staring, I was rewarded with a couple shooting stars. A good omen for the coming hike.
5 am couldn't come early enough, and no one had trouble getting up. Nonetheless, we still didn't get going until about 6:40 am (after breakfast and such), making it up the 4WD road to the "real" trailhead at 7:20 am.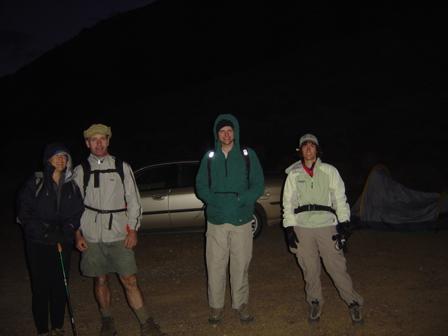 Early start!
1-2-3 INCH
At the trailhead we were surprised to see a truck we recognized from the previous afternoon. Having discussed stories from a book about dead hikers, we were guessing what fate befell the truck owner. Would we find him/them on the slopes?
We followed a well-defined trail from the start--seemed like all the preparation was for nothing! However, after about 30 minutes, we were off trail and "lost". I wasn't too worried, however, because we knew the general direction of Boundary (indeed, I had the exact direction), and we were walking through an ancient bristlecone pine forest. How cool is that!?
Eventually I pulled out the GPS to find the nearest waypoint. Luckily, this took us right up to Queen's Canyon Saddle, where we now had a great view of our first goal--Boundary Peak. And, man, it didn't look easy at all. In fact, the topographical map said the route from the base to the peak had an average incline of 36%--that's painful, and it looked about right from this distance.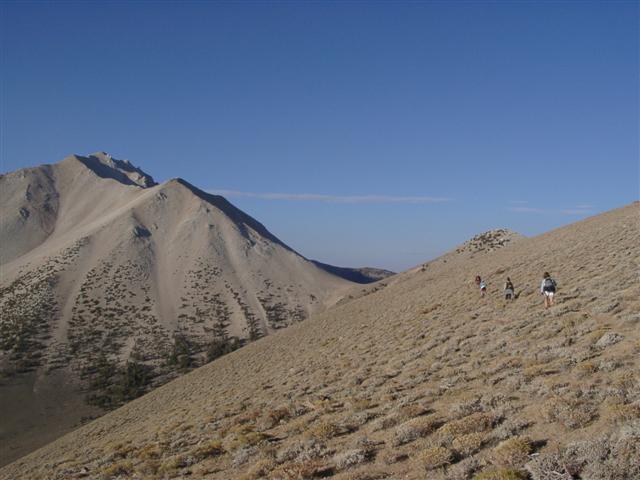 Everyone excitedly sets off upon our first view of Boundary Peak.
We reached the base of Boundary about 8:40. There were several dusty looking routes going up, so we took one and started grinding upward. It wasn't long until we were split up, each taking a different route (but the same general approach) as the first trail became indistinguishable.
Near the top, I ran into a couple with large packs. It turns out that they were the owners of the truck we seen (so much for our guesses). They had camped on Boundary Peak (!) and hiked over to Montgomery in the morning. That's hardcore--I was humbled. The guy said this was a preliminary test of their new gear, to which I asked what could possibly be worse than this "preliminary" test. His wife looked at me and said, "I asked him the same question!" He just smiled and said "I have some ideas."
Five minutes later (10:20) I made it to the top, where another group was just setting off for Montgomery. We talked for a little bit and the leader said, "Do your friends have climbing experience?" "Nope." I said, leaving out the fact that I didn't either. They were off seconds before Padraig showed up. We signed the summit log and waited for everyone else to arrive.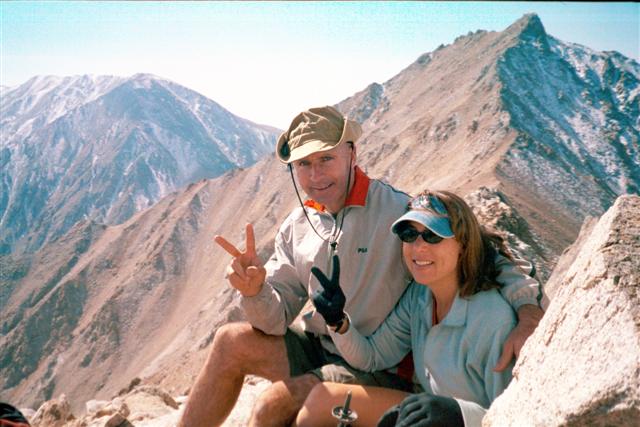 That's right--we're going to bag two peaks today! That's Montgomery Peak in the background.
Eventually I said, "OK, let's go" and everyone went. Damn! I must admit that I was sort of hoping for a rebellion with no one (including me!) going up that sketchy slope, but off we went for Montgomery Peak. Unlike Boundary, there really wasn't much of any trail to Montgomery. The occasional visible trails along the scree were pretty much created by a single person, as the ground gave way easily whenever leaving the solid spine of the ridge. Nonetheless, I still opted for the scree-filled approach, despite all that I had read advising against it. About an hour later I was near Montgomery Peak and saw the group of people I had met at Boundary taking a rest. They saw me looking at my GPS (which I was checking to see where the peak was) and they shouted down "You're here!". A couple minutes later, I was. It would be lie to say the views from here are amazing, but it is sort of fun to look down at the highest point in Nevada. A little while later, Kay and Hima made it up (from a different direction than I did). We all signed the log, snapped a few pictures, and headed back.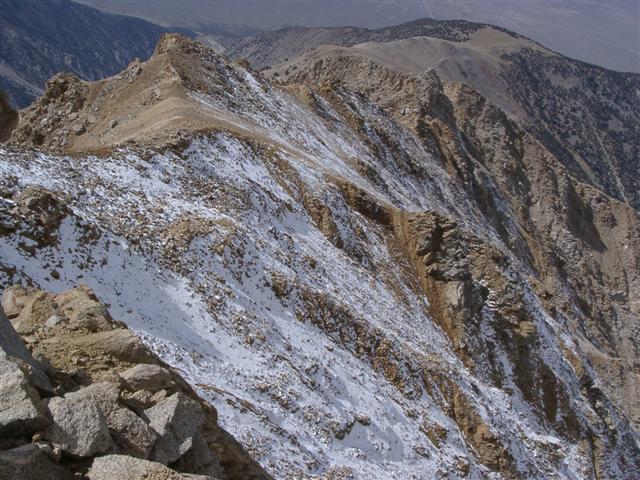 A view down from Montgomery Peak.
You'd think going up Montgomery would be the more difficult task, but coming back seemed harder and took longer. The footing was terrible along the route I took, and left me in considerably more dangerous locations than on the way there (not to mention the part where Hima, who was on the ridge above, sent a large-sized rock down in my direction). Kay ended up far ahead, and Hima ended up way behind. We all met up near Boundary Peak, where Janice was looking unhappy due to a combination of altitude and headache. Once we spied Hima, we hiked the little way up Boundary and started the long route back to camp (and thicker air).
A few minutes later, I realized I had left my hat at Boundary peak. Happily, Hima's voice came over the radio asking if someone had lost a hat. Oddly enough, Hima herself also managed to lose her beloved "Mt. Whitney" hat on this hike. The high altitude must make us forgetful.
Again the going was slow, and I didn't catch Padraig until the top of the 100% scree downhill section (the bottom section of the mountain in the first Boundary picture above). We totally lost the trail on the way down, and sort of took our own routes while stumbling down the mountain.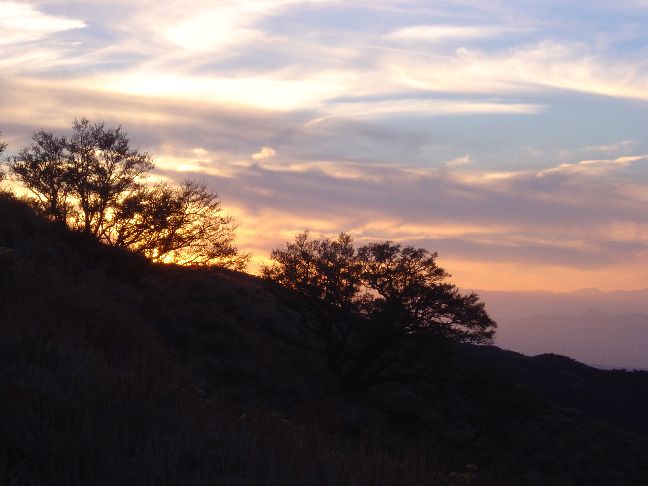 Sunset near Queen's Saddle
At the base of Boundary we walked through a camp, which now contained the same four people I had chatted with at Boundary and Montgomery peaks. They were quite interested in INCH, and went on to pitch their own groups, the Sierra Peaks Section and Desert Peaks Section of the Sierra Club. Once everyone had made it down safely, we said our goodbyes and set off for the last four miles of comparatively flat hiking. I was in a rush to get down, as it was starting to get late in the day and people were starting to drag (plus there was beer in the cars). To make a long story slightly shorter, we did make it down in time, and enjoyed a nice sunset in the process. Kay and Hima (who broke camp before we started the hike) left as we put away our tents and loaded up. Next stop: a well-deserved shower in Mammoth Springs.
Epilogue: Padraig's expert navigation and map-reading skills got us to the hotel well before the Yahoo-map-wielding other group, which solved the potential who-showers-first discussions we might have had otherwise. We all cleaned up and were so lazy that we just ordered pizza to our room, which we downed with margaritas. . .in a German hotel. Ah, yes, an international celebration for an international group of intrepid hikers. High point in Nevada is crossed off the list.
Milestones:
Highest point in Esmeralda, NV county
Janice's 40th leaf
Kay's 1st leaf







Pages maintained by Steve Walstra, Peter Saviz, and Russell Gee.
©2022 Intrepid Northern California Hikers