371. Mission Peak (02/07/04)

Hikers (27): Bunny, Cal, Carissa, Carol S, Cathy, Chester, Dave M, David W, Elaine, Hoy, Janice, Jason, Jennifer M, Julie M, Kiran, Less, Melanie, Mike S, Padraig, Peter, Pink Sharon, Ross, Sergei, Siemel, Steve P, Sue, Sue L
Distance: 6 miles
Rating: 3 difficulty, 8 beauty
Park info: Mission Peak Regional Preserve in Fremont

Write-up by Peter -- Pictures by Sue G
Many of the regular hikers were off showshoeing at Tahoe this weekend, so I figured no-one would show up for the hike. Wrong! When I got to the trailhead I saw the INCHers had come out in force, including 5 newbies. In fact, I had to park a mile down the road because there was no more room in the lot.
1, 2, 3, ... INCH!
The INCHers weren't the only ones who had showed up in large numbers -- so had the famous Killer Cows of Mission Peak. They had all come to ambush The Man, but he had wisely skipped town. The Man is always one step ahead!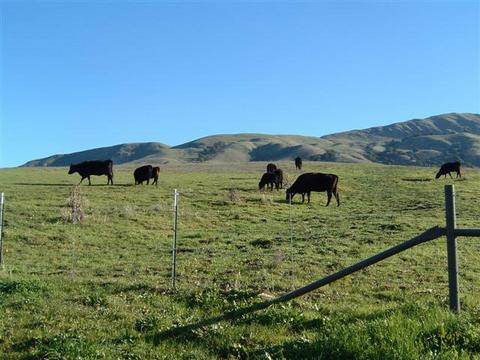 The Man's enemies were out in force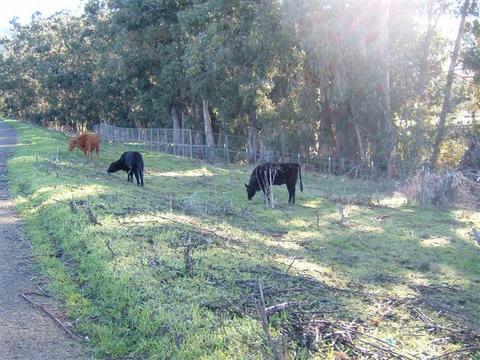 They were waiting along the trail ...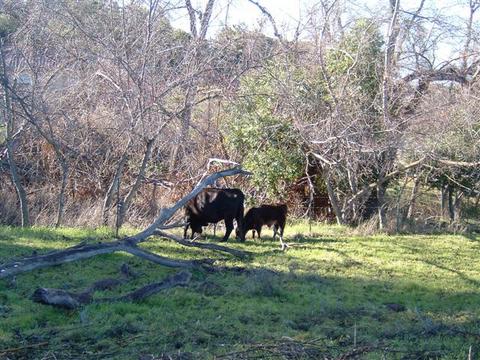 ... and they were hiding in the bushes
Back to the hike! It was a beautiful crisp sunny day, making it perfect for hiking Mission Peak. Despite the recent rain, the footing was good and it made for a fast ascent. Kiran led the way, followed closely by Ross. Not to be outdone, Padriag quickly ditched The Chief and Less and turned on the speed. It was a three-man race to the top, with yours truly being a distant fourth. I reached the peak just past the 1-hour mark -- not too bad. I never did find out who made it there first.
We chilled at the top for a while (not literally, because it was less windy than usual) while the others drifted in. Oliver had been looking for a challenge, so he took the longer route up, via the back side. It turned out the trail was pretty gloppy, so he got a good workout, but he arrived only about 10 minutes after me. Good job!
The view from the top was one of the best that I can recall. The air was free from haze, so we could see clear across to the snow-capped peaks of the Sierras. The rest of the gang were out there somewhere, snowshoeing away. There was also a nice clear view across the bay looking at San Francisco and over to Marin. All in all, not a bad way to spend a morning.
Just as we were getting ready to head out, I felt someone whack me with a pole. Elaine had finally showed up! She had gotten lost driving down from San Francisco (and this is the person who Cal is trusting to drive his car to Death Valley?).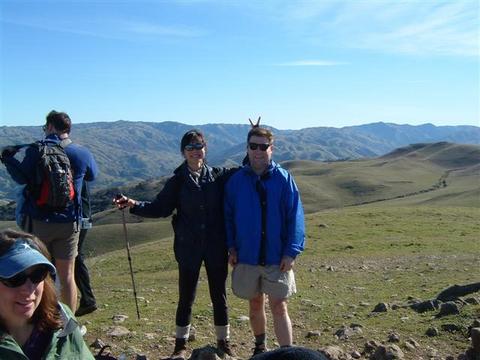 That crazy Elaine -- what a ham!!
As we started down from the peak, Bunny, Janice, and Sue came rushing by. What's the hurry? It turned out a couple of shirtless guys had started hitting on them. Bunny had cleverly told them her name was Sue and then started running. Sue was upset -- not that Bunny had given them her name, but that she hadn't given them her phone number! If you're going to do it, make sure you do it right. That's what Paddy and Glen get for ditching their women (by the way, this was the first time in INCH history that Bunny and Glen had not showed up to the hike together). See what happens when the INCH women are left free?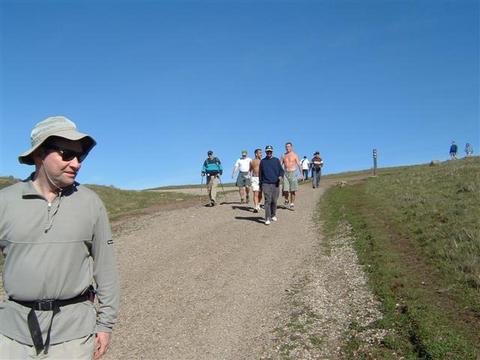 The shirtless guys were in hot pursuit of the INCH women
I spent most of the way down talking with Cal and Steve P. about all the weak hikes they had planned for the upcoming Death Valley trip. The toughest one seemed to be a 7-mile flat hike. Please, have some dignity! Don't make me come out there!!!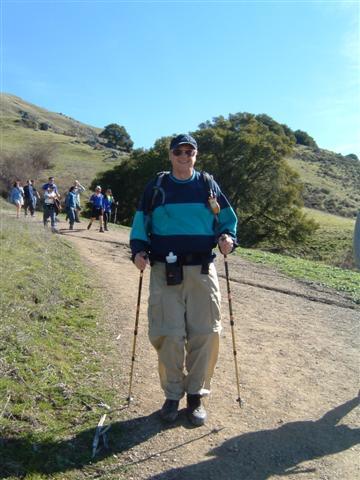 Cal's all smiles after finishing his 70th hike
Milestones:
Cal's 70th leaf
Carol S's 1st leaf
David W's 1st leaf
Jennifer M's 1st leaf
Mike S's 1st leaf
Sue L's 1st leaf







Pages maintained by Steve Walstra, Peter Saviz, and Russell Gee.
©2022 Intrepid Northern California Hikers