373. Turtlehead Peak (02/13/04)

Hikers (4): Rob P, Russ, Sue, Tim
Distance: 5 miles
Rating: 3 difficulty, 9 beauty
Park info: Red Rock Canyon near Las Vegas, NV

Write-up by Russ and Sue G -- Pictures by Russ and Sue G
Sue and I arrived in Vegas expecting to be picked up at the airport by Rob, who flew into Vegas in the afternoon. No sign of him, but that wasn't a big deal. We would look for Tim who was supposed to arrive one minute after us (really). Sue and I couldn't see Tim either at first glance. Sue says "Tim should have a big wig like that guy over there." I look at her and said "Which guy?" and next thing we know this big afro was standing next to us. It was Rob! Sue looked right at Rob and didn't recognize him.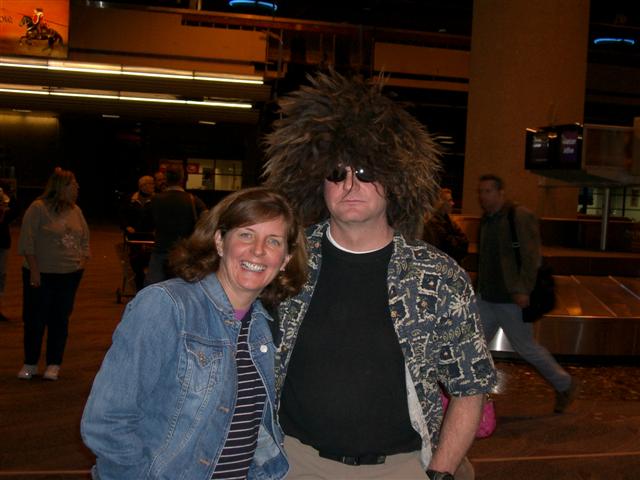 The welcoming committee. Would you let this guy give you a lift?
Time to find Tim and see if he could recognize Rob with that fantastic wig. Tim's flight was a half hour late, but which was fine. The casinos are open all night! Once we got Tim and dropped off our bags at the hotel, it was time to hit the town. A good amount of our evening was spent at the Coyote Ugly bar in New York, New York (based on the bar of the same name in NYC, with good looking bartenders who dance on top of the bar...nice). And then it was time to gamble...not so nice. I got Rob and Sue to try Texas Hold'em just like in the World Series of Poker. We all sat the same table and somehow everyone else figured out we were together (could it have been the matching Hawaiian shirts?). After about 2 hours, I was cleaned out. Rob and Sue managed to keep about half of their money. It is about 3:30am, time to turn in. We have to hike the next day!
After a stop the Venetian, two breakfasts (a long story), we jumped in the car and headed out to Red Rock Canyon. After a wrong turn, we finally made to the park. Cool rock formations, hard to believe this park was only 20 minutes outside of Vegas. And they accept the National Park pass, cha-ching! As we got ready to hike, Rob took out his flask of single malt scotch, took a pull and handed it to me. Sure why not? I took a pull...ahhhh smooth. Now I was ready to hike.
1, 2, 3...INCH!
As we started, an e-mail from Bunny burned in my brain. Something to the words that we drunken, hung-over gamblers were never going to make it to the peak. She then clarified the statement to mostly include me, since she knew that the rest of the gang wouldn't have any problems. I could feel a nap coming, Bunny might be right. But I was there to hike, nap later.
As one would expect, Rob led the way. The trail was well marked in the beginning. I think Rob thought it was all too easy since he started leading us over boulders and such. It was ok, until we quickly got to the point where he told us to turn back. No problem. Tim led us to the base of the peak which is about a mile from the trailhead.
Up we go. Rob took over again leading the way scrambling up boulders. Now he looked like he was enjoying himself. Sue on the other hand had the opposite reaction. She started having nervous looks and was starting to hang back. We called back to Sue to tell her to keep going. Eventually we coaxed her to the top of the ridge. See that wasn't so bad. And the good news is that we seemed what appeared to an easier path back down. But it wasn't time for that yet. We still needed to summit.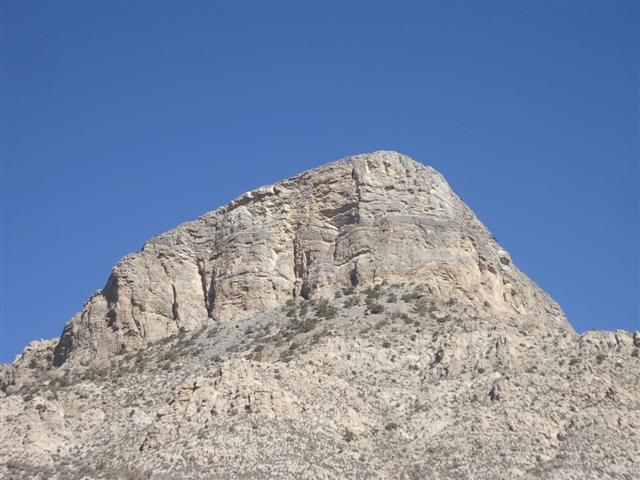 Turtlehead Peak! The objective of the hike.
Achieving the summit turned out to be anti-climatic. After seeing the shear face to the ridge, getting to the peak was achieved by going around the backside in a gentle uphill. Rob and Tim made it up first and asked if this was it. I replied "Do you see a log book?" Yes was the reply and I said then we made it. There was a great view of Red Rock Canyon in one direction and Las Vegas in the other. Well worth the climb!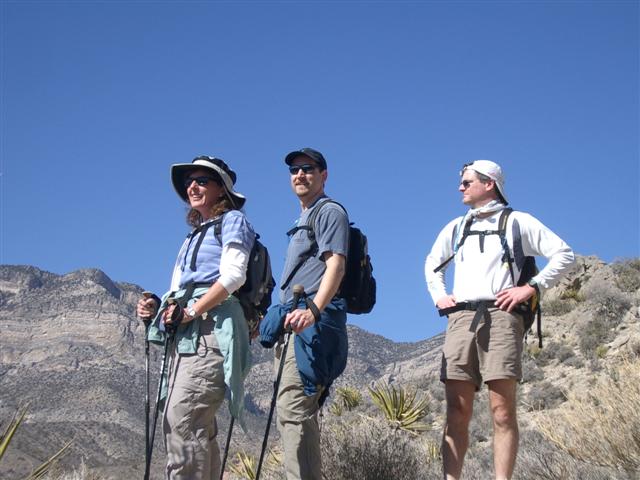 The intrepid hikers make the summit.
It didn't help at the poker table, but it got me to the summit.
Now for the real reason we were at the peak, to sign the log book. I let Rob take the first crack at it. Then I took a turn. What to write? I was thinking something rude to Bunny for saying I wouldn't make it. But then I thought, if it weren't for the rest of the gang, I would have stayed at the Coyote Ugly all night. And I don't think Sue would have been too happy, so I just wrote a polite greeting to Bunny. Tim sat down and pensively thought what to write. You'll have to hike up to the log book to see what it was.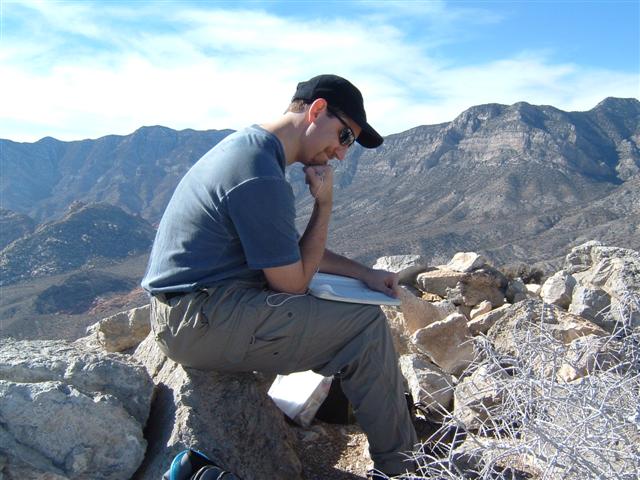 Tim pensively considers his words for the log book.
Time to head back down. Coming off the ridge was intimidating, especially looking at how we went up. But there was the other path. And that wasn't nearly as bad. Rob took off to find ways to climb down. Tim lead us normal people down. At one point, Sue took a spill and bruised her elbow. Nothing too serious, but reminded me to take my time going down. We quickly made it down and it was just the flat one mile back to the car.
The sun was starting to set. I ambitiously wanted to do a 6 mile hike in Pine Creek Canyon. Away we went. As we got there, the sun was starting to set. I figured we should at least give it a try. We started off for a few minutes before everyone decided that we wouldn't get far before we lost our light in the canyon. And we still had to drive to Death Valley to meet the rest of the gang. And people were getting cold, though I can assure you it wasn't me!
Screw this then. Back to the car and off to adventures in Death Valley. The trip was off to a auspicious beginning!






Pages maintained by Steve Walstra, Peter Saviz, and Russell Gee.
©2022 Intrepid Northern California Hikers