419. Priest Rock Trail (10/30/04)

Hikers (22): Anh, Blinky, Chris K, Christina H, Diana, Dinesh, Edita, Elaine, George, Hoa, Janice, Jinglan, Joe, Less, Matthew, Nancy, Padraig, Patrick, Peter, Rich, Steve, Taylor
Distance: 8 miles
Rating: 3 difficulty, 9 beauty
Park info: Sierra Azul Open Space Preserve near Los Gatos

Write-up by Peter -- Pictures by Janice
This hike was scheduled for the day before Halloween, so a number of our intrepid hikers showed up dressed appropriately. Everyone agreed the highlight was seeing Padraig in his bright green leprechaun outfit, complete with tight shorts (allowing the ladies to get an eyeful of the goods!), pointy ears, and neon hair. Where's a camera when you need one?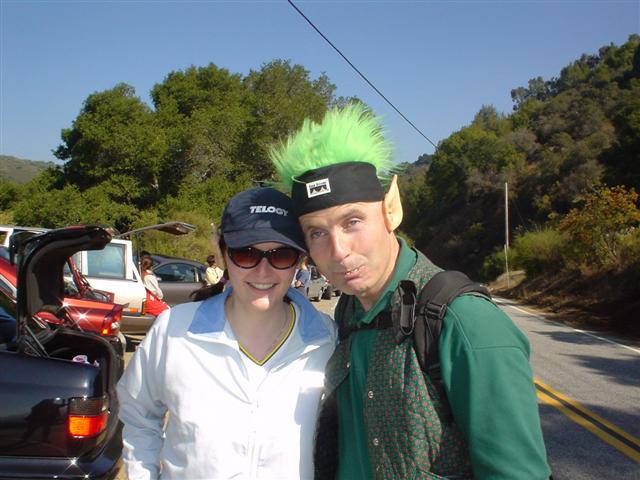 Paddy was ready for Halloween ...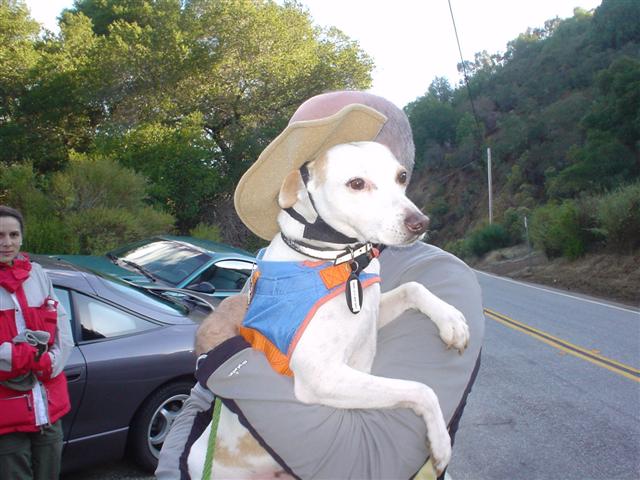 ... and so was Less!
We had a big turnout for the hike, and everyone was actually on time! Hmmmmmm. I guess strange things do happen around Halloween.
1, 2, 3 ... INCH!
It was chilly as we set out at the bottom of the hill, but people were soon shedding their clothes faster than (insert name here)'s mom. I was glad I was not lugging too much stuff up the hill. George was a man on a mission, and he and Esty soon disappeared out of view. Diana and Rich followed suit, leaving me to walk most of the way in solitude, although I could hear the rest of the pack not too far behind. Every once in a while, Less would catch up to me, say a quick hello, and then head back down to the Chief. Did I mention that he looked very cute in his little sheriff's outfit?
About a mile and a half from the top, I was passed by a couple of people going at a good pace. One of them looked familiar. It was Edita, who had joined us a couple of weeks ago at Dipsea. They had started late, but had passed up most of the pack and were making a bee-line for the top. Good job!
We huffed and puffed up the final incline to the summit. Our reward for reaching the top was some Halloween candy corn, courtesy of George. A few minutes later the leprechaun arrived and began handing out some tasty lucky charms -- they were magically delicious!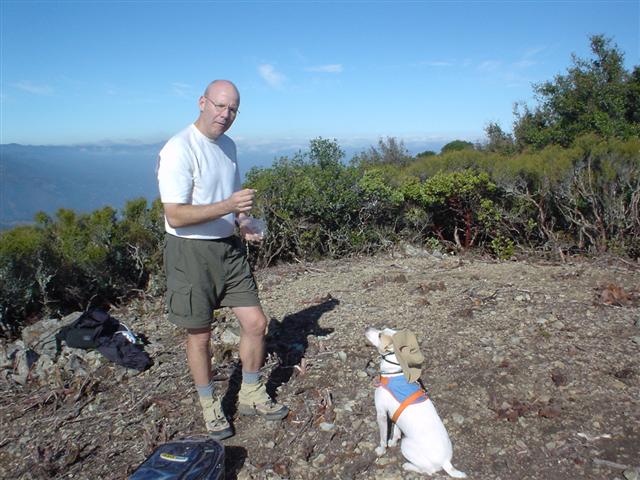 C'mon George! Less wants some candy corn!
After touching the sign marking the end of the official trail, most folks took a little side trip to the actual peak. This was the first time I had ever been there myself. It was a strange clearing, with a bunch of manzanita trees having been hacked down for no apparent reason. Inspired by Halloween, our hikers began speculating on all the satanic rituals and sacrifices that must have taken place there. I think I'll go back and eat more candy corn.
After everyone had reached the top and rested for a while, we began to head back down. About a quarter-mile below the peak, we saw Patrick and Jinglan heading up the incline. Naturally, Jinglan was all too ready to turn around and go back with us, but we talked her into going all the way to the top. It turned out Hoa and Christina had also done most of the trail, but turned back because their shoes did not have good tread. There was also a report of Linda being on the trail (she had signed up for the hike), but we could not get a confirmation on that.
Back at the car, as we sat around waiting for Jinglan and Patrick to come back, Esty and I made a bet about which hike had the highest attendance of all time. As usual, I was right. Cha-ching!! Gimme that beer!
Milestones:
Dinesh's 1st leaf
Janice's 70th leaf
Joe's 1st leaf







Pages maintained by Steve Walstra, Peter Saviz, and Russell Gee.
©2022 Intrepid Northern California Hikers