420. Peters Creek Loop (11/06/04)

Hikers (25): Alexandre, Blinky, Carmen, Clive, Cristina, Edita, Elaine, Eugene, George, Hoy, Jan P, Janice, Jinglan, Joe, Lily, Mark P, Padraig, Rich, Rick, Ross, Rus R, Sparky, Steve, Steve D, Sue
Distance: 12 miles
Rating: 3 difficulty, 9 beauty
Park info: Portola Redwoods State Park near La Honda

Write-up by Steve -- Pictures by George R
In eight years, we had never visited Portola Redwoods State Park. In fact, it was only five months prior that we visited the nearby Pescadero and McDonald county parks for the first time as well. For some reason, we neglected this area. Time to show the Redwoods some love!
There must have been some pent up desire to visit this park, as 25 people showed up, including two new couples. One of the couples (Steve D and Carmen) had met at a Halloween party the previous weekend which I had also attended. Small world.
I had a ton of free state-park parking passes, so advertised that anyone who carpooled would get free parking. Only a couple groups took me up on the offer, though. Several qualified couples paid anyway, thinking they needed to be more than two. Oh well, it's better that the State get some more money. Rus R also had a stack of the passes, so we could have covered parking for the whole park that day.
1-2-3 INCH!
With so many people, we had a big range of speeds. The normal front-runners took off to the top of the hill. We waited there until the middle pack showed up, and proceeded down to the first real junction at Big Boy. After regrouping, we headed on down to the bottom of Peters Creek loop, where we stopped at a log and ate lunch. Only a redwood log can comfortably accommodate 25 hungry hikers. Those who had been sitting around for a while were getting antsy waiting for the tail end to finish eating, but we managed to set off before anyone died of hypothermia.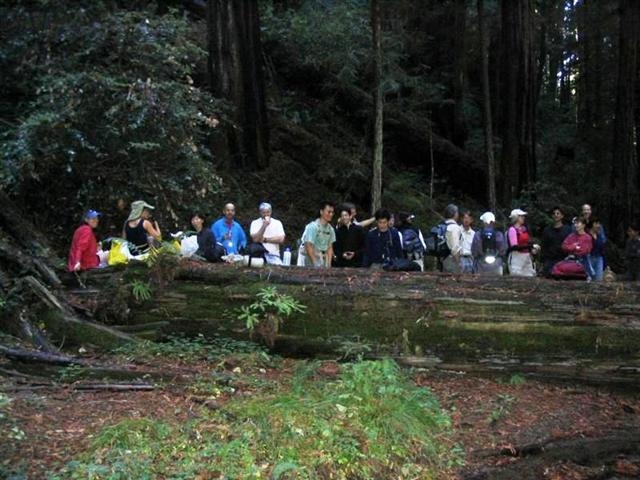 Lunch Log
The park was great--big redwoods and lots of shade. As usual, we hike the shady hikes in fall and save the wide-open hikes for the sweltering summer. On the way out of the loop, I waited at the only junction to make sure no one missed it (lest anyone hike in circles forever). I counted up everyone as they passed, but came up two short. Not too long after this revelation, Cristina (with Hoy) called on the walkie talkie to ask directions about a creek crossing. There wasn't a crossing nearby, but I suggested they just cross whatever was in front of them. Eventually, I got nervous and started hiking back down the trail. . .where I eventually ran into them chatting and taking their sweet time. We talked for a while, and then I took off to try to catch everyone else.
Fortunately, everyone had held up at a junction a few miles away (mostly because there was a bathroom there), and I waited again for the end of the line to catch up. By the time I got back to the parking lot, the front runners were coming back from a short hike to a big old tree called. . ."Old Tree". After declaring that "Old Tree" was an impressive not-to-be-missed tree, they admitted that some of the trees in the parking lot were just about the same size.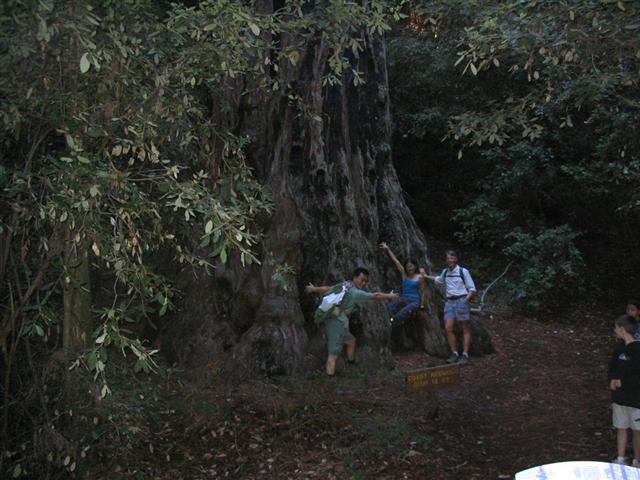 The Old Tree with some relatively young hikers
Once the hike was over, several of the cars headed off to the nearby Alice's Diner.
Milestones:
Carmen's 1st leaf
Jan P's 1st leaf
Mark P's 1st leaf
Rus R's 10th leaf
Sparky's 20th leaf
Steve's 320th leaf
Steve D's 1st leaf







Pages maintained by Steve Walstra, Peter Saviz, and Russell Gee.
©2022 Intrepid Northern California Hikers