450. Mt. Allison (06/18/05)

Hikers (30): Aman, Ashish, Bobbie, Carissa, David, Drishyant, Emma, George, Gwynneth, Hetal, Hoy, Janice, Less, Nina, Nishta, Paul, Pawan, Peter H, Raj, Rajan, Ramesh, Rich, Ross, Sabine, Scott, Shyam, Steve, Sue, Walter, Wennie
Distance: 7 miles
Rating: 3 difficulty, 9 beauty
Park info: Mission Peak Regional Preserve in Fremont

Write-up by Steve -- Pictures by George
Check out all of George's pictures from the hike.
It was time for a quick-and-dirty hike, particularly since Peter was on the disabled list and Russ was moving into his new mansion. The easiest hike to organize is Mission Peak. That's too boring, though, so we extended it to Mt. Allison, where INCH had never officially ventured. Mt. Allison (2658') is the highest peak in the immediate area, sitting smack-dab between Mission (2517') and Monument (2594') Peaks. It is less popular because the antennae-crowned peak is fenced off and farther away from the standard trail heads.
Apparently Mt. Allison held some interest with other people too, as 30 people showed up. Raj brought eight of his friends--it was like we annexed another hiking club for a day.
Before the hike, there was much dancing
Despite explicitly warning about potential parking problems (twice!), plenty of people showed up late due to having to park far away. The crowd was so large that we could wait no longer and started without one of Raj's group, as well as two other non-newbies who had signed up (Beth and Diana D).
1, 2, 3. . .INCH!
I had a master plan for the hike: let the fast hikers go up to Mission Peak and take the slower hikers around the back (and hit Mission Peak on the way back from Allison). This idea mostly worked, except Raj's group was incredibly far behind. When the last of the "normal" crowd was long gone, I went back down the trail to find out what had happened. Turns out the whole group waited for their last person to show up! Oy! I gave the best directions I could and set off to try to catch the other 20 people. It actually all worked out, with the last of the "side-route" people showing up around the same time that the "Mission Peakers" came down. It was the perfect plan. . .except that I had forgotten about Peter H and his friends Emma and Nina, who had gone up to Mission Peak, but weren't down yet. Zoinks!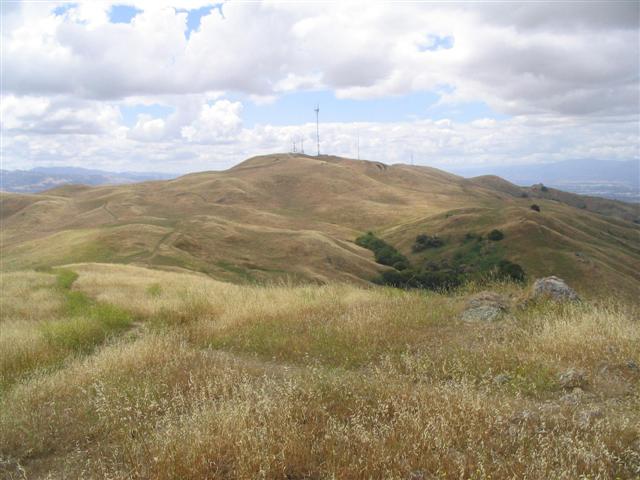 Mt. Allison Awaits
We set off for Mt. Allison. There is a lightly-used road which branches off from the main route about a quarter mile from the peak. This "trail" goes around the base of the peak and, eventually, just goes cross-country right up the side of the mountain. We went up he West-facing slope, where there are lots of nice rocks to sit on near the top. The view from Allison was fantastic. Mission Peak looks good from the backside, too.
We sat around and enjoyed lunch. I found a small plastic snake in a nearby geocache, which was used to great effect on ophidiophobic Rich R a couple minutes later. People started getting cold (there was a bit of a breeze, but it was mostly nice), so we headed down. We were still missing the entire Raj contingency and Peter H + 2, but there wasn't much we could do.
By the time we were back on the road, we had left a pretty good trail behind (and managed to get a maximum amount of stickers into our socks). On the way back we caught up with Raj's group, who hadn't made it all the way to Allison. They had talked to Peter H, who was now nowhere to be seen, but at least they weren't totally missing. . .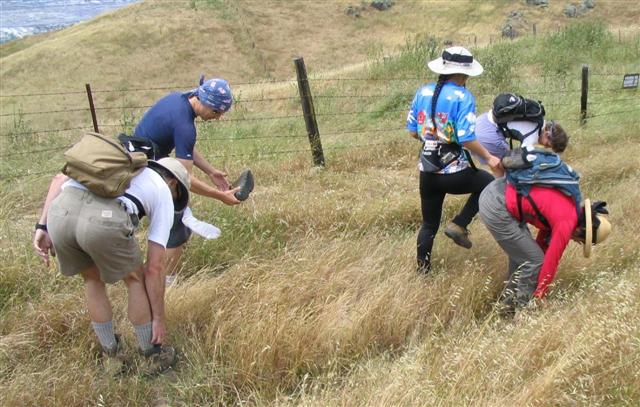 Carissa's space-age leggings are impervious to burrs. . .unlike everyone else.
I did some more geocaching on the way back, so didn't catch the tail of our group until the last junction before Mission Peak. Everyone was dutifully heading straight up, but I noticed Gwynneth and Hoy going off to the right (bypassing the peak). I pointed out the "Mission Peak" aspect of the hike, which convinced Hoy to turn around and head on up. Gwynneth, however, wasn't having it, and earned her first Black Leaf of Shame.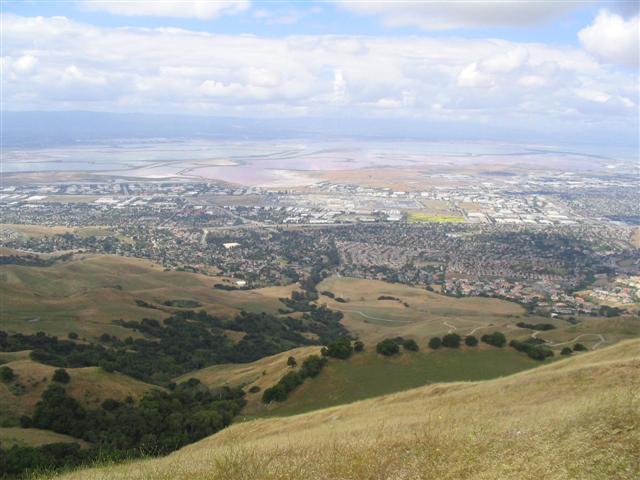 Clear views from Mission Peak today
We spent some more time up on top, which was super-crowded (unlike Allison), not that we were helping the situation. Many of our group instinctively touched the post--it brought a tear to my eye. Eventually we started trickling down, but Ross stayed behind to pick out all the burrs from his socks and shoes. This turned out to be a bonus, as he came running down right before we reached the parking lot, with news that Peter H, Emma, and Nina made it back to Mission Peak, after going to the East side of Mt. Allison. Good job!
People got lost, but everyone survived--another INCH success!
You might wonder what happened to Beth and Diana D, who both signed up but never appeared? Beth got lost (going to Mission Peak, quite possibly the easiest park to find) and gave up. Not to be out done, Diana D reported that she skipped out at the last minute in order to drive up to Folsom. . .to audition for the next Survivor series. You just can't make this stuff up. Best of luck!
Milestones:
Aman's 1st leaf
Ashish's 1st leaf
Drishyant's 1st leaf
Emma's 1st leaf
George's 70th leaf
Hetal's 1st leaf
Nina's 1st leaf
Nishta's 1st leaf
Pawan's 1st leaf
Rich's 20th leaf
Sabine's 10th leaf
Shyam's 1st leaf







Pages maintained by Steve Walstra, Peter Saviz, and Russell Gee.
©2022 Intrepid Northern California Hikers