453. Skyline-to-the-Sea Trail (07/09/05)

Hikers (24): Carissa, Chester, Edita, Eugene, George, Hima, Janice, JP, Launa, Padraig, Paul, Peter, Ramesh, Rick, Ross, Russ, Scott, Sean, Sparky, Stacy, Steve, Tania, Taylor, Walter
Distance: 27 miles
Rating: 5 difficulty, 9 beauty
Park info: Castle Rock State Park in the Santa Cruz Mountains

Write-up by Peter -- Pictures by Janice
Weeks of preparation went into this hike, but after one rescheduling and hundreds of phone calls and email exchanges to work out the logistics, we were finally ready to go! One difference from the previous two visits was that we did not include the portion through Castle Rock as part of the official hike. That did not deter intrepid hikers George, Ross, Launa, Ramesh, and Rick from starting an hour earlier than the rest of us, just so they could do a few extra miles.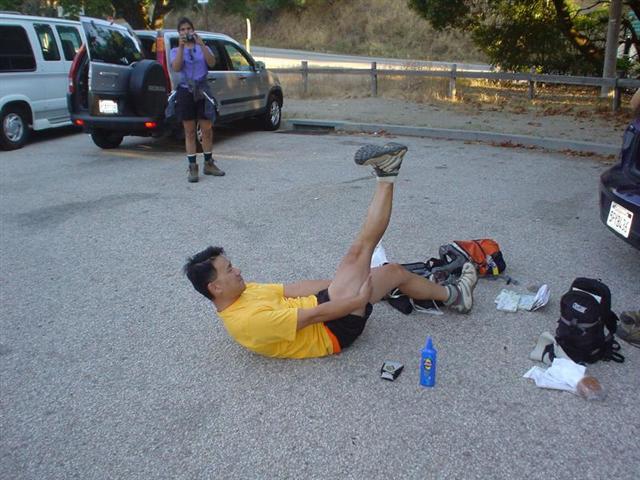 Chester demonstrates his latest pick-up technique
The INCHers were eager to hit the trail. Sparky and Taylor got a head start as they thought they may be going slower than the rest of us. Tania was agitating to head out too and kept hopping up and down like a bunny rabbit after a quadruple shot of espresso, so I thought it best to send her off as well. Two minutes after she took off I got the distress call on the radio that she couldn't find the trail. At least we knew it would be a true INCH hike.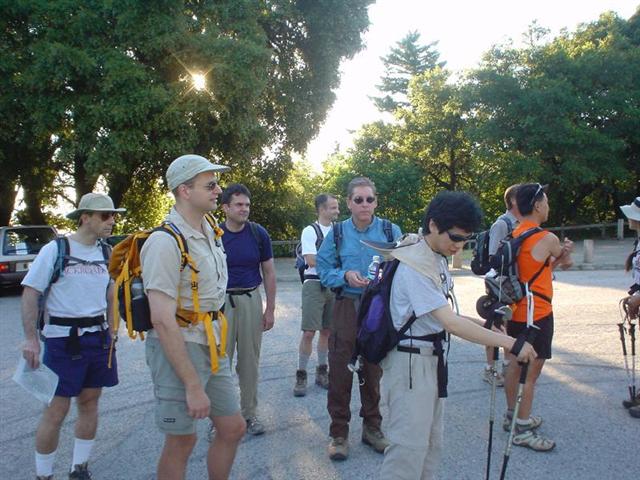 A bunch of grumpy INCHers early in the morning want to get this thing over with
1st Leg (~6.5 miles): From the Vista Point parking lot at the intersection of Hwy 9 and Hwy 35, we headed south on the Skyline-to-the-Sea Trail, which starts along the left side of Hwy 9 as you head down the hill. After about 3/4 mile, the trail crossed over the road and then continued down the other side. It was a warm muggy morning, and we were sweating already. At the 2-mile mark, we crossed the road again and arrived at the large Sempervirens Point parking lot. JP and myself took a minute to enjoy the views of the early morning sun breaking across the valley, but the rest of the gang just kept motoring down the hill towards the Waterman Gap.
As we headed down the hill, Rusty and I were deep in discussion of who was The Man (he is). Hima couldn't take it anymore and started running away from us. She would soon pay the price for this folly as her toe would cramp up and she would be hobbled for the rest of the hike. That's what happens when you diss The Man!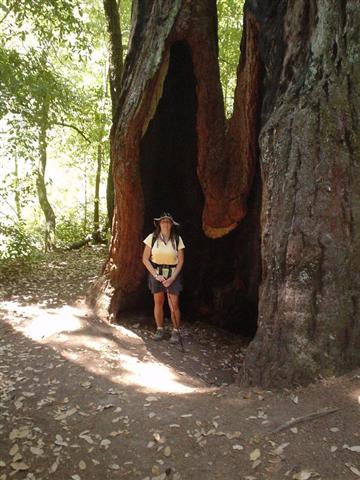 Janice strikes a pose under a Sequoia Sempervirens
2nd leg (~4.5 miles): I caught up with Rich at the intersection of Hwy 9 and Hwy 236. He was just there to see the rest of us suffer, and had walked with the group from the start to this point and was now gearing up to head back. Sadist!
From here, the trail went parallel to Hwy 236 towards Big Basin, crossing back and forth over the road a few times, and also including a few good uphill portions. Dobby earned himself another Pink Leaf of Weakness by taking the flat road all the way, cutting out at least a mile of hiking. I managed to catch up with Carissa and Chester and we walked most of the way together. Mr. Gadget had some Chinese music emanating from his backpack, making it a strange but enjoyable experience as we walked under the mighty redwoods.
The trail eventually broke away from Hwy 236 and headed uphill to North China Grade Road. When we got to the ridge, Chester and Carissa just kept on going but I threw my backpack on the ground and just plopped down on the road, too tired to move, even when slow-moving cars threatened to run me over. It felt so good to sit down for a minute! Janice, Stacy, Scott, and Launa showed up a few minutes later.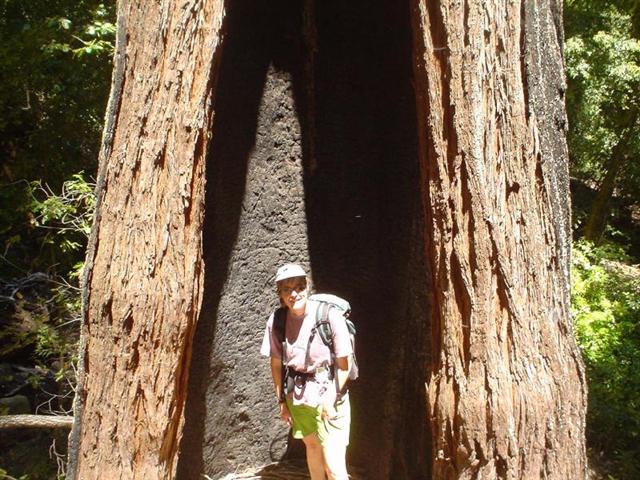 Stacy under a burned-out redwood
3rd leg (~4.5 miles): The next leg of the hike was going to be under the hot sun, so we slapped on plenty of sunscreen (hard to put it on when you're dripping with sweat), donned our stylish hats and shades, and hit the trail. There was a dramatic change of scenery – no more giant redwoods, and plenty of manzanita, open skies, and granite rocks. Fortunately, after about two miles of this we were back under the shady redwoods again. The walk from here to Big Basin Headquarters was easy enough, mostly flat and going along the creek, but it seemed to take longer than I remembered from last time. I later heard that a few of the INCHers cut out at various points and walked along the road. Booooo!
After looking around the area and finding no other INCHers anywhere, Scott, Launa, and myself dragged our tired legs to the visitor center and collapsed on the steps. We peeled off our boots and I also soaked my head under the tap. As we sat there in various states of disrepair, gasping for air and massaging our joints, carloads of tourists looked at us as if we were from another planet ("Mommy, is that a homeless bum?").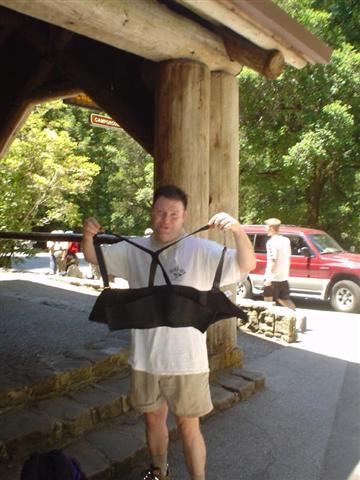 My "support system" got me through the hike (it's not a bro, it's a back support belt!)
4th leg (~5.5 miles): After a 25-minute break at park HQ, we headed out on the trail to Berry Creek Falls. I elbowed my way through throngs of slow-moving tourists. Screw politeness! I did enjoy a light-hearted moment with a group of girls admiring a large penis-shaped mushroom. Ask me for a demo later.
About a mile from the falls, I came across Rick. Where had he come from? He had been late arriving from Castle Rock and we had started the hike without him, so he had run most of the way to catch up and had not even stopped at Big Basin. Good job! We walked together towards the falls, but he did not take the side trail that leads to the falls itself, choosing to stay on the official trail which lead directly to the end of the hike. I later learned that many folks had done the same. Once again, boooo!!!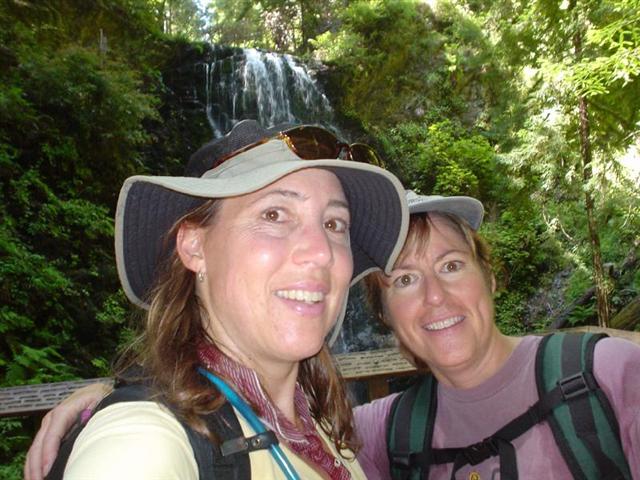 Proof that some people actually went to the falls
5th leg (~6 miles): The home stretch! From the platform facing Berry Creek Falls, I backtracked down the trail a short distance and saw Carissa and Chester heading up towards the falls. They wanted to go with me, but I sent them to the falls instead. You're almost there!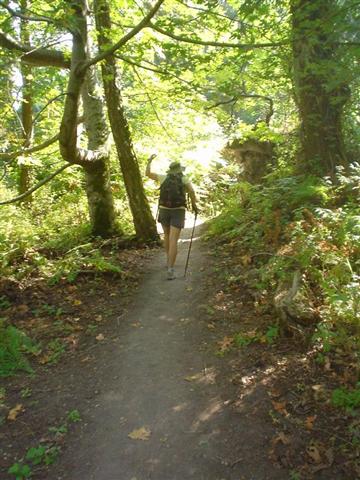 The Chief heads out on the home stretch
The next 4.5 miles consisted of a flat, boring, wide trail that runs along Waddell Creek. I hiked with Rick, Carissa, and Chester most of the way. About 1.5 miles from the beach, I took a right turn onto the "Hikers Only" trail, crossed the creek, and headed up the ridge. I knew from past experience that this would just be adding more pain, but I could not bring myself to hike the "Bikers, Equestrians, and Handicapped" flat trail. It seems some others did not have any qualms about taking the easy way out, thus earning themselves Pink Leaves (you know who you are).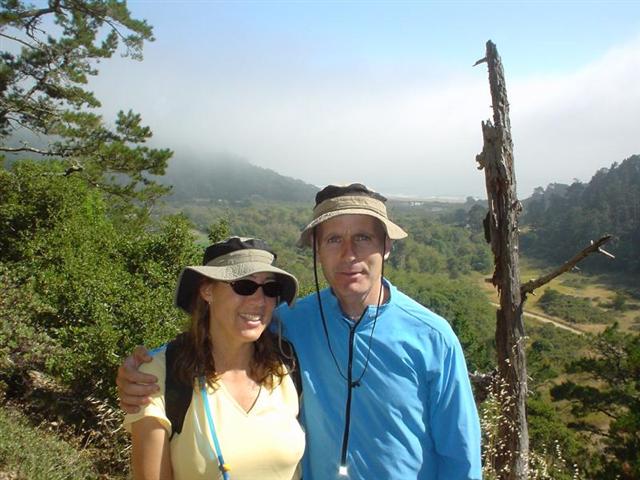 The happy couple is reunited near the end of the trail
One person who did not get a Pink Leaf was Sean. I ran into him about halfway up the ridge. He was hobbling and obviously in major pain, but he persisted on the real trail instead of taking the shortcut, as every true INCHer should. He limped and gimped his way to the finish line, where he peeled off his shoes to reveal a nice sock-full of blood. You're a good man, Dr. Casey! Rick and I also compared blisters - 5 for him, and 4 for me (although foot surgery later in the evening would reveal a couple more for me). It felt great to finally get this damn hike over with!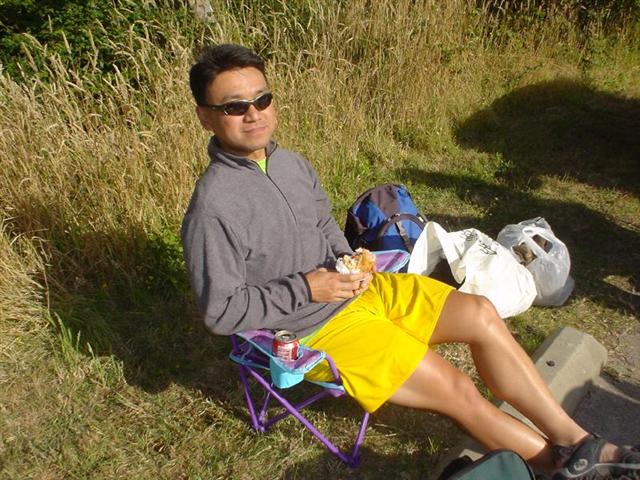 Relaxing in the sunshine after the hike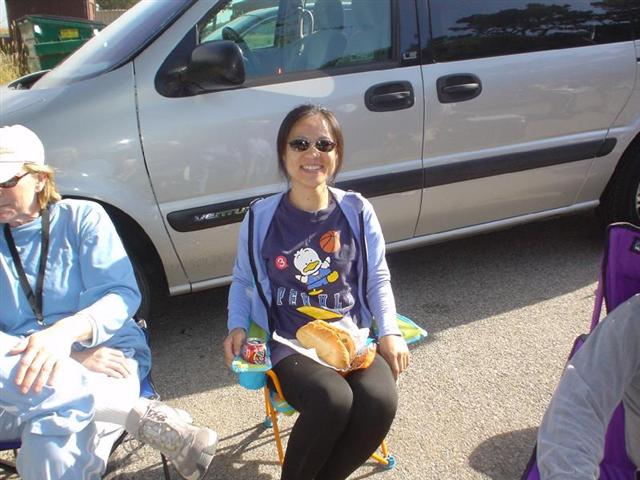 Carissa is enjoying the Hello Kitty panties that Dobby found on the trail
As we sat there enjoying the big spread and cold beer after the hike, the rest of the gang drifted in one by one, each with interesting war stories to tell. Sparky and Taylor made it in a full hour before me -- I should have taken some of those pills Sparky was popping. Rusty and Hima were late getting in, and there was some discussion as to who would go to Big Basin to pick them up, but just as we were about to go a voice came crackling over the radio, "The Man! I hate your hike!". Good to see they had made it too, giving us a 100% success rate!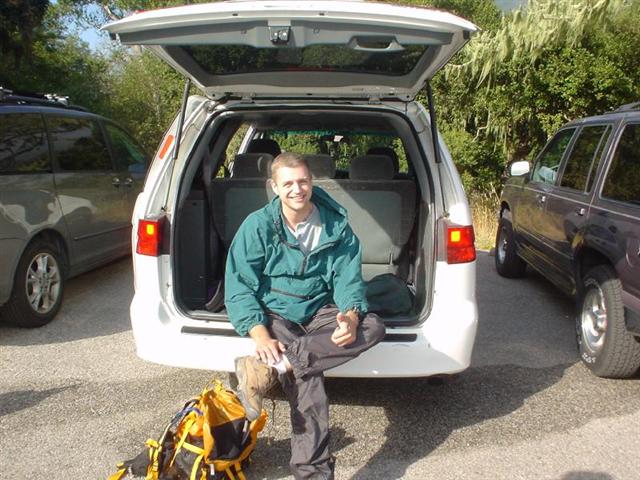 This hike was too easy!
As you can see from the smiling faces, this trail was too easy. Steve, Ross, and Edita even took harder optional trails to the McAbee Overlook on the way back. This just means we'll have to do Sea-to-Skyline next time.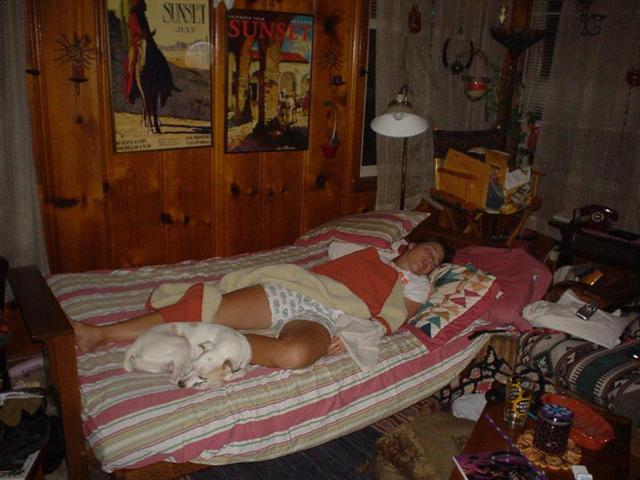 After the carnage -- sweet dreams!!
Thanks to Sparky, Ross, George, Scott, Paul, and Carissa for taking time to handle the van logistics, including driving down and back the night before the hike, and to Stacy's husband Jerry for driving the supplies to the finish line. We could not have done it without your help!
Milestones:
Edita's 20th leaf
Paul's 10th leaf
Sean's 30th leaf
Steve's 350th leaf







Pages maintained by Steve Walstra, Peter Saviz, and Russell Gee.
©2022 Intrepid Northern California Hikers